Birds from the genus Corvus are black, black and grey, black and white (pied) or in shades of grey. The feathers display sheens of purple, blue, green or silver.  This genus does not have carotenoid pigments in the feathers and this results in an absence of  yellow, orange or red feathers.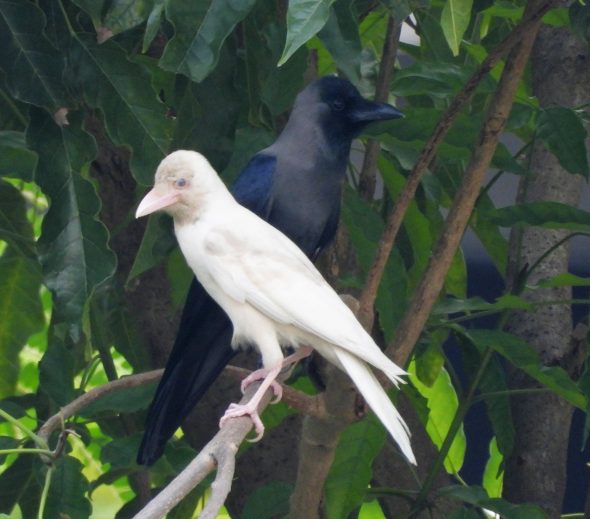 Mei Lin Khoo sent in these photos and observations of a leucistic crow sighted at Bedok, Singapore.  Below is Mei Lin's first-hand account of her encounter with the crow.
On 28 Sept 2021, I saw a post by Alban Tng featuring a photo of a white crow at the Bedok playground. As the location was shared, Tuck Loong accompanied me to look for it the next morning. Lo and behold, the leucistic House crow was sighted at the playground eating a fruit. It then flew up to a tree. After a while it flew to the rooftop of a nearby building and perched there.
It was observed to hang around with other black coloured house crows but most of the time, the leucistic crow was seen to perch alone while the other house crows perch in groups.
We waited at the shelter for the leucistic crow to come down to the playground and we were rewarded with the sight of it flying down to perch on the top of the net tower.
29 Sept 2021
Bedok Estate
All observations and photos were shot within a period of 30 mins. One of my shortest birding trip.
Click on this LINK  to read about leucism in crows.
Click on this LINK to read about a leucistic mynah and explanations on leucism in birds.
This post is a cooperative effort between Birds, Insects N Creatures Of Asia and BESG to bring the study of birds and their behaviour through photography and videography to a wider audience.