I observed 4 Blue-throated Bee-eaters (Merops viridis) that were loosely together, self-feeding in a 30 meter radius, and were probably a family group. Two birds were juveniles in transition to adult plumage but at different stages – one had developed some 'mahogany' in the face (below) while the other looked younger (above); both had yet to develop streamers.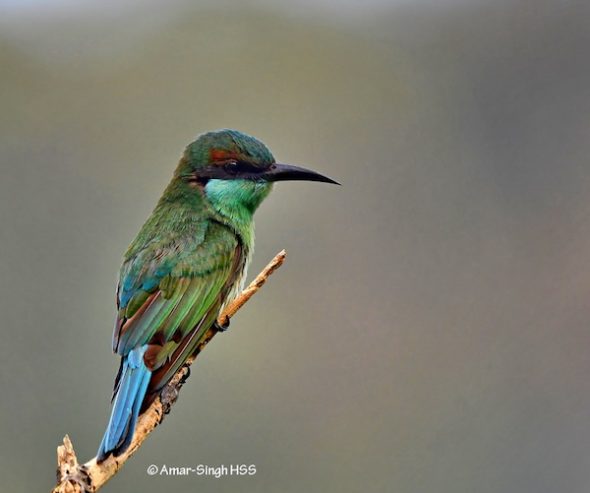 The two presumed adults appeared to be in extensive moult with streamer lengths variable. I had initially considered if they were immature birds but the social dynamics and a comment from Wells (1999) leads me to think they are adults in moult. "..many winterers aged adults by their worn streamers appear all green" (Wells 1999).
Note also the bright red iris colour of the adults in contrast to the dull red-brown of the juveniles (above, below).
Amar-Singh HSS (Dato' Dr)
Ipoh, Perak, Malaysia
Location: Ipoh, Perak, Malaysia
Habitat: Fruit farming with secondary growth
Date: 21st January 2021
Equipment: Equipment: Nikon D500 SLR with Nikon AF-S Nikkor 500mm f/5.6E PF ED VR, handheld with Rode VideoMic Pro Plus Shotgun Microphone