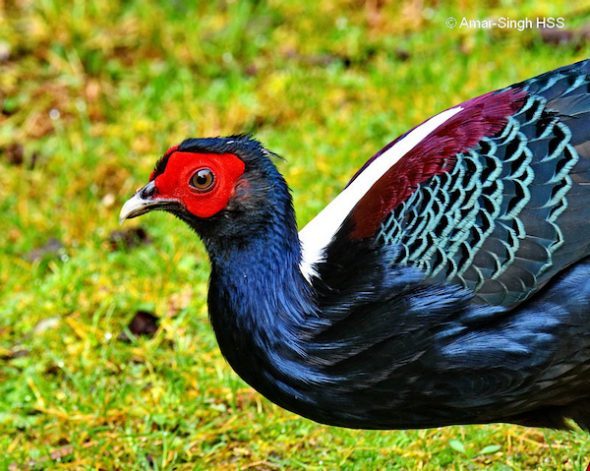 The Swinhoe's Pheasant (Lophura swinhoii) male's wattle is a fascinating 'ornament'. Many birds have wattles (a caruncle), a fleshy structure, often brightly coloured, that adorns various parts of the head and neck, occasionally hanging. However, their function remains poorly understood and is often thought to relate to sexual differences and mating. Among the functions attributed to wattles in birds include (Wikipedia 2019, Chester 2019, Papeschi 2000, Smith 2009, Baratti 2010):
an ornament for courting potential mates (in junglefowl wattles increased the conspicuousness of the tidbitting signal, enhance signal efficacy, aiding courtship)
large wattles correlate with high testosterone indicating a good mate
wattles are an indicatory of sexual maturity and better developed in adult males
a possible indicator of health and disease resistance
in some birds it is able to amplify the call
a possible cooling mechanism
enhance ability to evade/survive predators (common pheasants males with larger ornaments have higher survival)
some birds use wattles in territorial defence (as armaments).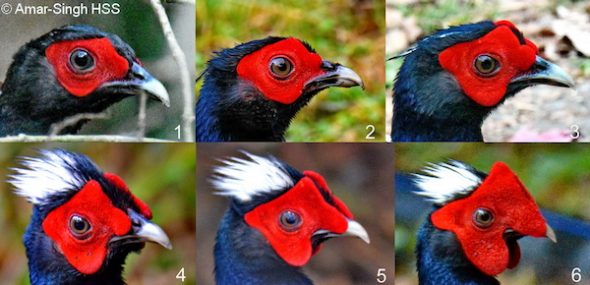 Coming back to wattles in Swinhoe's Pheasant. I pooled images from many different male birds I had seen, during this trip and my previous one, to try and understand it further. The above image shows a composite of 6 birds (I have more but they do not add to the discussion). The images are arranged according to maturity. Bird 1 is an immature male (1st year bird with immature plumage) and the wattle is not fully developed. Birds 2-6 are all adult males but you can see variation in the size and shape of the wattle. I suspect the bird 2 is a young male (2nd year male) as adult male plumage is generally attained in the second year (HBW 2019); it was alone with no females in attendance and its wattle is smaller than older males. Birds 3-6 are older birds, all with accompanying females. Bird 6 had a seven female harem and the wattle is so 'enlarged' so as to almost obscure the beak. It is known that the male Swinhoe's Pheasant wattle become engorged when in courtship (Avifauna of Taiwan 2nd edition, Wikipedia 2019). Taking suggestions from the work by Lloyd‐Jones on wattle functions in another bird, I suspect that Bird 6 had engorged the wattle to defend his females from the perceived threat, us – the bird watchers. Bird 3 and 4 show what the wattle should look like when at 'rest'.
Appreciate any opinions or additional comments.
References: 
Wikipedia: Wattle (anatomy) 2019 Available here: https://en.wikipedia.org/wiki/Wattle_(anatomy)
Jo Chester. 2019. What are the functions of wattles on chickens? Available here: https://animals.mom.me/functions-wattles-chickens-5568.html
Papeschi A, Briganti F, Dessı-Fulgheri F. 2000. Winter androgen levels and wattle size in male common pheasants. Condor 102: 193-197. Available here: https://pdfs.semanticscholar.org/c0b8/00bbea543752e40765fa46b3d2eda6ef8346.pdf
Smith CL, Van Dyk DA, Taylor PW, Evans CS. 2009. On the function of an enigmatic ornament: wattles increase the conspicuousness of visual displays in male fowl. Animal Behaviour 78: 1433-1440. Available here: https://researchers.mq.edu.au/en/publications/on-the-function-of-an-enigmatic-ornament-wattles-increase-the-con
Baratti M, Ammannati M, Magnelli C, Massolo A, Dessì-Fulgheri F. 2010. Are large wattles related to particular MHC genotypes in the male pheasant? Genetica 138: 657-665. Available here: https://www.researchgate.net/publication/41420365_Are_large_wattles_related_to_particular_MHC_genotypes_in_the_male_pheasant
David J. Lloyd‐Jones,  James V. Briskie. 2015. Mutual Wattle Ornaments in the South Island Saddleback (Philesturnus carunculatus) Function as Armaments. Thesis available here: https://ir.canterbury.ac.nz/bitstream/handle/10092/10111/BScHonsThesisDavidLloyd-Jones2014.pdf?sequence=1
McGowan, P.J.K. & Kirwan, G.M. (2019). Swinhoe's Pheasant (Lophura swinhoii). Handbook of the Birds of the World Alive.
Wikipedia: Swinhoe's pheasant 2019 Available here: https://en.wikipedia.org/wiki/Swinhoe%27s_pheasant
Avifauna of Taiwan, 2nd edition (available at: http://taibif.tw/download/avifauna/flipviewerxpress.html
AmarAmar-Singh HSS (Dato' Dr)
Ipoh, Perak, Malaysia
Swinhoe's Pheasant – wattles & function
Location: Daxueshan National Forest Recreation Area, Taichung City County, Taiwan
Habitat: 1,750-2,500 meter ASL, forested region
Date: 17th January 2019
Equipment: Nikon D500 SLR with Tamron SP 150-600mm f/5-6.3 Di VC USD, handheld with Rode VideoMic Pro Plus Shotgun Microphone