The following series on the different behaviours of a White-breasted Waterhen (Amaurornis phoenicurus phoenicurus) are based on observations by Dato' Dr. Amar-Singh HSS made on different days around an urban habitat in Ipoh, Perak, Malaysia.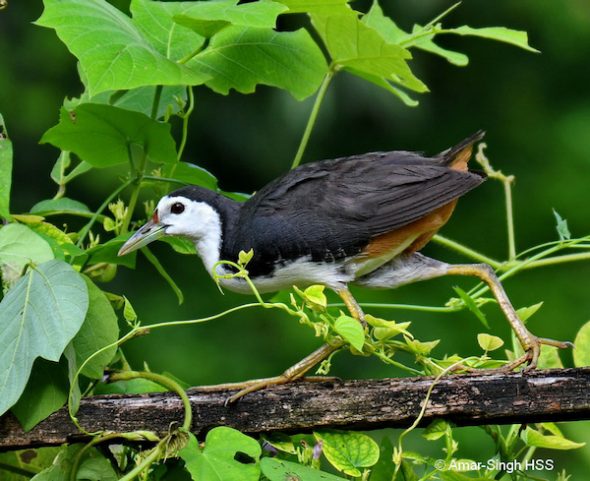 Waterhen on a wooden fence.
On 29th April 2020, the above White-breasted Waterhen hopped up on this wooden fence in front of me and allowed close observation and images. It was feeding on insects on the foliage.
Waterhen feeding on insects.
Waterhen foraging in a pond.
On the early morning of 2nd May, a waterhen was seen foraging in the centre of a pond covered (coated) with Lemna minor (Common or Lesser Duckweed). It was sieving through the aquatic plants looking for snail prey, some were tiny as seen in the image below .
Waterhen with snail prey.
Waterhen with nesting material.
On 21st May a waterhen was seen with a nesting material. It's short tail often flicked when nervous.
Waterhen flicking its short tail.
An older video and DSLR images of a White-breasted Waterhen (Uwak) making less commonly heard calls. Many of us would be familiar with the 'classical', calls these birds make – a cacophony of loud, raucous notes that are answered by the mate – often sounding like its local name "uwak-wak-wak-wak".
Sonogram of waterhen's call.
The bird also has larger repertoire of other calls. One that I hear infrequently is the one shown in the video and sonogram (above). They are discrete, repetitive calls made every 1.2 seconds (16 calls in 19 seconds) and last 0.2-0.3 of a second. Few authors describe them. Craig Robson (Field Guide to Birds of SE Asia 2002) alludes to them as contact calls and describes them as "pwik". Bird that made calls in Post 2 seen below.
The waterhen that made the call.
Video recording here: https://youtu.be/ELHfqhO3Cqo
Edited audio recording here: https://www.xeno-canto.org/474096
Amar-Singh HSS (Dato' Dr)
Ipoh, Perak, Malaysia
April-May 2020
Equipment: Nikon D500 SLR with Nikon AF-S 105mm f/2.8G VR IF-ED or Nikon D500 SLR with Tamron SP 150-600mm f/5-6.3 Di VC USD, handheld with Rode VideoMic Pro Plus Shotgun Microphone