Although the Common Myna (Acridotheres tristis tristis) is an omnivore with a wide range of diet, I have predominantly seen it take insects and invertebrates, with the occasional small vertebrate (frog or lizard). Its generic name 'Acridotheres' mean 'grasshopper hunter'. Nectar and fruit feeding, although reported, are less commonly observed. I have seen it at fruiting Ficus benjamina in the past but not seen actual fruit feeding. At my home I have seen it take the fruit of the Azadirachta indica (Neem Tree). Today I saw 4 birds feeding actively on a fruiting Ficus (see below). Fruit was taken whole and not processed. It will also feed on/drink the nectar of Spathodea campanulata (African Tulip Tree) held in the flower-cups.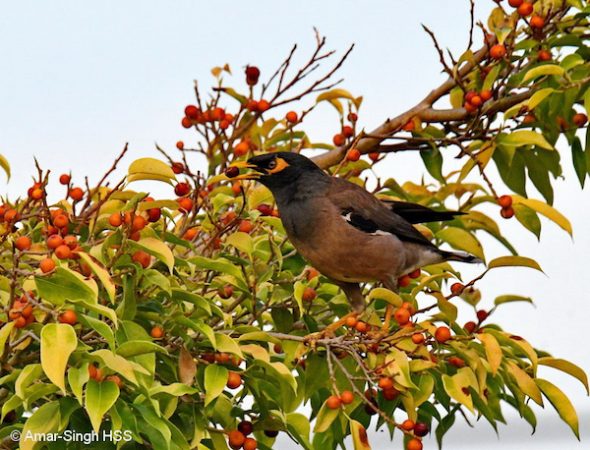 For my region, Wells (2009) notes that it takes the following fruits: Berries of Glochidion, Vitex pinnata (also called V. pubescens) and the flesh of Jambu & Papaya.
Internationally, Handbook of Birds of the World 2019 adds the following fruit items: Figs, Dates, Apples, Pears, Tomatoes, Strawberries, Grapes, Guava, Mango, Breadfruit and Jackfruit.
An image search offered 2 images (one in OBI) of it eating a Ficus but piece-meal, a few images (same bird) at a fruiting Glochidion, 3 images of it eating some fruit (possibly papaya) either discarded or offered by man.
Amar-Singh HSS (Dato' Dr)
Ipoh, Perak, Malaysia
28th January 2019
Location: Ipoh, Perak, Malaysia
Habitat: Urban environment
Equipment: Nikon D500 SLR with Tamron SP 150-600mm f/5-6.3 Di VC USD, handheld