The changeable hawk-eagle (Nisaetus cirrhatus formerly Spizaetus cirrhatus) is also known as Indian crested hawk-eagle. There are varying colour forms in different regions of the world.  Some forms are crested and yet others are not crested. The taxonomy is still in flux as genetic studies have not been able to elucidate the relationship between many of the species. There are also differences in size in different regions. The diet comprises other birds, reptiles and small mammals.
The paradise tree snake (Chrysopelea paradisi) is also known as the paradise flying snake as the snake is able to glide in the trees. The snake can grow up to 1 m in length. Its venomous fangs are located at the back of its mouth. It is arboreal and hunts in the day.  Small vertebrates make up most of its diet.
Ghim Pin Tan was at Pasir Ris Park on 11 September 2021 and documented a crestless, dark morph dueling a paradise tree snake. The snake aimed for the bird's the eye and thus escaped the bird's great talons. Snake got to live another day.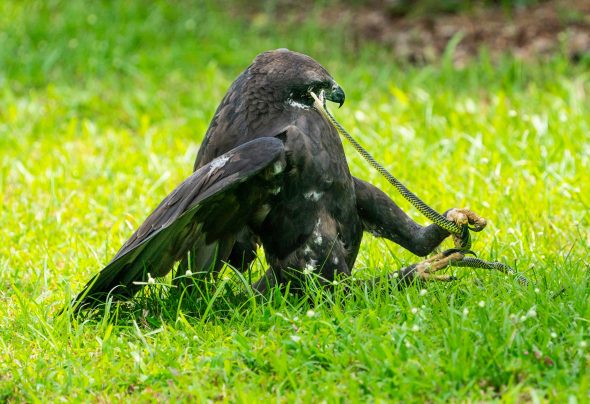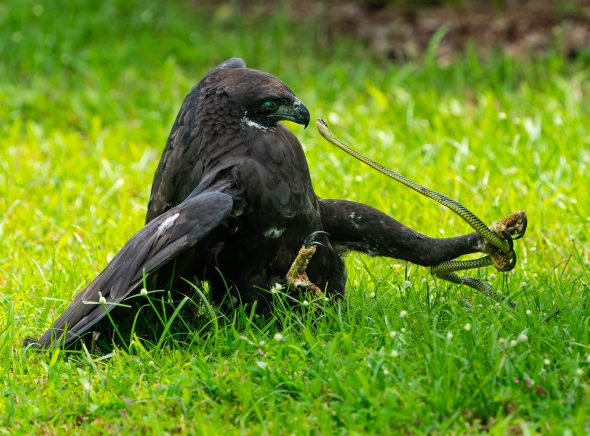 Shahrul Kamal observed a changeable hawk-eagle way back in June 2021.  Read Shahrul's account of the bird's activities that day.
Today I had the chance to shoot the CHE in good light after a 3 week wait. It perched near the shelter at Car Park B for approximately 15-25 mins and gave up after crows started to harass the poor CHE who is trying to have some rest.
It was 'harassed' by a fly (mynah dont quite bother) until it flew towards the pond with the crows in hot pursuit!
CHE must apply for freehold license at Pasir Ris Park tree of its choice. Crows or hornbills got no say.
13 June 2021, around 11:35 am.
*My great thanks to bro Yap Desmond who saw it flying across the Sungai fire fire** (Api Api River in Pasir Ris Park)
References:
A guide to The Amphibians and Reptiles of Singapore by Kelvin KP Lim and Francis LK Lim (published by Science Centre 1992)
Biodiversity of Singapore: An encyclopedia of the Natural Environment and Sustainable Development © 2011
Edited by: Peter KL Ng, Richard T. Corlett and Hugh T. W. Tan
Posted by K~LW
 This post is a cooperative effort between Birds, Insects N Creatures Of Asia and BESG to bring the study of birds and their behaviour through photography and videography to a wider audience.