Terek sandpiper (Xenus cinereus) is a migrant species from Russia. It winters in the warmer South, as far as Australia.  This wader feeds on sand worms (marine polychaetes), crabs and insects. They are usually found in mixed groups of waders.
Johnny Wee was at Pasir Ris Beach, Singapore in September 2021 and documented some of the bird's feeding activities. Sim Chip Chye was also at Pasir Ris Beach and documented a bird pulling out a really long sand worm. Sim also gave an account which is reproduced below his picture of the bird.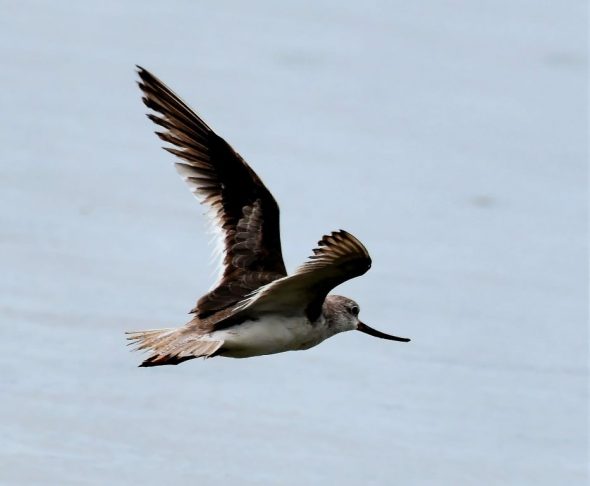 The weather wasn't favourable this morning as it was drizzling quite heavily at some places.
I had planned to visit this site in the morning to record a lifer, a Terek Sandpiper that I have never seen prior and had to change the visit to the afternoon.
Having missed it yesterday, I was fortunate to be able to see it this afternoon as I was told that it is usually a "one-day bird"
This bird breeds around the northern Siberia in the taiga and a few choose to migrate south to the tropics with individual vagrant recorded every few years!
The bird is in a feeding frenzy and was observed to be moving about frantically in search for food. A flock of Mynahs were waiting for an easy meal when it took a Sand Worm and it was seen dashing about rather skilfully to avoid its prey being snatched. Another behaviour seen was that it would rinse the Sand Worm before eating it.
Recorded at the Beach of Pasir Ris Park on 2 September 2021 @ 1458 hrs
This post is a cooperative effort between Birds, Insects N Creatures Of Asia and BESG to bring the study of birds and their behaviour through photography and videography to a wider audience.