Purple-naped Sunbird, now called the Purple-naped spiderhunter (Kurochkinegramma hypogrammicum nuchale) has a large range of food items in its diet. I have observed insect prey, frugivory (fruits), nectar and possibly seeds. Of these, fruits is the commonest food source I have observed. These  birds are also not an uncommon participant of lowland mixed foraging parties (bird waves).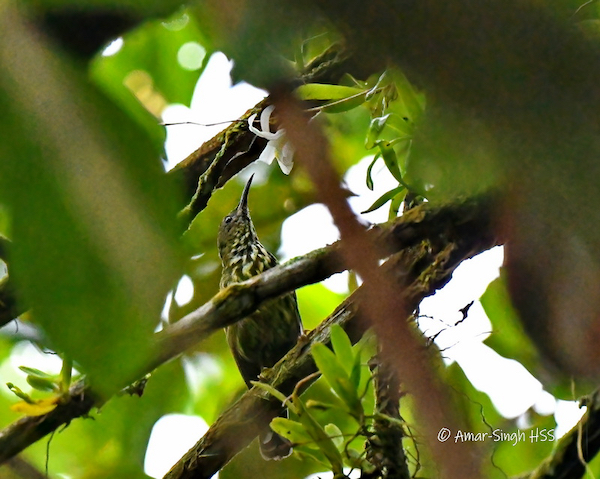 On this visit I saw one bird feeding on the nectar of the Dendrobium crumenatum (Pigeon or Storm Orchid). It fed numerous times on the flowers. This is the first time I have personally seen a bird feeding on the nectar of an orchid; although I have seen the Yellow-vented Bulbuls (Pycnonotus goiavier) eat orchid flowers presumably for nutrition.
The Dendrobium crumenatum orchid tends to flower 8-9 days after an acute temperature drop of ~5C due to heavy, cold rain. This happened about 1.5 weeks ago and the forest I visited was filled with thousands of these fragrant flowers. I did not see any other bird species visit the flowers but there were numerous insects including Hummingbird Moths.
There has been some doubts about certain Dendrobium orchids producing nectar, including Dendrobium crumenatum. The suggestion has been that the plants use deception and mimicry to attract insects for pollination (Leong & Wee, 2013). However, the way the Purple-naped Spiderhunter was feeding left me no doubt that it was getting nectar. A recent study of 34 species of Dendrobium showed that 21 species produced sucrose-dominant nectar (typical of bee-pollinated flowers), supporting my observation.
A list of food sources for this species observed by me include:
Feeding on the flowers of Poikilospermum suaveolens (eat the flowers to get to the nectar; common).
Nectar of the creeping epiphyte Dischidia hirsute.
Fruit of the Macaranga bancana (very common).
Fruit of the Giant Mahang (Macaranga gigantea).
Fruit of the Blue Mahang (Macaranga heynei).
Often observed feeding on purple berries and nectar of the flowers of an unknown tree.
Seen feeding on spiders a few times.
Possibility of feeding on bamboo "seeds".
References:
Leong, T. M. & Y. C. Wee, 2013. Observations of pollination in the pigeon orchid, Dendrobium crumenatum Swartz (Orchidaceae) in Singapore. Nature in Singapore 6: 91-96. https://lkcnhm.nus.edu.sg/wp-content/uploads/sites/10/app/uploads/2017/06/2013nis091-096.pdf
Li-Bing Jia, Shuang-Quan Huang (2021). An examination of nectar production in 34 species of Dendrobium indicates that deceptive pollination in the orchids is not popular. Journal of Systematics and Evolution. https://onlinelibrary.wiley.com/doi/abs/10.1111/jse.12799
Amar-Singh HSS (Dato' Dr)
Ipoh, Perak, Malaysia
2nd September 2021
Location: Kledang-Sayong Forest Reserve, Ipoh, Perak, Malaysia
Habitat: Primary forest
Equipment: Equipment: Nikon D500 SLR with Nikon AF-S Nikkor 500mm f/5.6E PF ED VR, handheld with Rode VideoMic Pro Plus Shotgun Microphone