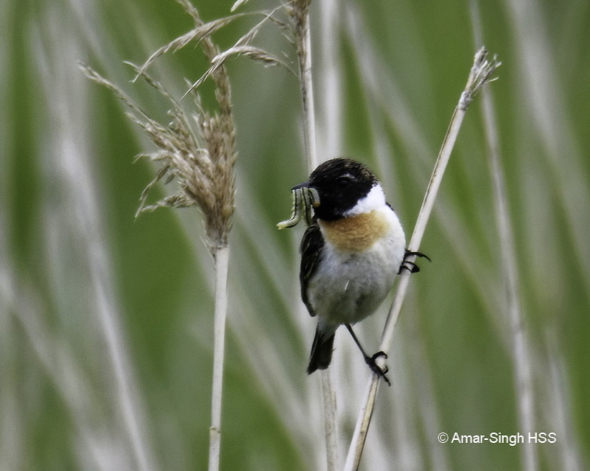 "The taxonomy of this species is so varied with some calling it the Eastern Stonechat, Siberian Stonechat and Stejneger's Stonechat. Scientific names also vary: Saxicola torquatus stejnegeri (HBW, Clement & Rose), Saxicola maurus stejnegeri (OBI) or just Saxicola stejnegeri (Brazil).
"I have left it as Stejneger's Stonechat, the common Stonechat found breeding in Hokkaido.
"We saw a large number, mostly breeding, often with prey while we were there. The vast majority of prey brought to young were caterpillars or worms. But also dipterans and once a possible spider-like insect.
"The two breeding female adults above look less mature (first or second year). Clement (2015) states that it 'breeds in first year'".
Dato' Dr Amar-Singh HSS
Ipoh, Perak, Malaysia
5-10th June 2019
Location: East Hokkaido, Japan
References:
1. Peter Clement, Chris Rose, Robins and Chats, Helm Identification Guides 2015
2. Mark Brazil. Birds of Japan. Helm Field Guides 2018
3. Collar, N. (2019). Common Stonechat (Saxicola torquatus). In: del Hoyo, J., Elliott, A., Sargatal, J., Christie, D.A. & de Juana, E. (eds.). Handbook of the Birds of the World Alive. Lynx Edicions