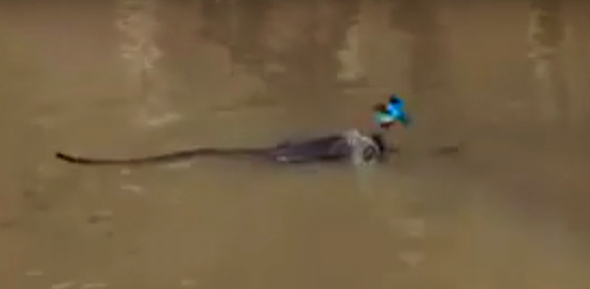 Jkai Chan's video of a White-throated Kingfisher (Halcyon smyrnensis) mobbing a large Malayan Water Monitor (Varanus salvator) shows to what extent the kingfisher will do to defend its active nest. We can only guess that the kingfisher must be nesting nearby. Otherwise why else will it expose itself to the danger of being in turn attacked by the large lizard?
Birds normally attack other birds when the latter intrude into their territory, especially when they are breeding LINK 1 and LINK 2 and LINK 3.
House Crows (Corvus splendens) have been known to be aggressive against humans, attacking people walking under their nest when there are chicks LINK. Similar behaviour is seen in magpies LINK. A Grey Heron (Ardea cinerea) was similarly attacked by a colony of breeding Black-naped Terns (Sterna sumatrana) when the former intruded into the colony PDF.
But a large monitor lizard? A link to a pair of birds attacking a monitor lizard that is ravaging eggs in a crocodiles' nest can be viewed HERE.
Jkai Chan
Singapore
10th October 2019
This post is a cooperative effort between Birds, Insects N Creatures Of Asia and BESG to bring the study of birds and their behaviour through photography and videography to a wider audience.