An Oriental Dwarf Kingfisher (Ceyx erithaca) was found on the ground just outside Mission Juice at Tanjong Pagar Icon Village on 1st November 2019. The owner of Mission Juice, Joel Lee De'en, picked the injured bird which was exhausted and nursed it back before releasing it outside his shop. He even tried to feed it with some fruit juice.
Michael Patrick Marklevitz wrote that many migratory birds fly among the tall buildings and collide with the glass windows, injuring themselves and even ended up dead. This kingfisher is a winter visitor and passage migrant and it was fortunate that it only injured itself and was nursed back to health.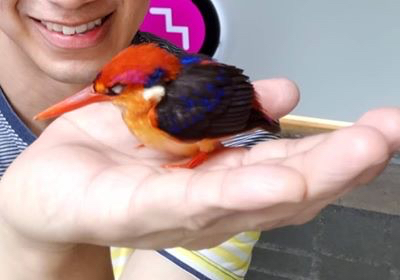 According to Jai Wei Woo, the kingfisher's wings and legs were checked for signs of injuries and there were none. After a short while it flew away, indicating that it might be just exhaustion after the long flight.
There were some discussions on whether the exhausted/injured bird should be released where it was found. The consensus was that it could be released anywhere, although in this case it was released at the spot where it was found. After all it is a migrating species and not an injured young bird fallen from its nest LINK.
Joel Lee De'en (image credit), Jia Wei Woo & Michael Patrick Marklevitz
Singapore
2nd November 2019
This post is a cooperative effort between Birds, Insects N Creatures Of Asia and BESG to bring the study of birds and their behaviour through photography and videography to a wider audience.