"The Lanceolated Warbler (Locustella lanceolata hendersonii) is a difficult bird to watch – it is not afraid of humans but tends to be secretive and creeps about like a mouse in the undergrowth, even though the overgrown vegetation on the ground at your feet.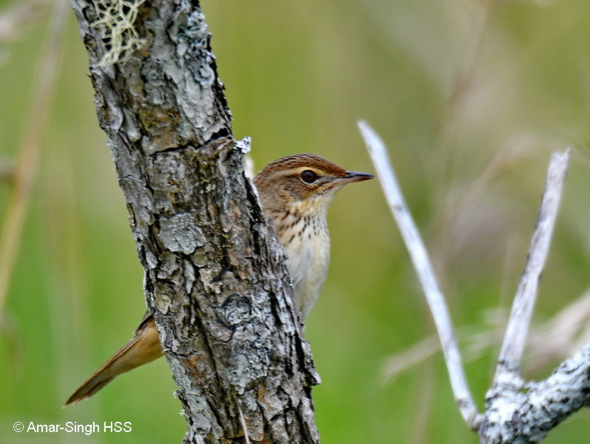 "We saw this bird over 25 minutes as it moved around us and offered tantalising views, calling at times; but images were a challenge and often only fragments of the bird.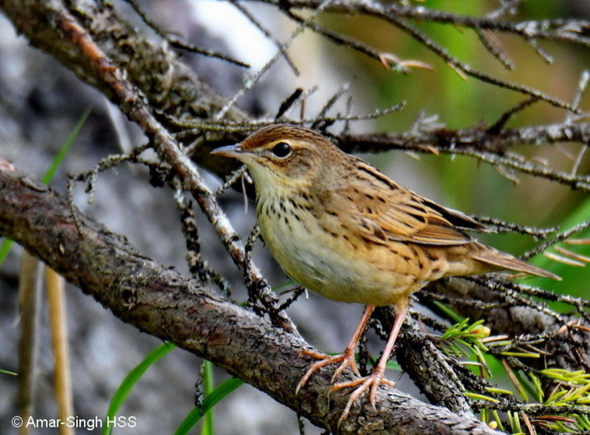 "I have noticed during our trip to Hokkaido that Reed and Bush Warblers in their natural habitat are a little 'easier' to see than when on migration to Malaysia, and often spotted by their calls.
"This Lanceolated Warbler looked paler and less streaked than we expected. Pearson in HBW 2019 states that 'Race hendersonii is slightly paler above than nominate, streaking less well defined, has underparts more varied, typically with streaking less prominent, flanks and undertail-coverts warm buff, both adult and juvenile sometimes tinged yellow below'. Kennerley et al 2010 would 'classify' this bird we saw as a 'fresh' adult L. l. hendersonii; they state on fresh birds that 'Strongly toned birds with reddish ochre flanks and breast are unusual. Poorly developed spotting occurs more frequently in henderson, and flank streaking is faint and occasionally absent. Dark centres to undertail-coverts are most obvious on the shorter outer feathers, and may diffuse or absent on longer feathers'. We saw this bird in in a damp, tall grass environment.
"The bird has a soft, drawn-out song that is described as a 'continual reeling thrill' (Kennerley et al 2010); sounds more insect-like than bird. It rises and falls as the bird turns the head from side to side (ventriloquial effect). The sonogram shows that it comprises a pair of notes, given at 15-20 per second (Kennerley et al 2010)."
Dato' Dr Amar-Singh HSS
Ipoh, Perak, Malaysia
10th June 2019
Location: Shunkunitai, Nemuro, East Hokkaidō, Japan
References
1. Pearson, D. (2019). Lanceolated Warbler (Locustella lanceolata). In: del Hoyo, J., Elliott, A., Sargatal, J., Christie, D.A. & de Juana, E. (eds.). Handbook of the Birds of the World Alive. Lynx Edicions, Barcelona. (retrieved from https://www.hbw.com/node/58784 on 19 June 2019).
2. Peter Kennerley, David Pearson, B Small. Reed and Bush Warblers. Helm Identification Guide. 2010.