Part 1; Part 2; Part 3; Part 4; Part 5; Part 6; Part 7; Part 8; Part 9; Part 10; Part 11: Faecal Sacs.
"Excrements of Common Tailorbird (Orthotomus sutorius) nestling accumulated inside gut and collected into a white membrane called faecal sac and is in-situ chick's rear end (below).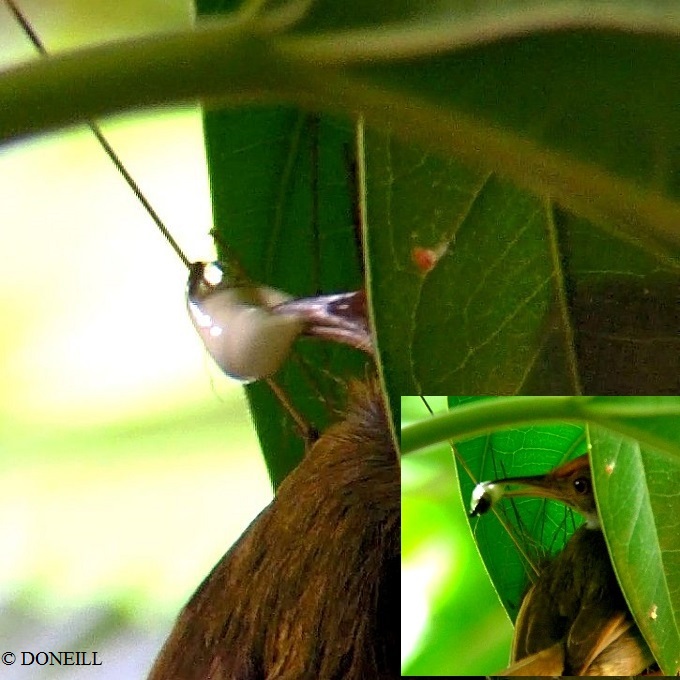 "Fledging moments of a brood of three chicks-Osai1, Osai2 and Osai3, belonging to Otto (Male) and Satori (female), parents of Common Tailorbirds was close at hand.
"Parenting birds were kept busy disposing faecal sacs to keep nest clean, odourless and rodent free.
"Removal of faecal sac was at times aided by parenting bird pinching chick's rear end, to relax its sphincter muscles. Subsequently, the sac with blackish tip got plucked out and discarded (below).
"Frequency of faecal sacs removal depended upon sustainable food amounts ingested.
"Satori-female parenting Common Tailorbird was first spotted flying off with white, faecal sac on morning, third day of chick hatching. Day noted to be 8 May.
"Feeding and subsequent faecal sacs removing became routine chore. Sometimes, parenting bird tarried patiently for nestlings to self-expel their poo (above, video below).
"Otto-male parenting bird also shared in waste disposal responsibility.
"Do nestlings eat their own poo?
"Some bird species do but this was not observed during my two weeks monitoring of nesting Common Tailorbirds, of batch season – May 2019.
"Join me to introduce and welcome a new member family of Otto and Satori in next episode…"
AVIAN WRITER DAISY O'NEILL
PENANG MALAYSIA
31st August 2019
COPY OF COPYRIGHT ARTICLE AND ALL IMAGES – COURTESY OF DAISY O'NEILL BIRD CONSERVATION FUND