Part 1; Part 2; Part 3; Part 4; Part 5; Part 6; Part 7; Part 8: Nature's Foods for Tailorbird Chicks – A Pictorial (2).
"Otto (male) and Satori (female) – my monitoring pair of Common Tailorbirds (Orthotomus sutorius) continued to impress with extensive array of food prey, they brought to feed and to nature their young.
"Let's continue where we left off from Part 7 to add to the food list:
"Spiders (Arachnida): Belongs to the Order Araneae. These Arachnids are wingless, lurking creatures of the dark and devoid of antennae and armed with eight legs and two body segments. In spite of possessing eight single-lens' eyes, they have poor eyesight; is compensated by having highly sensitive legs for prey detection. These fang-injecting carnivores spin webs as traps for food.
"Habitat of spiders is favourite haunt for Tailorbirds (Orthotomus spp.). No exception to Otto and Satori, who raided webs, eggs and all – especially during breeding season- to meet their requirements.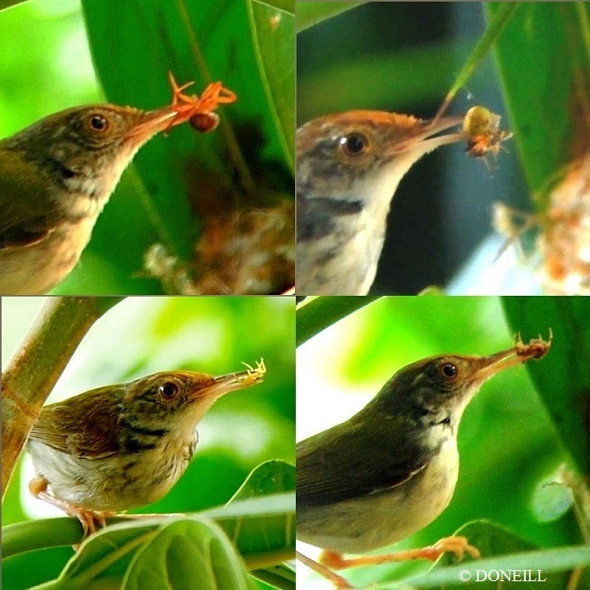 "Spiders (Arachnida) were easy pickings. A total of no less than eight different-looking species and 17 sorties of Arachnida foods were delivered (above, below).
"Eggs and young: They made easy and extremely nourishing foods for young chicks. Twenty-four food delivery trips were made by breeding pair from raiding nests' sites of Arthropods (below).
"Mystery gift revealed a clump of 1mm diameter sized eggs (Scelionid parasitoids) of Stink Bug species brought in by Satori (below).
"A comparison search via internet suggests these greenish, round eggs, belong to that of a Brown Marmorated Stink Bug (Halyomorpha halys). A new pictorial food record noted.
"The Hymenoptera Order is huge with over 150,000 known species. Only three families (ants, bees and wasps) will be presented and added to food list of Otto and Satori – the ubiquitous pair of breeding Common Tailorbirds.
"Ants: Belongs to the family of Formicidae. Only three trips of ants were observed flown to nest (below).
"Nothing got wasted nor missed as sharp-eyed Otto checked and inspected nest surroundings for easy pickings… or so it seemed (below).
"A small, black ant was spotted crawling on host plant -Ficus benghalensis (below).
"Ant scrambled for life as Otto's eye balls fixed, zoomed on and gave chase (video below).
"Bees (Anthophila): Belonging to Apidae family of the Hymenopteran Order, their life cycle undergoes complete metamorphosis (egg-larva-pupa-adult). These hairy creatures are recognised by general presence of orangey-yellow abdomen with black stripes and black eyes (below).
"Based on that description, 30 sorties of bees-foods for chicks sent by Otto and Satori arrived. Bees appeared to be second highest popular item on food list.
"Bees are important pollinators. Some species fly with a noisy buzz like the Carpenter Bees (Xylocopa spp.), others turn prey and/or produce honey of commercial value for human consumption e.g. Asiatic Honey Bee (Apis cerana).
"Wasps: Belong to the suborder Apocrita. Despite having a pair of large compound eyes and several simple eyes triangulating on its forehead, these insects with classical, tiny waist cannot see the colour red. Wasps appear in variable colours. Popular ones snared by Otto and Satori were mostly black with lower feet white (below).
"An impressive 47 wasps of variable species topped the list to added foods for chicks' diet by breeding pair of Common Tailorbird.
"It appears the Hymenoptera Order of insects, especially wasps and bees, are top two substantial and favourite foods fed to chicks by Otto and Satori.
"A pictorial in photomontage array presented above and below."
"Time to meet the chicks…
"Do join Avian Writer in Part 9 and be introduced to Otto and Satori's chicks…..Osai1, Osai2 and Osai3."
AVIAN WRITER DAISY O'NEILL
PENANG, MALAYSIA
22nd August 2019
COPY OF COPYRIGHT ARTICLE AND ALL IMAGES – COURTESY OF DAISY O'NEILL BIRD CONSERVATION FUND