Part 1; Part 2; Part 3; Part 4; Part 5: Action in Photo-videography.
"'Action speaks a thousand words' perhaps can be said to hold truth. Otto (male) and Satori (female) – pair of breeding Common Tailorbirds (Orthotomus sutorius) displayed their personal preferences as they played out their roles in my humble abode.
"Their hollow, skeletal body each weighing approx. 7-8 gm allows bird to perch effortlessly.
"Being passerines, they possess feet with claws projecting from toes. Three toes forward and one toe behind to grasp on its perch with ease, without bird falling off edges (above).
"Their dextrous, clawed feet are so well designed to grip even onto leaf stalks and tiny branches without breaking any. With added balancing and acrobatic skills, they show the capacity to cling onto leaf edge and ability to lean forward to attend feeding routines with ease (above).
"As hostess, I had been given privilege to bear witness to their breeding activities, humbled and refreshed by their actions and survival skills.
"The strategy of distraction is well documented in birds. Usually it would be the male. In this case, Otto was observed prancing and calling aloud to entice predator – my gaze away from his vested interest – nest site. This then allowed Satori-the female to follow up, fly in on the quiet, with nesting material or food for the young.
"Strangely, only Satori was spotted actually stitching leaves together (above).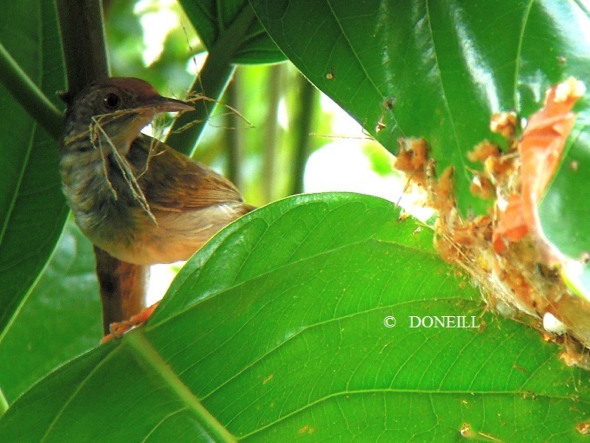 "I have no images of male Otto performed same nor observed any such activity except, proven evidence as an assistant in bringing nesting materials to help female (above).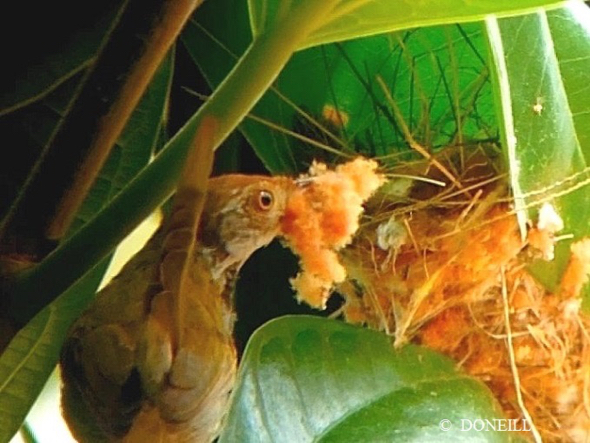 "An interesting observation issue. Otto brought into the nest an organic orange-fluff, nesting material (above) and flew out without using it. Seeing Satori not around, he flew away with same. Why?
"Rare opportunity captured in videography posted below.
"Video clip ensemble is shown below.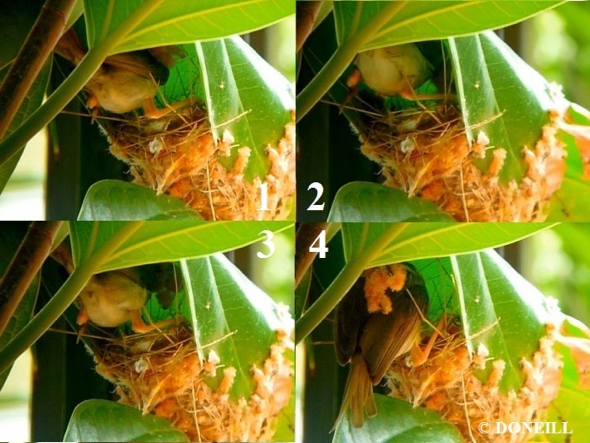 "Was collected material unsuitable for nest lining? Or was Otto unsure where to put it or was he not allowed to embellish the art work of Satori?
"And what was this mysterious orange material?
"A species of floral bloom/lichen perhaps with pesticide to repel ectoparasites… for Otto to dab- dusted over? That would be useful. Or, Otto got a dark secret, revealing that male Common Tailorbirds are restricted only to the role of nest building apprenticeship; they do not actively participate in the art of nest stitching. Only females STITCH! 'Don't touch my art work ya….' (above).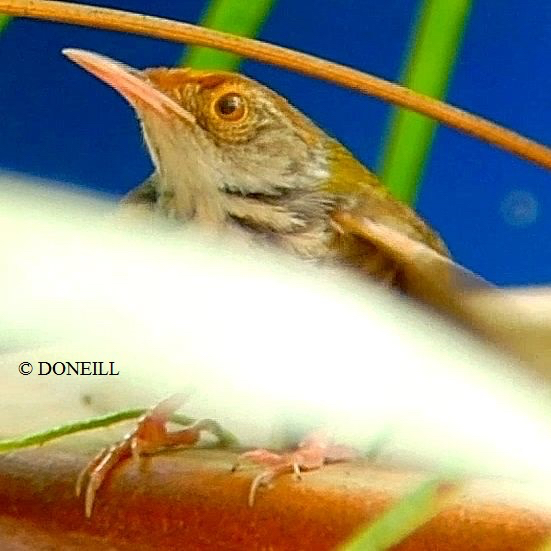 "On 19th April, a parent was seen crouched over a potted palm sapling at 1128am. It began to wing flutter and called at the same time. Having scrutinised many images for sex comparison, I was convinced flutterer was no other but Satori (above).
"Why the fluttering of wings?
"Was it an expression of joy and achievement of work completion and to get the attention of male for a nest inspection?
"I would say so. Otto appeared at 1130am and began an inspection of the nest (abpve).
"At 1145am both birds were heard chirping together, obviously delighted they had just about completed their 2nd phase of breeding cycle – (1st phase- courting/2nd phase- nest building/3rd phase-incubation/4th phase-chick feeding/5th phase- fledging/6th phase-chick parenting).
"It was observed, final touches to the nest were given the next day and by 21st April, collection of nesting materials came to a halt.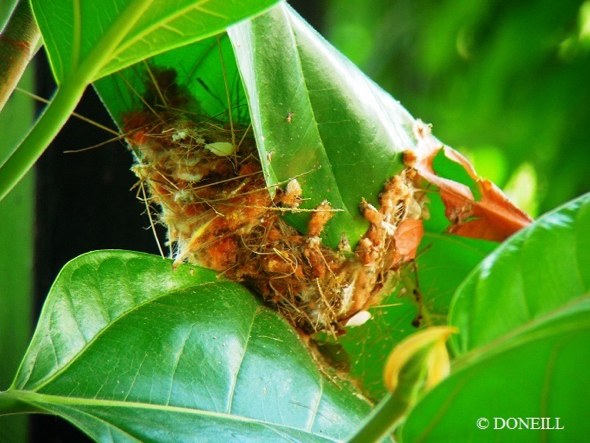 "Assuming two days were given prior to 15th April, where stitching was first spotted to be almost finished, my calculation suggested, it took Otto and Satori a total of nine days to build nest to completion (above).
"On 22nd April saw pair visited, chirped and inspected their nest.
"It was time to leave them alone to get on with their business of egg laying and incubation during the 3rd phase.
"It was well timed also for Avian writer to take a break. Stride two continents, cruised the Straits of Dardanelles to historically reminiscent what it was like, through eyes of ancestral Seagulls, that bore witness to the historically, ill-fated- Battle of Gallipoli 1915, against the Ottoman Empire of the time.
"I came to understand better, why ANZAC Day – 25April remains an important, annual commemorative date for the Australian Armed Forces.
"Part 6 will test the patience of Otto and Satori, during a period of quiet. This will be followed by Part 7 to showcase beyond their breeding horizon, venture into the world of the Hymenopterans – as nature's foods for their young.
"It will be an interesting part to include; perhaps a probable new food record or two and full of colourful pictures to participate with the enduring pair of Common Tailorbirds."
ENJOY! ….…
AVIAN WRITER DAISY O'NEILL
31st July 2019
PENANG MALAYSIA
COPY OF COPYRIGHT ARTICLE AND ALL IMAGES – COURTESY OF DAISY O'NEILL BIRD CONSERVATION FUND