"I have adapted this title from my much loved and often read 'Lord of the Rings' by J.R.R. Tolkien, where he speaks of Rivendell (or Imladris) as the 'The Last Homely House East of the Sea'. We took a 2 week break from electronic communication and spent 10 days of this with nature in East Hokkaido, Japan with my wife and two other friends, fellow bird watchers and nature lovers. We stayed for the full duration at Minshuku Furen, a homestay run by Takeyoshi & Masako Matsuo.
"Their home is situated at the base of the Nemuro Peninsula, the eastern-most tip of the island of Hokkaido and also of Japan. The Nemuro Peninsula extends from the east coast of Hokkaido and is 30km long and 8km wide; the south side faces the Pacific Ocean. Their home is located in a rural environment and just within walking distance are three great nature sites – the Shunkunitai Boardwalk into wetlands and the coast (great for Reed Warblers, Waders and Ducks), the Nemuro City Shunkunitai Primeval Wild Bird Park Nature Center (a small forest with many of the delightful smaller birds and Woodpeckers) and a mature forest south-west of Nemuro (a restricted area but access is allowed, where many wonders await including the Japanese Robins – see below). Their home is also a great launching site to the nearby Ochiishi Nature Cruise for pelagic birds especially the Auks and northwards to the Notsuke Peninsula and the alpine birds of the Shiretoko pass.
"Takeyoshi-san and Masako-san are the perfect hosts for bird watchers and nature lovers – they both love birds and bring to your disposal 40 years of bird watching experience. This is coupled with a comfortable homestay and excellent food that Masako-san prepares for breakfast and dinner. I suspect some come to stay here just for the food (and home-made wine)! Breakfast comes with 6 homemade jams and dinner is a carefully prepared, delicious seafood meal (see below).
"What we found enchanting was the child-like joy that both Takeyoshi-san and Masako-san displayed at seeing birds. Unlike some other bird guides I have been with, who have become a bit jaded with the work, Takeyoshi-san shows a keen interest in everything he sees. His record books travel with him and he is constantly making field notes – a trait after my own heart. He can tell you if a wild flower has bloomed early for the season, or whose dropping this is on the trail and which bird has made that call in the distance. His limited use of call playback was also rewarding, for a bird guide.
"We saw a decent number of lovely birds but had not expected to see the number of animals that we did. The most delightful was Kitakitsune (北狐) – the Ezo Red Fox (Vulpes vulpes schrencki). We saw many of these foxes in our time there and were enthralled and captivated. They a have a strong place in Japanese mythology and are said to be able to mesmerise humans, as we were. They have now become my wife's favourite animal.
"That deer and fox can wander the streets and forest openly for humans to see is a new experience. It speaks about the Japanese people's acceptance and support of the nature around them. We recognise they have a blind spot where whaling is concerned but there is a strong love of nature in the average person; we can only hope that this will develop in our communities.
"East Hokkaido in early summer is still quite cold with a stiff wind blowing from the north, so temperatures were comfortable for walking if well wrapped up, especially in the open. Light comes early, around 3-3.30am, so an early night and an early start are advisable. Bird life is reasonably rich and many of the birds that migrate to our region can be seen actively breeding. Some surprised me at how easy they are to see and how vocal they are in their breeding grounds compared to when on migration, like the Black-browed Reed Warbler (Acrocephalus bistrigiceps) and Eastern Crowned Warbler (Phylloscopus coronatus). Some were breathtakingly beautiful, like the Japanese Robin (Larvivora akahige akahige), Siberian Rubythroat (Calliope calliope) and Narcissus Flycatcher (Ficedula narcissina narcissina). That you can see some of this by just walking out the door at Minshuku Furen, makes the location magical.
Image above – Narcissus Flycatcher (Ficedula narcissina narcissina).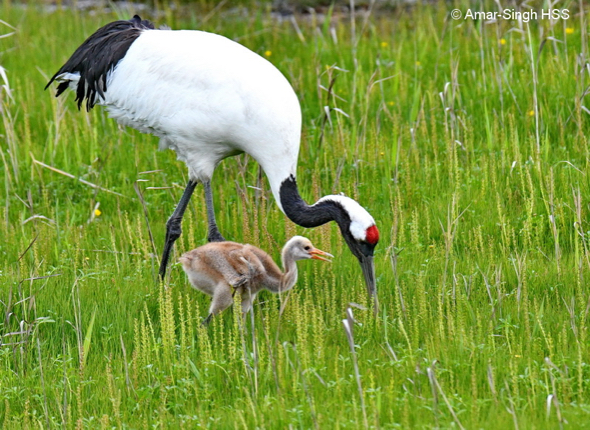 "No visit to East Hokkaido would be complete without watching the iconic and endangered Red-crowned Crane (Grus japonensis). We saw quite a number, some with juveniles, just adjacent to Takeyoshi-san and Masako-san home. In Japan, the Tancho or Red-crowned Crane (丹頂鶴) is considered a mystical creature that lives for a thousand years and hence represents long life and happiness. The long process, of rescuing this bird from the brink of extinction in the 1920s, to the present population of more than 1,000 birds in Hokkaido gives much hope to conservation elsewhere.
"Takeyoshi and Masako Matsuo homestay at Minshuku Furen is the last homely house on the eastern shores of Japan. If you come with an open heart and child-like wonder of expectation, expect to find magic and delights to heal your soul in both the simple and grand things of nature."
Dato' Dr Amar-Singh HSS & Datin, Dr Swee-Im Lim
Ipoh, Perak, Malaysia
29th July 2019