Part 1; Part 2: Nest building:
"Nesting activity was first discovered on 15April, 2019, when foliage of potted sapling – Ficus benghalensis in my balcony was observed to have curled unusually (above). I suspected nest building began at most two days ago.
"With time at hand and location of observation suited fine, I decided to monitor movements of Otto and Satori –breeding pair of Common Tailorbird (Orthotomus sutorius), as introduced in Part 1 of this series LINK.
"Over a period of 7-9 days, it was observed nest building was actively carried out by breeding pair, on consecutive days, from mornings to evenings (above, below).
"Two pieces of foliage each approx. 32cm were stitched together with silk of spider webs to form a cone shaped nest. Using their long bills as tools, foliage were systematically pierced and threaded through and knotted at ends. Enlarged side and rear view shown here (below).
"As each day passed, nest was fashioned to its required strength, thickness and depth. Satori was observed shuffling its body to fashion a cup within (below).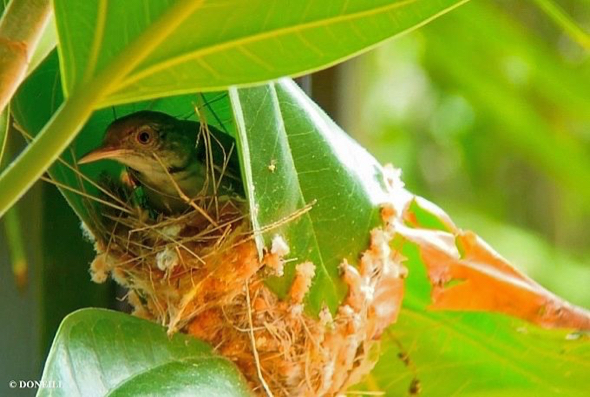 "22nd April arrived. A secret, communication signal was observed executed by breeding partner to suggest nest completion. A fresh, newly completed nest is shown here (below).
"Otto and Satori's work of tailoring art in various views is presented here (below).
"A vacated, well utilized and smoothen out nest not to be excluded is appreciated here (below).
"Fledglings vacated nest on 19th May. Nest was removed next day from plant sapling. Here is one last, close look at nest's stitching (below)…
"…before stripped down to appreciate shape and identification of its material contents (below).
"Measurements were taken of vacated nest (below).
Chamber: Depth-6.5cm; Width-4cm; outer Circumference (max.) -17cm; External length-10.5cm; External width-6cm.
"Items found brought to nest built were as follows: moss and lichens, plastic straws, assorted grass straws and plastics, small twigs, fragmented dried leaves, leaved branches, fluffy materials, egg shells of spiderlings and web silk (below).
"Male and female Common Tailorbirds appear to look similar in appearance. Their flighty movements make differentiating sex a challenge; but discerning birders with a good ear for hearing and sharp observation do often tell them apart.
"A more definite way of course is by comparison of photographic images and extracts from videography from the comfort of an arm chair.
"Do join me in Part 3 to appreciate more close up features of Otto and Satori – male and female Orthotomus sutorius."
AVIAN WRITER DAISY O'NEILL
COPY OF COPYRIGHT ARTICLE AND ALL IMAGES – COURTESY OF DAISY O'NEILL BIRD CONSERVATION FUND