Bird Ecology Study Group (BESG) has been working closely with Facebook group Birds, Insects N Creatures of Asia (BICA) since August 2015 LINK. The arrangement is that BICA members serve as citizen scientists, using their cameras to document the behaviour of birds as well as other organisms. Selected BICA postings are then repackaged with comments by relevant researchers where necessary and posted on the BESG website.
So far, more than 200 items of bird behaviour came from BICA members. Of these, Wong Weng Fai's video clip of the Grey-rumped Treeswift LINK made local ornithological history when it provided clear evidence of cooperative breeding among our local treeswifts (see video below).
Another contribution of significance is Ang Siew Siew's images and video clip LINK of a Tanimbar Corrella using "tools" in the form of a piece of leaf midrib and old inflorescence spikelets to get at the flesh of the coconut through a small opening made earlier by a squirrel LINK. The posting of her findings attracted the attention of an overseas academic who wrote a scientific account and had it published in a scientific journal LINK.
In addition to the above, there are many other posts of ornithological importance, whether illustrated with images or video clips. Due to space constraint, it was decided to highlight posts involving video documentations. This is because videography has become an important tool in the study of bird behaviour with BICA members leading the way.
1. Jeremiah Loei's video clips of the Black Bittern's stalking behaviour LINK; pellet casting by a Common Kingfisher LINK; Red-breasted Parakeet roosting LINK and Common Palm Civet raising kittern in a tree hollow LINK.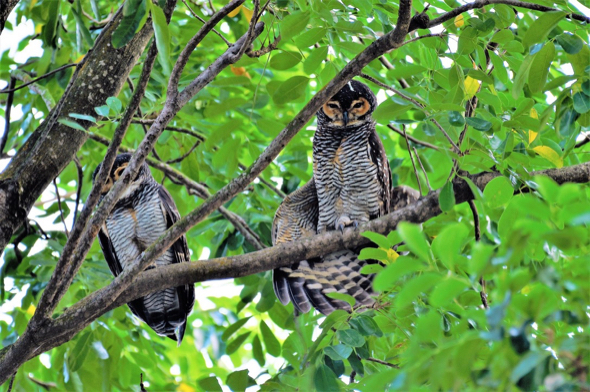 2. Little Heron's fishing expedition using pieces of bread left by visitors to feed the fish in the lake by Jia-Wei Woo LINK; Richard White LINK and Muang Muang LINK.
3. Kumchun Chan's courtship dance by the Pin-tailed Whydah LINK and nest construction by a Red-crowned Barbet LINK.
4. Ted Ng's Oriental Pied Hornbill's fledging moment LINK.
5. Steven Struyck's call of the Greater Racket-tailed Drongo LINK.
6. Lee Li Er's Asian Glossy Starling de-shelled a snail LINK.
7. MeiLin Khoo's sighting of the Great Slaty Woodpecker LINK and the call of the Violet Cuckoo LINK
8. Art Toh's on the mating behaviour of the Spotted Wood-owl LINK
9. Jia-Wei Woo's Malayan Colugo's glide LINK.
10. Michael Khor's Long-tailed Macaque feasting on a durian LINK.
11. Richard White's humming hawk moth harvesting nectar LINK.
12. FIN's clip of a whip snake swallowing a Copper-throated Sunbird LINK.
13. Deepak's dancing fly LINK.
14. Zhang Licong's courtship feeding of the Coppersmith Barbet LINK.
15. Derrick Wong & MeiLin Khoo's documentation of the Olive-backed Sunbird's aggression that brought together an experienced Malaysian birder Dato' Dr Amar-Singh and a published ornithologist Dr Clive F Mann FLS to provide their opinion on the puzzling behaviour LINK.
Without doubt BICA members have played a significant role as citizen scientists in the study of bird behaviour. By involving in videography, they have added a new dimension to the local birdwatching scene.
There are many more snippets of bird behaviour that were unearthed by BICA members that it is not possible to highlight in this short post. BESG wishes to place on record our grateful thanks to all BICA members for their role as citizen scientists in the documentation of bird behaviour, especially to Jeremiah Loei who made all these possible. Thank you very much.
I conclude by quoting Dr Clive F Mann FLS: "There's so much to learn about bird behaviour still, particularly in the tropics."
YC Wee
Singapore
22nd March 2019
This post is a cooperative effort between Birds, Insects N Creatures Of Asia and BESG to bring the study of birds and their behaviour through photography and videography to a wider audience.
If I have missed out certain individuals in the list above, my apologies. However, I would be happy make the necessary corrections if I am informed.