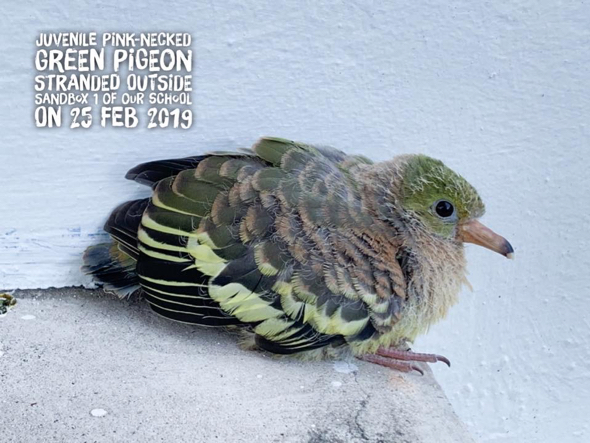 "On 25th February, at about 0900 hrs, a juvenile Pink-necked Green Pigeon (Treron vernans) was found stranded outside Sandbox 1 (Computer Lab) by a student Ariqah (Class 3-O) in my school. It was likely that this fledgling had yet to master flying.
"These green-pigeons feed mainly on fruits. Their colourful plumage allows them to blend perfectly with the foliage of fruiting trees. The male has the upper throat that is pale bluish-grey, with a broad orange band across lower breast. The female basically has an overall olive green shade throughout the body.
"After being examined for injury, it was placed on the Coral Tree (Erythrina sp.) next to the corridor outside our General Office to wait for its mother to find it. But there were no signs of its parents.
"On 27th February, after morning flag raising, I gathered a group of students to witness the transfer of this juvenile Pink-necked Green-pigeon onto another shrub next to The Wetland in our school, where I've observed high volume of bird activities in the morning due to the ripen berries on the Sendudok plants (Melastoma malabathricum) in that area.
"True enough, we saw a pair of adult Pink-necked Green-pigeons approaching the shrub after we backed off. We trust that the parenting is best done by its biological parents.
"On 28th February, the same juvenile green-pigeon was picked up from the mudflat in The Wetland of our school at around 1500 hrs by two of our Sec 1 students while walking across The Wetland.
"They showed warmth to this young pigeon by relocating the young pigeon onto a tree next to where it was found, as they were concerned that water may cover the mudflat suddenly and drown the young pigeon which may not be able to fly away.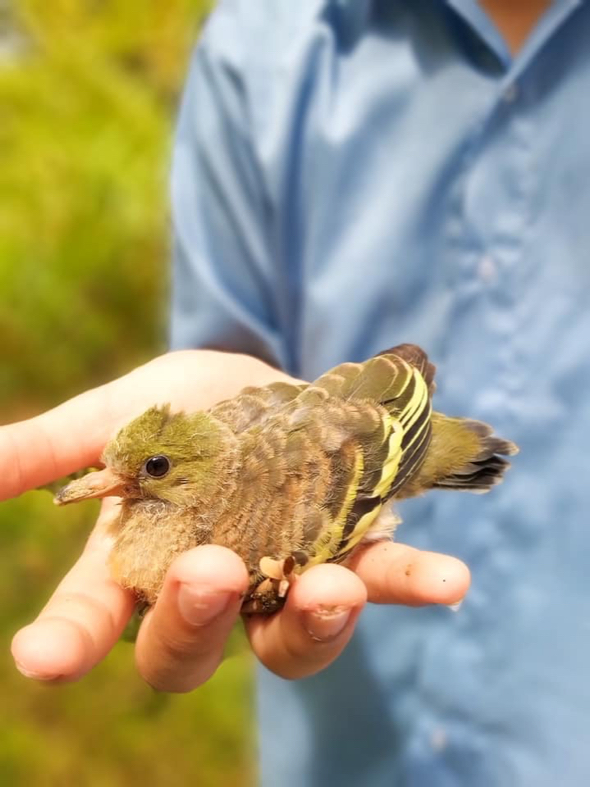 "Dear students, if you see any animal that is sick/injured, in distress, or require protection, take a clear picture of the animal and report the sighting to the General Office immediately. Ms Lye Zhen Xi and myself will be informed and will respond to the case as we are trained as wildlife rescue volunteers with ACRES.
"I urge everyone of us to keep our school environment clean and free from litter, so that our eco-habitats can be enjoyable for both staff and students, and a safe haven for the wildlife that either visit or reside here."
Jacob Tan Guanrui
Senior Teacher (Biology)
Commonwealth Secondary School
Singapore
27th February 2019
Photo Credits: Ariqah (Class 3-O), Aisyah (Class 3-M), Ryan Wong (Class 4-O) and Koon Chi and Divyadharshan (Class 1-C).