"The Lesser Coucal (Centropus bengalensis javanensis) is a common bird and there is has been some uncertainty whether a moulting individual is a juvenile moulting into an adult or a non-breeding adult. I tend to subscribe the opinion that they are non-breeding adults as many birds are in this phase when off the breeding season.
"The images above and below are of two different birds in non-breeding plumage. Their calls fill the countryside and, as I live near an overgrown Chinese graveyard, we hear them often. Above also shows the posture of birds when calling. The bird leans forwards with the head curved down, beak open and throat distended.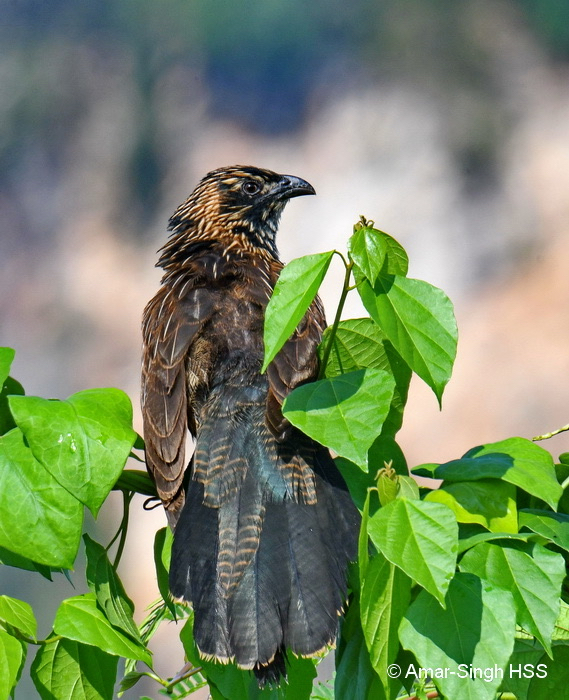 "The classical calls are in the edited recording of the calls (see Sound Cloud link) and sonogram/waveform below.
"They start off with a "ho-ho-ho" (Wells 1999) or "kok-ok-oo" (Payne 1997) rattling musical series of calls followed closely by 'boot, boot, boot' calls. The sequence can interchange occasionally. The 'bot' calls also gives it a local name of 'boot-boot'. The calls can go on for long periods and are often in the mornings. At the Chinese graveyard near our home I even hear them calling at 4-5am. As the sonogram does not show the calls well I have enlarged one waveform of each call (below) to show their difference. Noted that when played as waveform the 'boot' sound actually only appears at the end of the decrescendo of the wave.
Dato' Dr Amar-Singh HSS
Ipoh, Perak, Malaysia
12th December 2018
Location: Ipoh, Perak, Malaysia
Habitat: Ex-mining pools 'wetlands' near limestone hills
References:
1. Payne, R.B., 1997. Family Cuculidae (cuckoos). In: del Hoyo, J., A. Elliott & J. Sargatal (eds.), Handbook of the birds of the world. Vol. 4. Sandgrouse to Cuckoos. Lynx Editions, Barcelona. Pp.508-607.
2. Wells, D.R., 1999. The birds of the Thai-Malay Peninsular. Vol. I, Non-passerines. Academic Press, London. 648 pp.