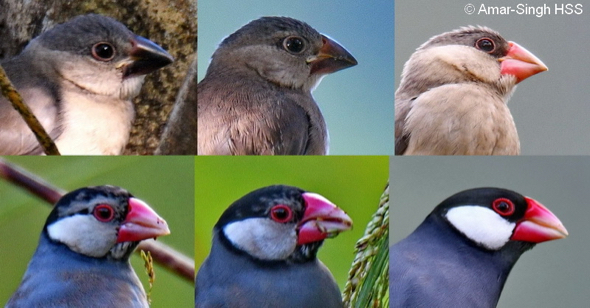 "The above shows a composite of head images of Java Sparrows (Lonchura oryzivora) from juvenile to adult. Note the beak changes from black in young, dependent juveniles to pale pink at the base to fully pale pink to rose pink in adults (with some white at tip & cutting edges) – see Wells 2007. The iris from brown to red. The eye ring (eyelid-rims?) is bright rose pink in adults but very pale in juveniles, gradually strengthening in colour; changing at the same time as the bill. The face patch changes from a brown-grey to a full white. The crown from brown to gradual black, starting posteriorly; one of the last features to develop fully, as is the white in the throat in juveniles. The grey-blue adult body plumage comes late and even self-feeding immatures retain some brown patches on breast and back (below). The two birds are immature, whose plumage is close to that of the adult.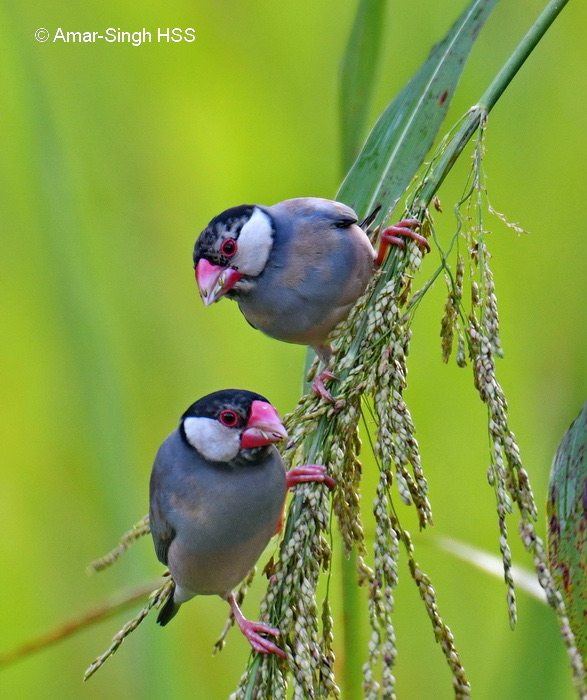 "The composite image at the top is missing one stage/image – see image below of a late stage juvenile that is self-feeding.
"The image below is of early stage juveniles that are still depending on parents for feeds.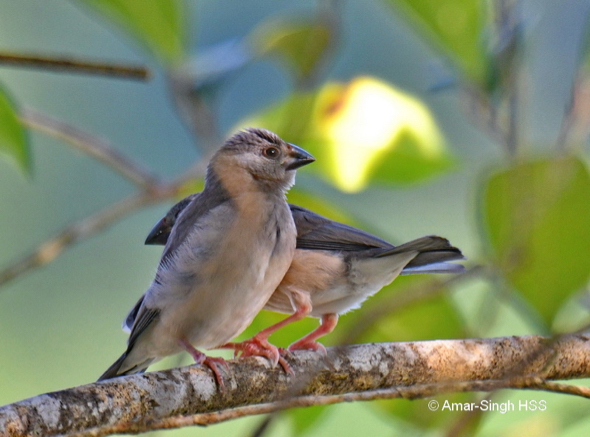 "Note that I have observed birds of different age or maturity in same brood. Whether this implies that some eggs hatch late or that other eggs are laid in the nest is uncertain."
Dato' Dr Amar-Singh HSS
Ipoh, Perak, Malaysia
29th November 2018
Location: Ipoh, Perak, Malaysia
Habitat: Secondary growth at city fringe
Reference:
Wells, D.R., 2007. The birds of the Thai-Malay Peninsular. Vol. II, Passerines. Christopher Helm, London. 800 pp.