"Our resident/home-based Large-tailed Nightjar (Caprimulgus macrurus bimaculatus) has been with us for 13 months now and we have numerous daily observations (need to write a fully daytime account of activities). We have great difficulty accessing and working in the part of the garden he has chosen as home but, on rare days when he is not around, we can get to quickly keep the area to his specifications. We suspect the rare disappearances are due to disturbance from a Common Treeshrew (Tupaia glis) that has been visiting recently.
"Recently we needed to remove a bush in the Nightjar's domain and we decided to leave behind a higher stump to allow it to perch, when necessary. He was very quick to use it the next day, possibly to stamp his claim on it; even though it brings him much closer to us (above, below).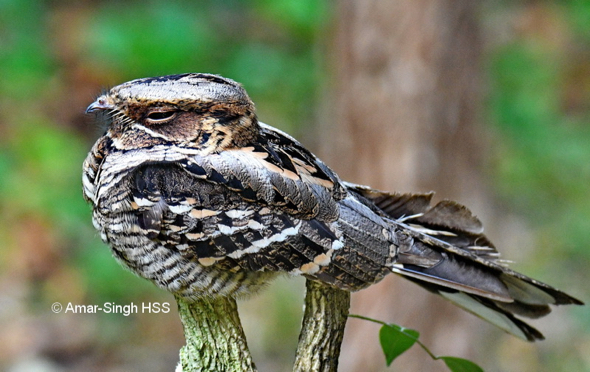 "When it rains heavily, our resident Large-tailed Nightjar will seek a higher perch – one of the dead branches of a tree in our garden. Since we gave him a new perch, that has now become the choice location. The nightjar will hang down the wings to prevent them from getting water-logged and limiting his ability for a quick exit/flight (below).
"He will also rotate round and round, and lift up the wings and shake off excess water (Post 4). Images taken with high ISO in dark conditions (below). He is, after 13 months, still very wary of the camera although we can now watch behaviour more openly."
Dato' Dr Amar-Singh HSS
Ipoh, Perak, Malaysia
19th August 2018
Location: Ipoh, Perak, Malaysia
Habitat: Wild urban garden