"The flowering and fruiting Malayan Mistletoe (Dendrophthae pentandra), that attracts birds, has allowed me to document juvenile male Crimson Sunbirds (Aethopyga siparaja siparaja) as they moult into adulthood. Details on juveniles are lacking for the region (Wells 2007).
"Between 9-12 juveniles currently visit the plants, usually very early from 7.30-9.30am. I have seen 9 juvenile Crimson Sunbirds at one time but suspect the number is larger as, this area is vast and, they congregate here for their nectar feast. Some juveniles tend to be very territorial and even chase adult Crimson Sunbirds away; hence I have seen very few adults.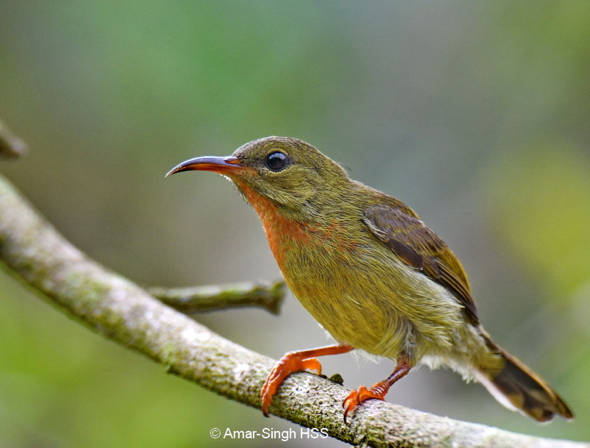 "Here are 4 self-feeding birds that show plumage progression from juvenile to immature (images from top down):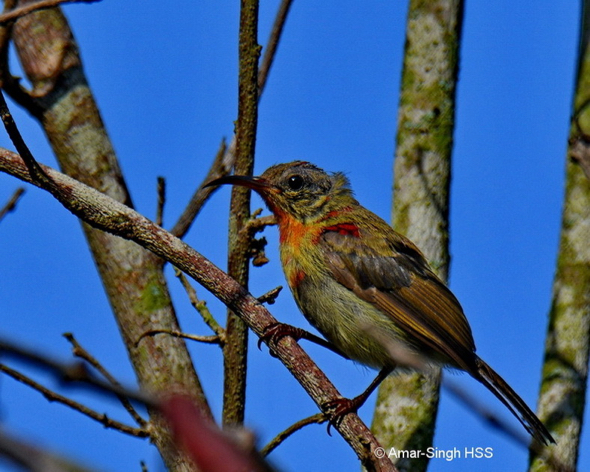 "A younger juvenile (clear gape) showing the first signs of some orange-red on the throat and breast.
"Next is a slightly older bird with more development of orange-red and the beginnings of the moustachial streaks.
"The next stage is a bird with a less prominent gape, full orange-red throat with greater colour spread to the breast. Up to this point the brilliant red has still not developed.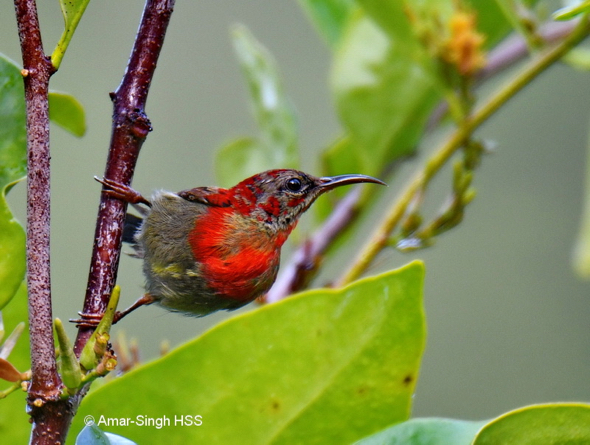 "Post 4 shows an immature bird with crimson developing on shoulders, neck and lower breast, and orange at throat has deepened. There is no forehead metallic plumage as yet. The next stage will be a deepening and extension of the crimson-scarlet to involve the full upper parts of the body at which point the metallic plumage on forehead starts to develop.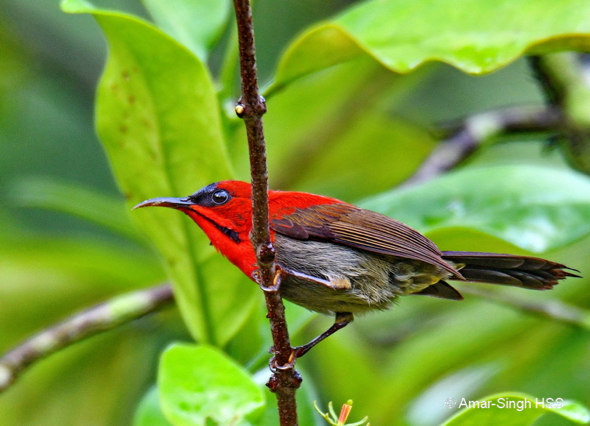 "Note bill in all these 4 birds – the upper mandible has become black unlike the younger, still feeding-dependent, juveniles that have orange beaks.
"Note the feet – the juveniles start with bright orange feet and progress to develop dark black feet as in adults, although, even then the soles retain some orange in adults."
Dato' Dr Amar-Singh HSS
Ipoh, Perak, Malaysia
13th &15th August 2018
Location: Ipoh, Perak, Malaysia
Habitat: Secondary growth at city fringe