"Lest readers had missed reading my birding stories and wondered my silence, I had more serious issues in attending to restoration works, D.I.Y. projects and home refurbishment, after unprecedented floods hit bad last, early November. Six months on, it was time to take a well earned rest and to resume my serious retirement hobby of bird watching/photography at another level.
"The only place I could think of, where one needn't have to sweat in the field, a decent, centrally located hotel with clean, comfortable beddings, good working toilet/shower and the convenience of a serviceable restaurant that provided decent buffet breakfast/meals… it had to be 'Shahzan's Inn'.
"And Fraser's Hill-1310m a.s.l. in Pahang is just about the only decent, sub-montane, birding location in the whole of Peninsular Malaysia that befits that description.
"A six hour, back-aching drive from Penang turned out more pleasant than anticipated. It was not so much of a bird twitching trip but rather a more leisured, self evaluating one, in tandem to my physical well being and to savour the memory of the good, old birding days. It was also a trip of general evaluation and to meet up with whatever Fraser's Hill birds' species got left to offer – five years on.
"My area of coverage was segmented over a period of seven days.
"Above is old Jelai Highland Resort – once a hot spot for bird photographers, left abandoned and now in sorry, sad state of decay. Gone are the frontal glass panels where a spiderhunter once crashed into and found next morning with broken wing. So too was the extended canopy tent over breakfast area, now reclaimed by nature's overgrowth of weeds and tree/bushes.
"What used to be a banquet playground galore for the jiffy, bold Long-tailed Sibias (Heterophasia picaoidas) who tapped danced and foraged over table of breakfast leftovers, the vibrancy emitted from these birds had long gone.
"A favourite, birding room could be had for RM70/night more than a decade ago. From the balcony (above), one could appreciate eye level views and photography of popular bird species. They visited and fed off numerous Bottle Brush trees (Callistemon lanceolatus) that lined the establishment's façade, for its bountiful nectar blooms, insects and caterpillars.
"And when a bird wave of (Sibias, Mesias, Minlas, Sunbirds, Leafbirds, Drongos, Flycatchers, Magpie-Robins and Spiderhunters) species appeared, it was show time indeed. An invigorating performance issued by morning hungry birds to receive the providence of nature. For new visiting photographers, those moments were simply breath-taking and awesome!
"They came in waves inspecting flower pots, doors and window sills, roof beams and eves and foraging profusely in numbers too at car porch and driveway.
"From the first morning call of Spectacled Laughingthrushs (Garrulax mitratus) to the final grand appearance of Cissa – the single, ubiquitous Common Green Magpie (Cissa chinensis), all was over by 7.30 am. They, having cleaned out dead and dying moths and butterflies naturally, photographers too were ready for a hearty breakfast and photo sharing.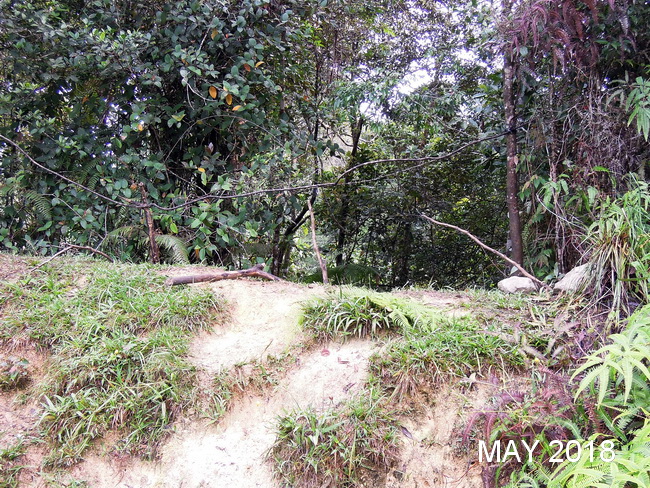 "Today, bird contraptions can be easily found set up by hardy bird photographers the former, turn into target awaiting/perch-practicing spots. A sad reminder how bird photography has evolved in the now – 21st century. Above is a classic example – an established contraption at Jelai.
"Sprinkle meal worms as baits and await the arrival of selected birds is the order of the day for the inpatient, practicing photographers? (below). Be they veterans, fresh photogs or retirees' new found hobby of bird- photography, they were certainly chasing after lost time to 'up' their bird photo gallery.
"While Jelai Highland Resort appeared deserted and quiet, there were some bird movements worth waiting for during my morning visit.
"Amongst green foliage of bush, camouflaged by a screen of trees, a largish, green bird hidden from view but curious, hopped out quietly to check me out.
"Strangely, this known to be noisy bird – Fire-tufted Barbet (Psilopogon pyrolophus) whose air-raid calls sounding like screaming cicada, who never in the past had flown nor perched so low, now landed onto the contraption and posed like an experienced model (below).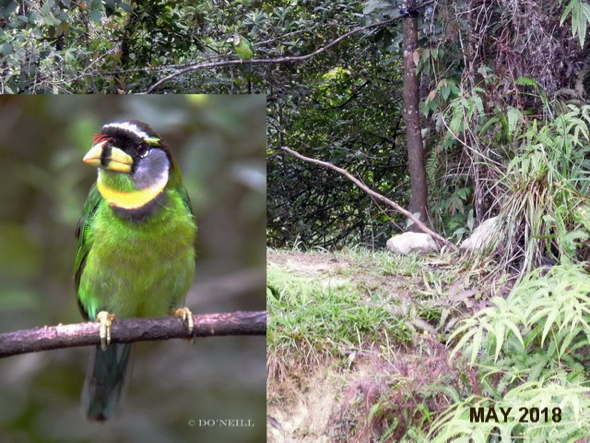 "I say, Fireboy…. You've come to welcome me or perhaps… a treat you are waiting for?"
"Do join me again down memory lane soon to read more about this ubiquitous barbet species, that live up to its descriptive name and found only in this memorial part of Peninsular Malaysia."
Avian Writer Daisy O'Neill
Penang, Malaysia
26th July 2018
Copyright article and all copy images – Courtesy of Daisy O'Neill Bird Conservation Fund