"I was out in the city looking up some nesting sites when I saw this Purple Heron (Ardea purpurea manilensis) intently focused on some prey. I watched from the car, about 10-12 meters away. Despite the bird being aware of my presence it did not stop its 'staking' of the prey on the ground.
"It took 20 minutes from the time I spotted the bird to the time it acquired the prey; very carefully and slowly approaching. I was expecting a frog but when it suddenly pounced, the prey was a long snake-like creature.
"I attempted images followed by a video recording (stabilised by car door). The bird was crafty and had snatched the head in the beak to limit and possibility of being bitten (above). I initially thought it was a snake but a bird watching colleague that I showed the images to correctly identified it as an eel as it was scaleless.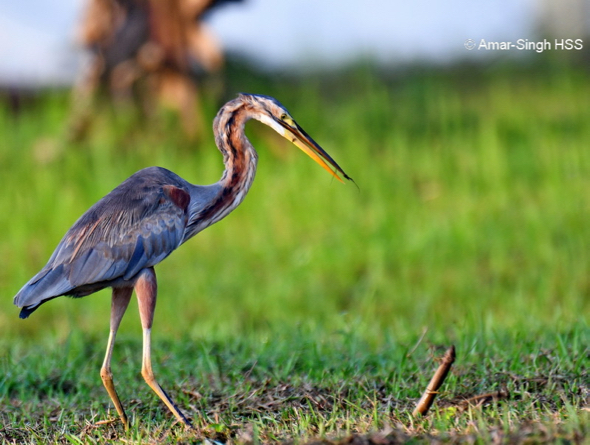 "The bird proceeded to manipulate the eel and trash it on the ground a number of times to stun it. It then repeatedly threw it to the ground and 're-acquired' it to kill the eel (above). Intermittently it would spear the eel with the beak close to head. Once it was reasonably happy that the eel was killed, it took it to a nearby puddle to rinse it before performing the impressive act of swallowing it by straightening the head and neck. The beak was then washed in a puddle and 'wiped' with the tongue. The whole event from catching to feeding lasted about 4 minutes. The video shows the latter two thirds of this activity when the eel was already fairly stunned.
"There are a number of eels in Malaysia and I explored possibilities. A good database is here: List of Freshwater Fishes Reported from Malaysia LINK. The eel this Purple Heron preyed on is the native Asian Swamp Eel (Monopterus albus), also called the Swamp or Rice Eel. There is a good write up in Wikipedia, see: HERE.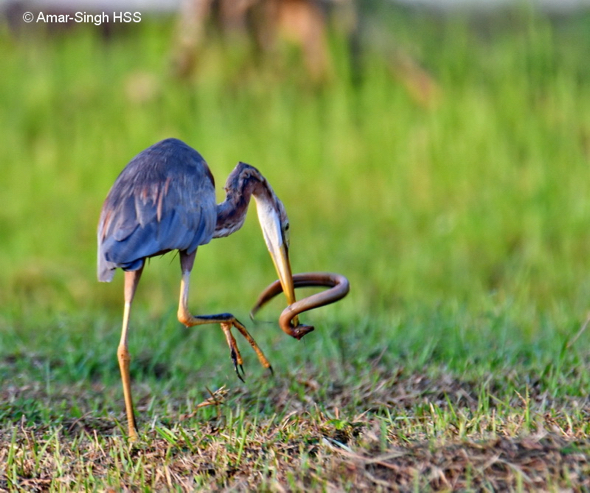 "The Asian Swamp Eel is 'not actually an eel, per se; eels are of the order Anguilliformes, while M. albus is of the order Synbranchiformes'. It can reach 25-40cm in length and lacks pectoral and pelvic fins; other fins are rudimentary. It has teeth which may account for the heron's caution. I was wondering why I found it on dry land – this location is urban, has no nearby rivers or ponds and only has large drains; due to the recent rains the field was muddy. However, this eel is noted to have 'versatile motility and is even capable of moving over dry land for short distances'.
"Of special interest is the image above where you can clearly see 'water' being squired out like a fountain from the lower one third of the eel. There is literature showing that this eel has a specialised bladder. I suspect the trauma and squeezing motions have expelled urine; whether as defence mechanism or due to stress I cannot be certain."
Dato' Dr Amar-Singh HSS
Ipoh, Perak, Malaysia
6th January 2018
Location: Ipoh, Perak, Malaysia
Habitat: Urban environment