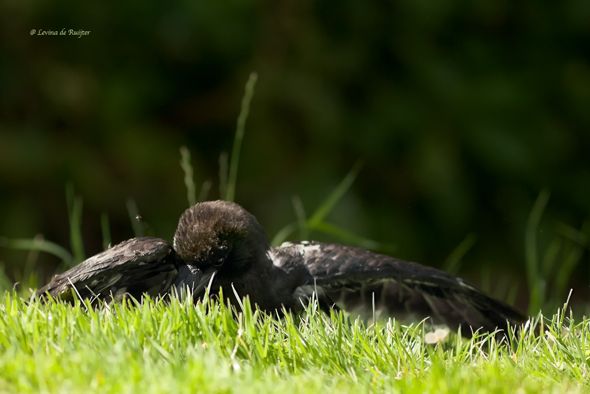 Anting is a common behavior among passerine birds. These birds allow ants to crawl around their plumage to reach the skin (above, below) or actively crush ants and place them on their feathers. The purpose is to encourage the ants to release formic acid that in turn may help rid the feathers of ectoparasites.
As far back as 1988, Kelvin KP Lim, then a young nature enthusiast, observed a Javan Myna (Acridotheres javanicus) picking up live Kerengga ants (Oecophylla smaragdina) one at a time and placing them under its wings LINK. "Each time it did this, the bird went into a curious dance that involved flopping around the grass with its wings outstretched and beak opened," recounted Kelvin. For the next 17 years he failed to get an answer as to why the myna was behaving thus. None of our local birdwatchers could provide an explanation.
The explanation only came in 2005, exactly 17 years later, when the Bird Ecology Study Group (BESG) was formed and started a blog to document all aspects of bird behavior. We checked the internet and found that anting was well known among western birdwatchers. We publicised anting and encouraged those in the field to keep an eye on such behavior.
In less than 6 months Jeremy Lee came forward to report that his pet Common Myna (Acridotheres tristis) one day laid on an ant mound to allow the ants to swarm around its body. This was followed by Subaraj Rajathurai and Angie Ng on birds picking up ants and placing them on their body.
These observations were collated and a review article sent to Nature Watch, flagship of the Nature Society (Singapore) for publication. There was a 3 year wait without being told whether the article was accepted or rejected LINK. The leaders of the society's Bird Group were apparently ashamed of being ignorant of such a common behaviour and thus against the article being published. Nature in Singapore, the online journal of the then Raffles Museum of Biodiversity, now the Lee Kong Chian Nature History Museum, was more than happy to accept the article. You can get a PDF copy of the article HERE.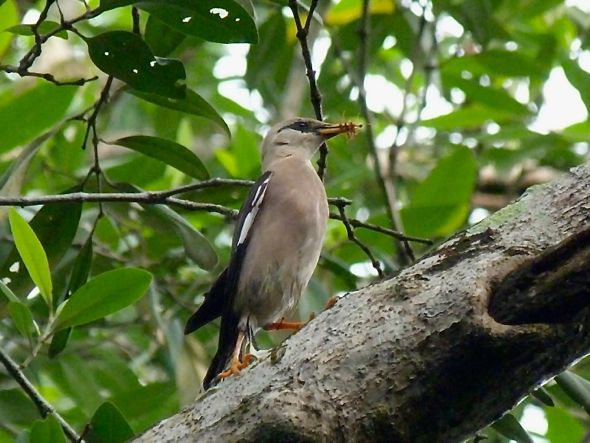 With more people looking out for anting in the field, it did not take long before we received photographic evidence of such an interesting behavior. These included a Javan Myna by Kwong Wai Chong, an Oriental Magpie-robin (Copsychus saularis), also by Wai Chong; Blue-winged Pitta (Pitta moluccensis) by Daisy O'Neill and Vinous-breasted Starling (Acridotheres burmannicus) by Subaraj Rajathurai (above).
Things got really exciting when Kwong Wai Chong returned from his field trip with images of a Javan Myna using a millipede instead of ants to indulge in anting (above).
Dr Leong Tzi Ming's video clip showing White-crested Laughingthrushes (Garrulax leucolophus) anting with ants was a first for BESG.
Then came a bonus when Lena Chow produced 2 video clips, one showing a Common Flameback (Dinopium javanense) (above) and another showing a Fulvous-breasted Woodpecker (Dendrocopos macei), both using tree sap instead of ants. This was followed by Thong Chow Ngian's clip of a Common Flameback also indulging in anting using tree sap.
The above shows the success of our strategy of information sharing. The net result was that photographers (rather than hardcore birdwatchers) responded with visual sightings followed by images and finally video clips of anting. We thank contributors for a job well done!
YC Wee
Singapore
4th November 2017.