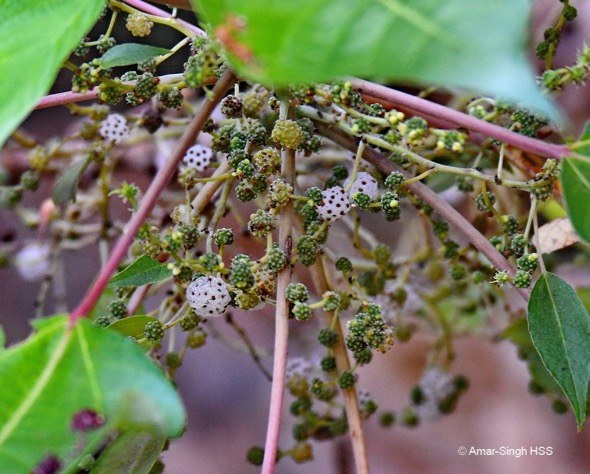 "I was out with friends today and we observed a number of birds feeding on a small fruit (white berries with embedded seeds) called the Native or Australian Mulberry (Pipturus argenteus) (above). The birds included the:
1. Red-whiskered Bulbul (Pycnonotus jocosus pattani)
2. Yellow-vented Bulbul (Pycnonotus goiavier analis)
3. Asian Glossy Starling (Aplonis panayensis strigata)
4. Oriental Magpie-robin (Copsychus saularis musicus)
5. And the unexpected species was the Blue Rock-thrush (Monticola solitarius madoci).
"Monticola solitarius is known to take fruit [mainly during autumn and winter migration, see Collar, N. (2017). Blue Rock-thrush (Monticola solitarius) in HBW]. But the resident Monticola solitarius madoci is not known to do so (above, below).
"Wells (2007) mainly describes animal prey and my personal observation, over many years, agree with this. Wells (2007) also quotes Madoc (whom the bird is named after) and states "Madoc also mentions hunting on tree branches, but among the residents at least this must be unusual". I have occasionally seen this species in trees and on this occasion it took a number of fruit directly from the plant (below).
"The bird we observed was an immature male.
"An excellent article on Pipturus argenteus can be found HERE."
Dato' Dr Amar-Singh HSS
Ipoh, Perak, Malaysia
29th August 2017
Location: Ipoh, Perak, Malaysia
Habitat: Limestone outcroppings at outskirts of the city with secondary growth