On 22nd September 2017, Sim Chip Chye wrote on Facebook Birds, Insects N Creatures Of Asia: "I have not seen a Scarlet-backed Flowerpecker (Dicaeum cruentatum) pecking on a flower until today (below). It was trying to remove all the petals of the Singapore Rhododendron (Melastoma malabathricum) all at once! I know and have seen this birdie taking the fruits of this plant, something which it likes a lot and now I'm wondering if it has to remove the petals to reach what's inside or that removing the petals will make the fruits ripen faster? Does the flowerpecker help in this plant's pollination at all? Could somebody enlighten me on this please?"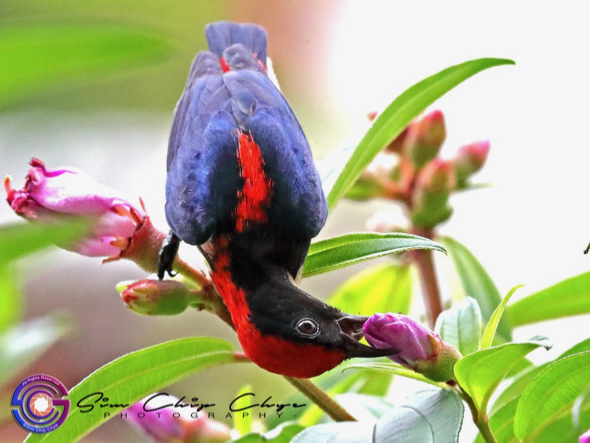 Saurabh Agrawal of India responded: "‬‬Flowerpeckers do help in pollination by delivering pollen from one plant to another. One fine example we get here in central India is seen in Loranthus (mistletoe). Flowers of Loranthus contain substantial nectar to attract many nectar-feeders such as flowerpeckers and sunbirds – see HERE and HERE.
"Producing good amount of nectar is a strategy used by plant to attract birds as the mature buds require external force like tripping to ensure it opens up. Once probed by bird's beak, buds eject a cloud of pollens which sticks to the head or beak of the bird, thus this helps plant to pollinate – see HERE. However it is a parasite that grows on a tree and can quickly spread to the nearby trees.
"Nature has a solution to this too to check spreading of Loranthus. Common Jezebel butterfly lay eggs on Loranthus leaves. When the eggs hatch, butterfly's larvae munch on its leaves and thus prevent this parasite to spread out of control – see HERE.‬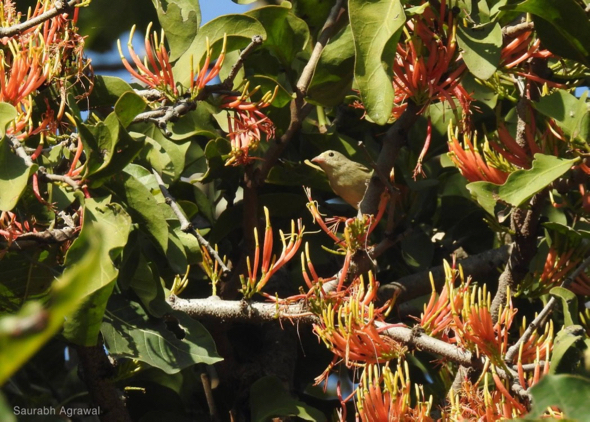 "‪The picture above shows of Pale-billed Flowerpecker (Dicaeum erythrorhynchos) among Loranthus flowers."
Note: Singapore Rhododendron flowers, unlike those of mistletoe, do not need external pressure to force them to open. Why the flowerpecker pecks on the flower bud is a puzzle. There are birds that swallow flower buds because of the nectar they contain. But this flower bud is large and it will take much efforts to swallow it. Comments anyone?
Sim Chip Chye & ‪Saurabh Agrawal‬‬‬‪‬‬
Singapore and India
22nd September 2017
This post is a cooperative effort between Birds, Insects N Creatures Of Asia and BESG to bring the study of birds and their behavior through photography and videography to a wider audience.