In early August 2017 a small flock of Red-whiskered Bulbuls (Pycnonotus jocosus) were video-documented gathering in a few wayside trees before flying into the trees grown between two neighbouring houses to roost LINK. As the flock was small, the noise was low and did not attract any attention at all.
On the other hand, large flocks of migratory birds regularly attract much attention when they flock and roost in trees grown along Housing Development Board's apartments HERE and HERE.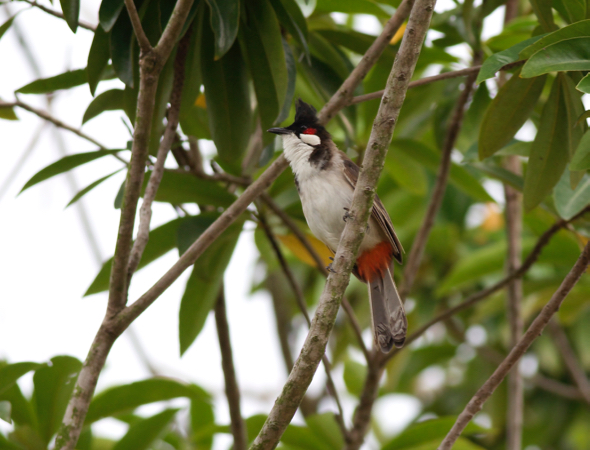 Curious to find out what happen when these birds leave their roost in the early mornings, I kept watch from my house on 10th August 217 with my videocam directed at the rooting trees. As the Red-whiskered Bulbuls began to leave their roost at about 6.45am, there was a light drizzle (below).
The few bulbuls that ended in the nearby roadside trees started calling. The drizzle caused more birds to fly off from the roosting trees. Because of this drizzle, another attempt was made two mornings later (below).
The bulbuls started flying off, again at around 6.45am. This was triggered by calls from birds flying off from nearby roosting trees. A few bulbuls from the roosting Australian Bush-cherry (Syzygium myrtifolium Dark Red) trees found between the two neighbouring houses darted out to the nearby Golden Penda (Xanthostemon chrysanthus) trees and added to the cacophony of calls and songs.
About five minutes later the usual dawn chorus was heard, albeit a little later than usual. The chorus included the melodious songs of the Oriental Magpie-robin (Copsychus saularis).
By around 7.00am all the bulbuls in the roost had flown away. A rough count made from the original video clip revealed about 45 bulbuls flying off during a period of 15 minutes indicating the birds flew off on an average of one every 20 seconds.
To confirm the number of bulbuls that roosted in the trees between my two neighbours' houses, I made a rough count on the evening of 14th (to get an estimate of the umber of bulbuls arriving) and the morning of 15th August (to estimate how many bulbuls leaving the roost). A total of 64 bulbuls arrived but only 33 were detected leaving. Admittedly there could be many leaving on the opposite side of where I was standing and thus not detected. Also, there could be a number arriving to leave a few minutes later and returning soon after, thus inflating the numbers. My estimate of at least 40 Red-whiskered Bulbuls roosting in this unique site would be a fair number.
Compared to the roosting of the migratory Purple-backed or Daurian Starlings (Sturnus sturninus) in roadside trees (video below), this roosting would in no way cause any problems.
YC Wee
Singapore
14th August 2017