Birding Highlights of Taiwan 2017 Series
"A 16cm bird that perches on rock and plays dead may not be easy to spot, until awaiting a sprint opportunity of a river catch.
"This Common Kingfisher (Alcedo atthis) caught my eye. The blue and green iridescence's plumage on its back betrayed its presence. Alcedo was caught off guard from my balcony above, as it perched rear facing, on a rock surface below (above).
"It was April and breeding season was at hand. Alcedo, the male Common Kingfisher could not be alone. He had a mate and eventually was spotted with binoculars at far, end corner of a promontory.
"I requested permission to access property's private utility area – the floor level beside river, for a more promising observation. At best, the nearest was no less than 50m from the target.
"It was observed, Alcedo – the male bird with black bill was busy fishing to provide gift offerings to 'Lady Alceda'.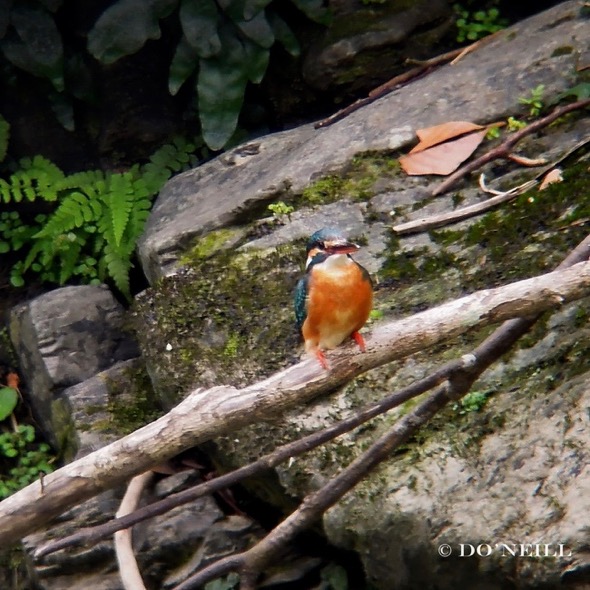 "The female with lower, orangey bill on the other hand, remained contently perched on a fallen branch, awaiting room service (above).
"A video opportunity was had of Alcedo showing up and perching on same, fallen tree branch with Lady Alceda nearby (above).
"I was taken aback by a surprising stunt from Alcedo. He suddenly mounted his beau, for what appeared to be an un-consented cloacal kiss and took to a quick get away. All actions executed under few seconds.
"Alcedo flew across river and landed on a rock. In haste, ejected a projectile, white poop more than two meters away into the watery grave! It was like turning on a powerful hose jet spray…
"Alcedo returned several minutes later, perched on same branch as his partner and took to preen and rest (above).
"Multiple copulations took place at twenty-three minutes apart were observed. In images above and below, Lady Alceda appeared to have resigned herself and succumbed to Alcedo advances. Having accepted gift offerings… I guess, the 'wham bams' had to be received without complaints.
"The whole package deal, wrapped in the business of propagating its species is what birdlife at Tonghou River is all about.
"Join me next for another adventure with an incredible bird with a unique, foraging behaviour by the river."
Avian Writer Daisy O'Neill
Penang Malaysia
7th August 2017
Copyright article and all copy images – Courtesy of Daisy O'Neill Bird Conservation Fund