The above was taken from the Singapore Straits Times of August 16th 1985.
The quote accompanying a sketch of a black chicken reflects Travis's idea of a chicken (below).
Being brought up in an urban environment, Travis obviously had never seen a live chicken….
Singapore used to have chickens running all over the place. This was a time when there were many kampongs (villages) around. People were then not as well off as they are now. Rearing chicken for eggs and meat was common, even among the urban folks. Money was hard to come by and having chicken around helped to ease the marketing budget.
Everyone was familiar with chickens then, as they ran about the house laying eggs under cushions and in odd corners. In some families, each child used to have a favourite hen or cockerel. Whenever the family was to have a meal of chicken, the children would run out of the house to check whether his or her favourite chicken or cockerel was still around.
People were also used to the early morning crowing of cockerels, using it as a wake-up call. Well, not so now.
Effluence brought about a complete change in lifestyle. We are mostly housed in neat apartment blocks surrounded by manicured gardens. Or in private houses with a small patch of green in front while the rest of the area is concreted. In houses with larger non-concreted gardens, Red Junglefowls (Gallus gallus) may find refuge. They are tolerated as long as they crow quietly or not at all. Otherwise they would be subjected to culling for disturbing the morning peace.
Wildlife is generally encouraged, but only if they behave. Koels, crows, rock pigeons and mynas are frowned upon. Nowadays, free ranging chickens are culled because of the loud crowing, especially in the early mornings LINK.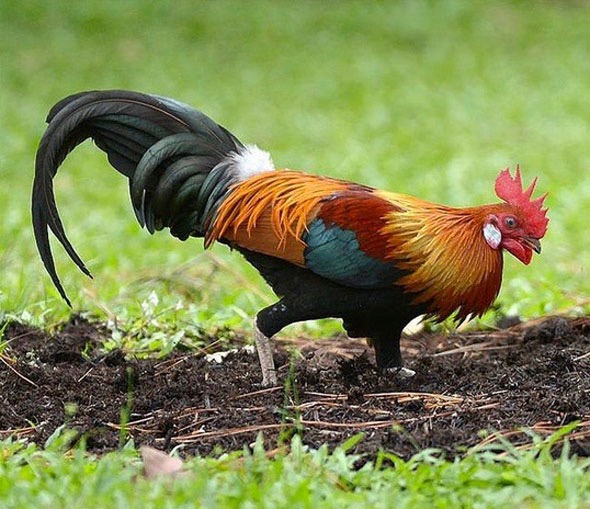 Those in the know believe they are the endangered Red Junglefowl, ancestor to our domestic chicken. After all, it needs a trained eye to spot the difference.
The population of these Red Junglefowls somewhat exploded recently, probably as a result of people feeding them LINK. After all, they are an attraction, as the males look spectacular, what with their golden-yellow hackles, glossy coloured body feathers and glossy dark green tail. Also, these chickens are only confined to rural farms and the supermarkets, with some free ranging here and there.
Should culling continues, children will in future sketch a different chicken from what Travis did… see above.
YC Wee
Singapore
11th April 2017