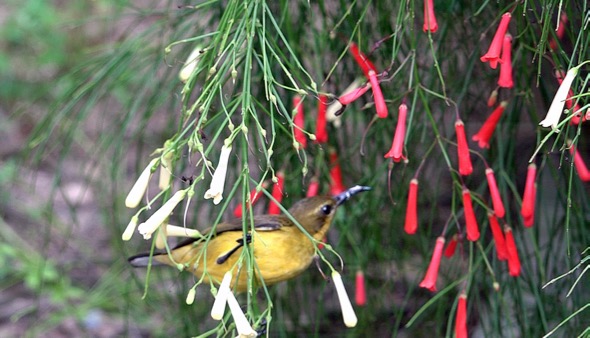 Most people view plants as a convenient green backdrop that attracts birds with their flowers (above) and fruits (below). However, the role of plants in attracting birds is more than just flowers and fruits.
What is less obvious to most people is that plants attract arthropods (insects, spiders, centipedes, scorpions, etc.) and other animals that in turn attract birds. Because each plant species has its own unique complement of such fauna, the more plant species there are in an area, the greater will the bird biodiversity be.
Listed below are some examples of how the plant fauna improves bird biodiversity.
Arthropods
Ants are attracted to the flower nectar. Certain species of ants nest inside the hollows of young twigs of Common Macaranga (Macaranga bancana), the hollow leaves of Dischidia major or the leaf stipules of Umbrella Tree (Schefflera actinophylla).
These ants are sought after by birds like woodpeckers and white-eyes as food. Birds like White-crested Laughingthrush (Garrulax leucolophus) need certain species of ants to rid their feathers of ectoparasites, a process known as anting.
Bees similarly visit flowers for honey and pollen (below). They in turn are food for birds like bee-eaters. They also build nests on the branches of trees. These nests attract Oriental Honey Buzzards (Pernis ptilorhyncus) that raid it to get at the bee larvae.
Butterflies and moths feed on flower nectar (below) and rotting fruits that accumulate on the ground below the plants LINK.
Bee-eaters and other birds have been known to feed on butterflies. Butterflies and moths also lay their eggs on the leaves of their food plants. The caterpillars that subsequently develop (below) are a major food source for birds and their chicks LINK.
Cicadas as well as mealybugs, aphids and whiteflies suck sap from leaves and twigs. They are, in turn, sought after by birds (below).
Amphibians
Frogs and toads live on the many insects, spiders, worms and snails that thrive among plants. In turn they are food for birds like kingfishers and crows.
Reptiles
Lizards and geckos visit flowers for nectar. They are in turn taken by birds. Skinks seek out various invertebrates like flies, caterpillars and grasshoppers that are associated with plants. These are food for kites.
Snakes forage among the plants, looking for insects, birds and their eggs, frogs, lizards and small mammals. They are in turn hunted by various birds like crakes, coucals and sea-eagles.
Mammals
Squirrels feed on flower nectar as well as fruits. They are in turn hunted by raptors.
Bats visit plants for flower nectar and fruits. They are in turn hunted by raptors (below).
YC Wee
Singapore
19th March 2017
This post is a cooperative effort between Birds, Insects N Creatures Of Asia and BESG to bring the study of birds and their behavior through photography and videography to a wider audience.