Red Junglefowl (Gallus gallus) is the ancestor of our domestic chicken. A small breeding population was established in the offshore island of Pulau Ubin around 1985 (Hails 1988). Subsequently they were seen in various parts of mainland Singapore. Then around 1999 the Sungei Buloh Wetland Reserve saw an influx of these birds, most probably introduced by the Jurong Bird Park. And since 2011 these birds have been breeding freely in the Reserve (Wang & Hails, 2007).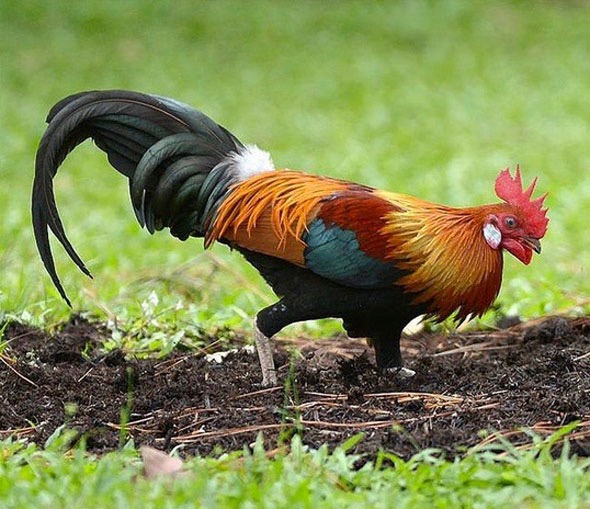 Originally classified as an uncommon resident, it is now commonly found in most parts of mainland Singapore. However, there have been extensive hybridisation with the domestic chickens such that in most urban areas the Red Junglefowls are hybrids. One reason for the increase in the urban population is feeding by people. This in turn has led to complaints of their loud crows in the early mornings.
The crow of the adult Red Junglefowl is the best known of all bird calls. This is a territorial call, crowing from an elevated roost before dawn. The call is also made during the day as the bird patrols its territorial boundaries. Or just before mating… or to show dominance over the others in the flock.
The video of a male junglefowl crowing (below) is courtesy of Sun Chong Hon.
Here is a video of the call by the hen, also courtesy of Chong Hong. It is not as loud or as impressive as that of the male, but it contributes to the so-called "noise pollution".
There have been many complaints of noise pollution, especially in quiet neighbourhoods in the urban areas of Singapore.
The older generation has apparently forgotten that once the morning crows were a wake up call to Singaporeans. ON the other hand the younger generation was not born when Singapore was less urbanised, when there were many farms around with their chickens and ducks.
According to wildlife consultant Subaraj Rajathurai, most of the urban Red Junglefowls are hybrids and should be culled as they are starting to invade our Central Catchment Nature Reserve.
YC Wee, Subaraj Rajathurai, Sun Chong Hong & Johnny Wee
Singapore
5th January 2017
References:
1. Hails, C.J., 1988. An annotated checklist of the birds of Singapore.. Unpublished.
2. Wang, L.K. & C. J. Hails, 2007. An annotated checklist of birds of Singapore. Raffles Bulletin of Zoology, Supplement 15: 1-179.