Jeremiah Loei's video of the Sunda Scops-owl (Otus lempiji) family was documented in Mid-August 2016 at Lower Peirce Reservoir. The owls were roosting in a palm, perching on the back of a frond, one adult and two juveniles. "…they are very productive, with regular brood being spotted yearly," wrote Jeremiah.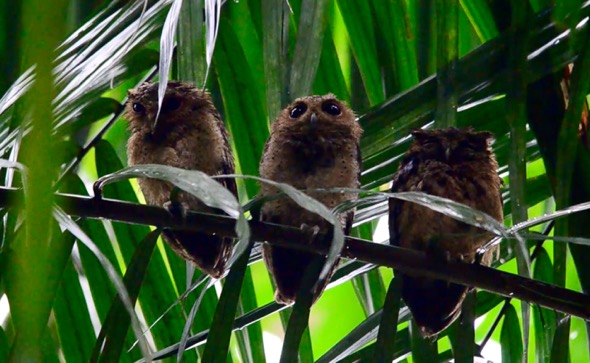 Birds usually roost during the night but owls, being nocturnal, roost during the day (see video below).
Roosting owls are often mobbed by smaller birds HERE and HERE. Usually a few smaller birds will gang up to mob the bigger owl.
Now why do smaller birds harass owls that are generally larger and can cause harm to the former? According to one theory, mobbing is instinct rooted in the Darwinian struggle for survival LINK. After all, mobbing is an anti-predator behavior.
Jeremiah Loei
Singapore
25th August 2016
This post is a cooperative effort between Birds, Insects N Creatures Of Asia and BESG to bring the study of birds and their behavior through photography and videography to a wider audience.