Lee Li Er came across an Asian Glossy Starling (Aplonis panayensis) with a snail between its bill (above).

The starling was repeatedly tapping the snail against the ground until the flesh popped out (above).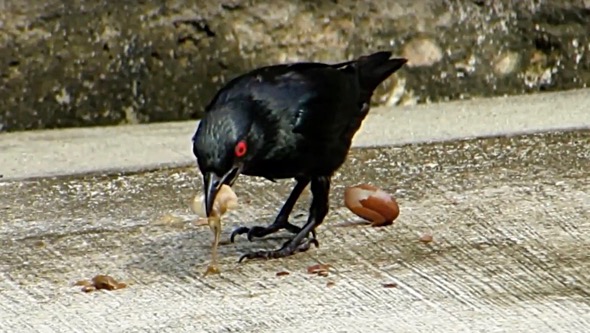 The starling then picked the flesh and swallowed it, entrails and all (above, below). Before flying off it picked up the scattered pieces.
The exciting episode was documented at Satay by the Bay on 21st August 2016 – see video below.
This video documentation complements an earlier account that was accompanied by a photograph.
Lee Li Er
Singapore
25th August 2016
This post is a cooperative effort between Birds, Insects N Creatures Of Asia and BESG to bring the study of birds and their behavior through photography and videography to a wider audience.