Barbets eat mainly fruits. They also take insects when the opportunity presents itself, like in a termite hatch. Animal foods are fed to the young immediately after the egg is hatched.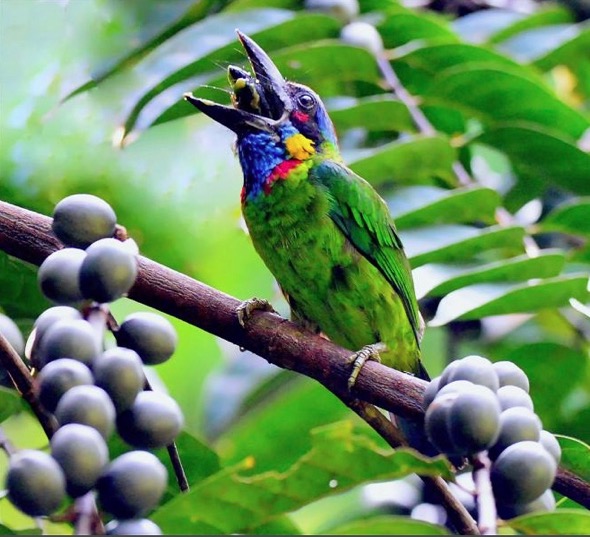 Of the fruits, figs are a major food source. A list of fruits eaten by barbets can be found HERE. Canthium glabrum, commonly known as Garden Coffee or Kopi Utan is a new addition to the list. There is no mention of this food plant in either Short & Home (2002) or Wells (1999).
The images illustrating this post, photographed at the Upper Seletar Reservoir forest, show the Red-crowned Barbet (Megalaima rafflesii) swallowing the crushed fruits together with the seeds. The seeds are probably regurgitsted later, often just before the bird indulges in singing (Short & Home, 2002). In the case of small seeds, they are passed through the gut to be excreted at the other end.
Johnny Wee
Singapore
6th August 2016
References:
1. Short, L. L. & J. F. M. Horne, 2002. Family Capitonidae (Barbets). In: del Hoyo, J., A. Elliott & J. Sargatal (eds.), Handbook of the birds of the world. Vol. 7. Jacamars to Woodpeckers. Lynx Editions, Barcelona. Pp. 140-219.
2. Wells, D.R., 1999. The birds of the Thai-Malay Peninsular. Vol. I, Non-passerines. Academic Press, London. 648 pp.