"I was in Sandakan, Sabah, Malaysia to offer some support for medical activities and decided to visit the Rain-forest Discovery Center, Sepilok, 45 minutes from the city for some bird watching on 1st May 2016. The Rain-forest Discovery Center is superb for bird watching as well as to see other creatures.
"I was with friends and we decide to return at dusk to try and watch the Red Giant Flying Squirrel (Petaurista petaurista), one of the highlights of the center. I last saw these large squirrels in 1978 in Sarawak and was keen for another view. The best location to see them is to take the metal canopy walkway all the way to the end. There is a signboard on the canopy walkway that tells you where the squirrels can be seen. This walkway is wonderful on its own and gets you up to the height of the forest canopy.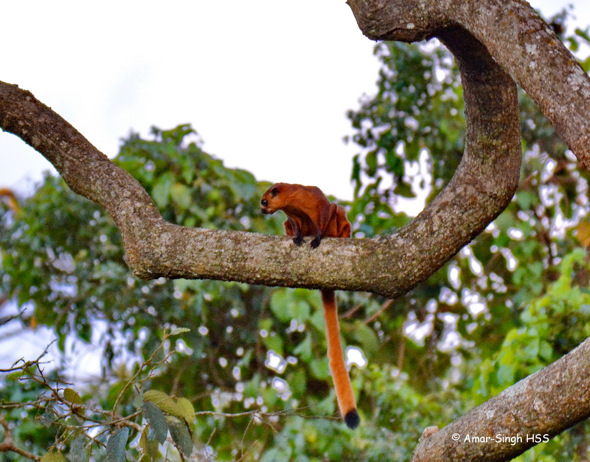 "To see these magnificent squirrels you need to get to the venue by 5 pm. They are nocturnal animals and usually emerge around 6-7pm, but may appear a bit earlier. They sleep during the daytime in some of the very tall trees and often use nesting holes in trees.
"Recently it has been observed that the squirrels will also use the nest boxes on tall trees that have been put up for hornbills (top).
"Watching the Red Giant Flying Squirrels is not difficult and we saw 4-5 of them. It is a wonderful sight to see them throw themselves off a high perch and glide down to another tree trunk. Taking images of them however is quite a task. Light is very low making images grainy and blur, especially in flight (next 4 images after top image). Using a torch or flash can be dangerous as these creatures have large eyes attuned to low light; a light source might result in them being temporarily blinded and to crash into the canopy.
"The Red Giant Flying Squirrel has a membrane of skin between its legs and arms, which is used to glide between trees – see HERE. They measure ~ 42 cm in length excluding the tail, making them appear like small dogs bounding about on the tree branches. They are dark reddish with black on the nose, feet and tip of the tail. They feed primarily on leaves and branches.
"While waiting for the flying squirrels it is worth looking around at the magnificent trees, some of which have knobby outpouching that resemble faces of animals and humans (above). There also many birds; of note are two raptors. The Wallace's Hawk-eagle (Nisaetus nanus nanus) (below) which 'rules' the skies at the Rain-forest Discovery Center and the Bat Hawk (Macheiramphus alcinus) which emerges at dusk to hunt.
"There were others who had come to watch the squirrel display and our shared experience of such a unique experience quickly bonded us. A great location and activity for families that leaves memories and images better kept in the heart than in a camera."
Dato' Dr Amar-Singh HSS
Ipoh, Perak, Malaysia
14th May 2016
Note: Text and images copyright Dato' Dr Amar-Singh HSS