I planted three Ceram Palm (Rhopaloblaste ceramica) seedlings in my small garden nearly 40 years ago. One was subsequently removed when the house was renovated but the remaining two grew to a height of about 12 metres.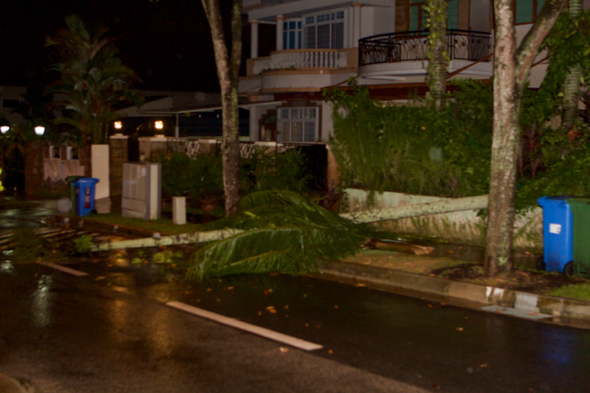 On the night of 22rd January 2016, strong wind blew one palm down. It crashed through my fence and landed across the road. Fortunately it missed a parked car. I was oblivious to what happened until the police kept on ringing the doorbell. The two police personnel directed traffic and informed the NParks.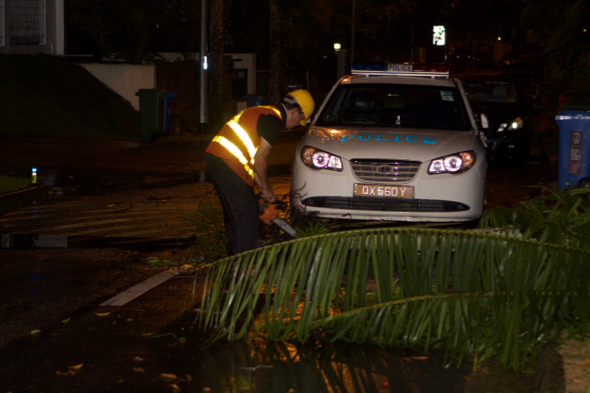 After a long wait (there were many tree falls then) the tree-clearing agent arrived. He parked his taxi nearby, took out his portable chainsaw from the boot, cut the heavy trunk into pieces and cleared the road (above).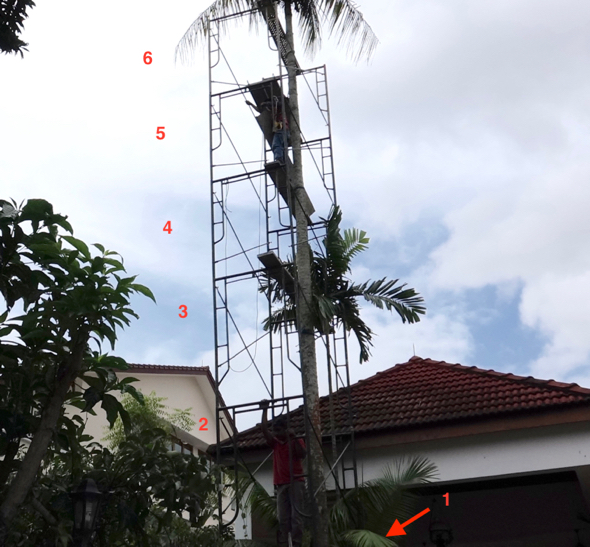 I have always believed that palms are sturdy plants, capable of withstanding heavy storms. They are unlike tall trees that shed their branches or even collapse during strong wind. This experience shattered my confidence in tall palms. There and then the fate of the remaining palms was sealed. A few days' later workers came, set up scaffolding around the remaining palm (above) and sawed the trunk piece by piece (see video below). The entire operation took more than 4 hours.
These two old palms regularly attracted birds that rested on the back of their fronds. They were the tallest palms/trees in the neighbourhood and passing birds invariably used them as a transit stop.
The pair of House Crows (Corvus splendens) that nested in one or the other palm every three months during 2003-4 got me hooked on birds (Wee, 2005). Observing these nesting, I unintentionally provided the first local evidence of the Asian Koel (Eudynamys scolopaceus) parasitising the nest of the House Crow (above). This fact was already well known for the region but local birdwatchers were generally not interested on common species like the crow.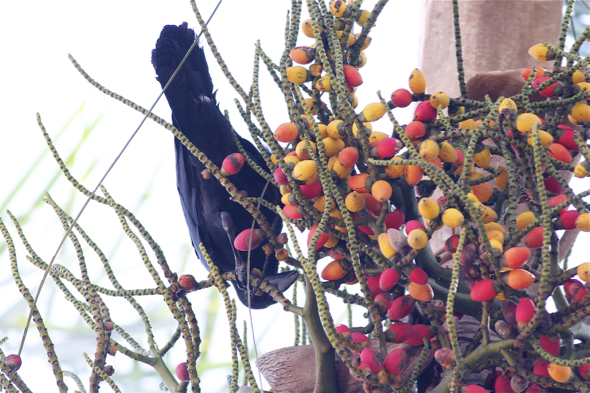 Birds that regularly visited these palms include the Large-billed Crow (Corvus macrorhynchos) (above), Common Hill-myna (Gracula religiosa), Pink-necked Green-pigeon (Treron vernans), Pied Imperial-pigeon (Ducula bicolor) (below), Blue-crowned Hanging-parrot (Loriculus galgulu), Oriental Pied Hornbill (Anthracoceros albirostris), Banded Woodpecker (Chrysophlegma miniaceus), Asian Glossy Starling (Aplonis panayensis) and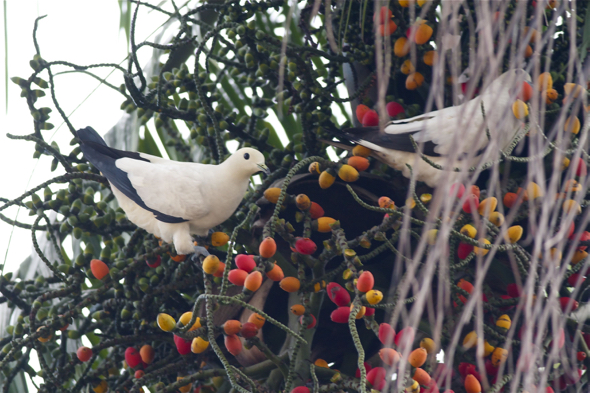 Now that the Ceram Palms are no more, I need to plant other palms, but more slender and shorter species – for easy maintenance. I will miss the many birds that used to stop by.
YC Wee
Singapore
February 2016
Reference:
Wee, Y.C., 2005. Look, what came out of the crow's nests. Nature Watch 13(1): 22-25.