"From South to North Vietnam, several birding trips were made over the years to fathom what avian jewels there left to be seen and observed.
"My final stop came to that God forsaken country in a 3hour bus journey from Hanoi to Nho Guan in February 2014. The last leg of my journey was a twenty minute rickety, pillion ride on 70cc. motorbike taxi-Xe Om, with my luggage gripped between legs of front rider. (Bus 120km: 3hours: 75,000VD vs. Xe Om 5km: 20min: 150,000VD)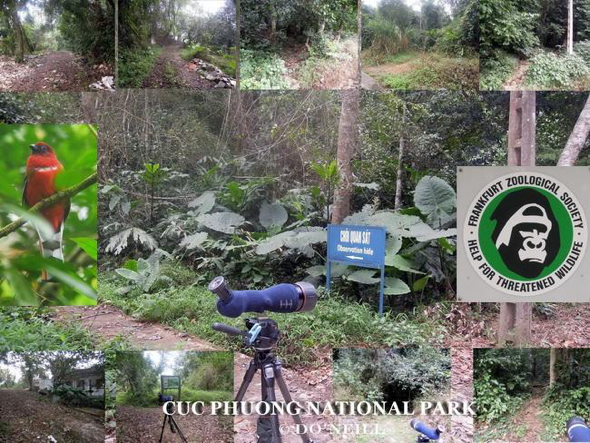 "Cuc Phuong National Park (CPNP) – the oldest in Vietnam encompasses an area of 222sq.km (above).
"The National Park has been best known for its Endangered Primate Rescue Centre – a project by Frankfurt Zoological Society. The Centre and substations received generous donations from many respective countries, Embassies, Zoos and Parks, clubs and associations and individuals.
"Sadly, by the time I visited Central Vietnam in April 2013, I was informed funding to rescue centres had since stopped. Funding failed to receive its target intended… (above).
"For the excellent work the Society had done, the Centre deserves a big paragraph on its own and that be dealt later befitting my sojourn at CPNP.
"For now let's head back to the Bong Ranger's sub-station where a restaurant is maintained to service visitors and in-house guests.
"The restaurant came with resident feline kitchen inspector, table service platter licking cleaners and supervisor! While weekend B-B-Q was a savvy open affair, I didn't want to know if there was canine stew in the offering. There were no feral dogs seen (above).
"While feral cats appeared to have got used to easy access to table food consumption, I cannot say if they still had any willing appetite for bird sushi. None had seen stalking ground dwelling birds. Bird count species were extremely low over duration of 10days visit stay at the National Park.
"There were three species of Thrushes observed and all were migratory in nature and mostly seen ground foraging in surrounding opened grass fields opposite the restaurant. Surprisingly, there were substantial numbers present each day left undisturbed.
"Most of my pre-dawn to evenings were taken to observing these Thrushes as never before had I encounter so many in one location.
"Four White's Thrushes (Zoothera douma aurea) were selected, observed and photographed at different times and on different days for comparison.
Bird No: 1 Taken 13February:5.07-5.14pm (above).
Bird No: 2 Taken 15Febrauary: 9.27-9.34am (above).
Bird No: 3 Taken 17 February: 1.15-2.14pm (above).
Bird No: 4 Taken 18 February 8.26-8.27am (above).
"From the data provided, it would appear White's Thrush is not an early bird but with good chances to be seen through out daylight hours.
"These birds were not skittish unless accidentally flushed for their cryptic plumages provide the added advantage of camouflage in neutral backgrounds.
"No calls /songs were heard from these birds. At most times, they would be quite stoic in nature on opened, grassy fields and enriched vermin infested grounds.
"How do White's Thrushes forage for vermin? Would Rev. Gilbert White have stirred in his grave in reverence to earthworms?
"An interesting behaviour substantiated with video recordings in Part 3 coming up…"
Avian Writer Daisy O'Neill
Penang, Malaysia
30th January 2016
Copyright article and all copy Image – Courtesy of Daisy O'Neill Bird Conservation Fund