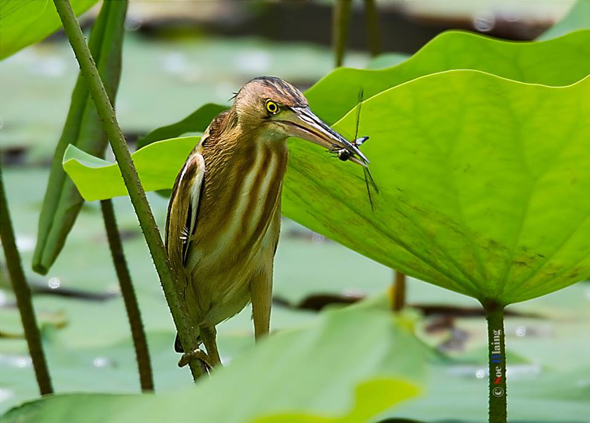 Soe Hlaing photographed a Yellow Bittern (Ixobrychus sinensis) with a dragonfly between its bill at the Singapore Japanese Garden on 29th November 2015. The dragonfly was flying around the bittern when the latter snapped at it.
Yellow Bitterns forage near and around water bodies, hunting mainly aquatic insects and their larvae, small fish, crustaceans, frogs, molluscs, etc. (Martinez-Vilalta & Motis, 1992; Wells, 1999). It is refreshing to have information on specific organisms eaten by this bittern, in this case a dragonfly.
This post is a cooperative effort between Birds, Insects N Creatures Of Asia and BESG to bring the study of birds and their behavior through photography and videography to a wider audience.
Soe Hlaing
Singapore
December 2015
References:
1. Martinez-Vilalta, A. & A. Motis, 1992. Family Ardeidae (Herons)]. In del Hoyo, J., A. Elliott & J. Sargatal (eds.), Handbook of the birds of the world. Vol. 1. Ostrich to ducks. Lynx Editions, Barcelona. Pp. 376-429.
2. Wells, D.R., 1999. The birds of the Thai-Malay Peninsular. Vol. I, Non-passerines. Academic Press, London. 648 pp.