"April in Taiwan brought forth wild Taiwan Mulberry bushes (Morus australis poir) to produce berries that ripen in the warmth of first, late spring sunshine. |
"During my visit in Yunlin County, these bushes were seen a plenty by roadsides, forest edge, car park recreation areas and edge of unattended fields and orchards in overgrowths vegetation (below left).
"Immature berries are creamy white and extremely bitterly sour. Each berry no more than 2.5cm long, turns a glossy black with red staining juices of black currant and tangy-sweet to the taste when fully ripe (above right).
"As a pre-breakfast appetiser, these ripe berries were heaven sent. I par-took several during one of my bicycle birding rounds, felt the succulence and sourness soaked and soothed my sore throat to numb as I breathed in the freshness of a new morning hamlet countryside.

"A bus ride to popular forest recreation area in Sitou, Nantou County was not in vain. More than one hour was spent enjoying and photographing small flocks of White-eared Sibias (Heterophasia auricularis) flying sorties after sorties towards a mulberry bush. These low elevation endemics wasted no time diving and disappearing into the bush canopy. They were equally quick to leave and to retreat for safety at tree branches nearby – after foraging and to await the next raid opportunity when all clear (above).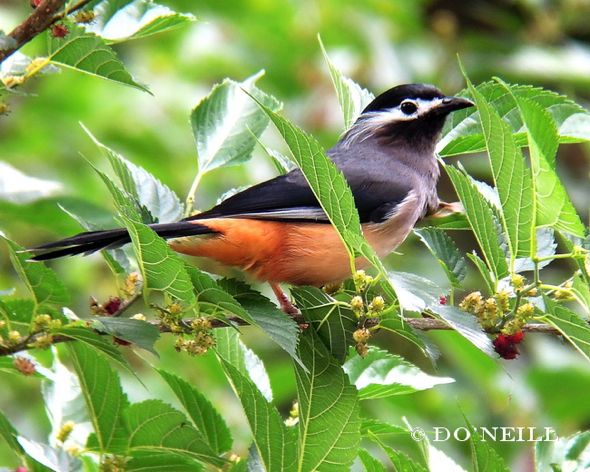 "The elegance of white, loose- trailing feathering on their ears earn their descriptive name, "White-eared' Sibias. They simply put these birds in a sophisticated class (above).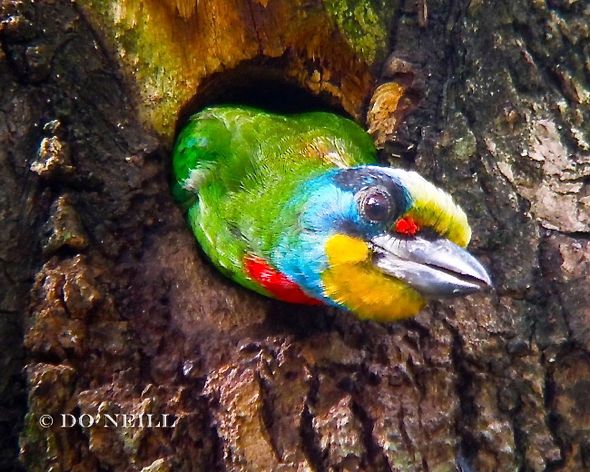 "The endearing one and only barbet species in Taiwan -Taiwan Barbet (Megalaima nuchalis) known to locals as 'Woo- sek- neoh' (Five-coloured bird) is photographed here (above).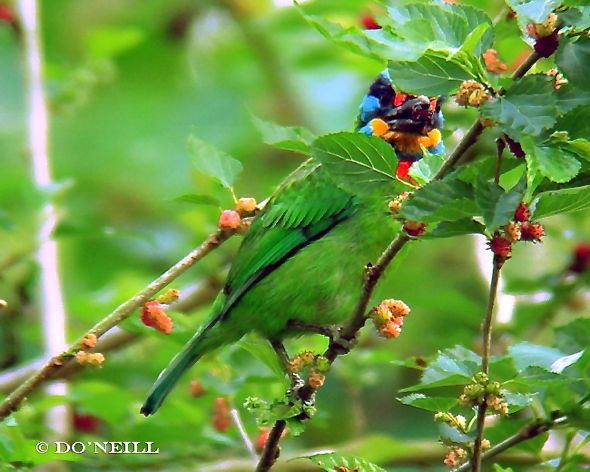 "These birds too had their own foraging patch in the village and knew only too well which mulberries tasted the sweetest (above)!
"Tugged in secluded corner foothills of Taipei and renamed Shilin Official Residence, the historical refuge home to Generalissimo Chiang Kai-shek and Madam Chiang (Soong May-ling) remains. A tourist's poster still hangs at the front gate – a reminder of a bygone era (below left).
"The 30 hectares of prime estate with its ecological gardens and rose beds is home to numerous species of birds (above right).
"In addition to a resident pair of iconic Formosan Magpie (Urocissa caerulea) – the similar characteristic behaviours of these endemic birds as observed ironically perhaps…. somewhat befit its previous residents (above) (Reference reading: 'The Soong Dynasty' by Sterling Seagrave).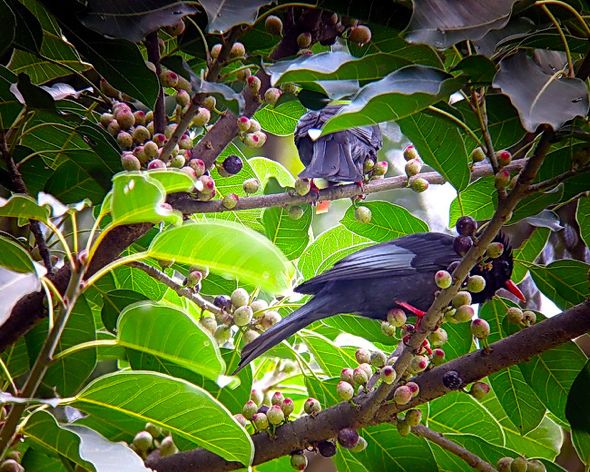 "A pair of sub-endemic Black Bulbuls (Hypsipetes madagascariensis) was also observed foraging in a fig tree (above).
"While… a four-hour train journey away at Huben village, awaited another similar bird gorging on freshly burst red, juicy berries of a Caladium plant species (above).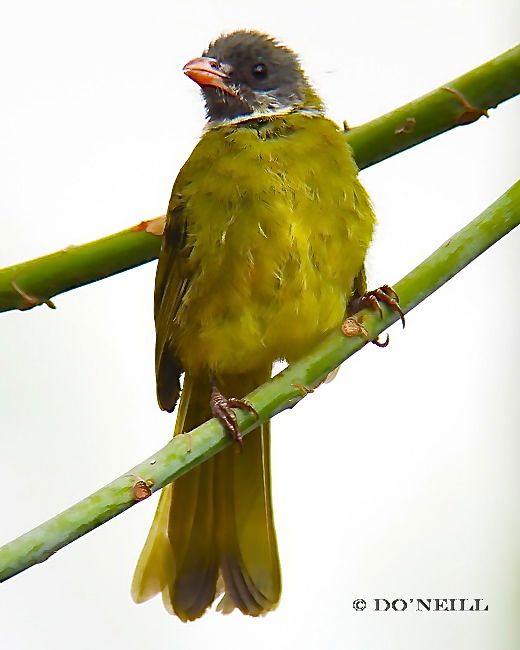 "They proved to be too irresistible to a Collared Finchbill (Spizixos semitorques cinereicapillus) (above) who wasted no time to demolish the fruit berry (below).
"The sub-endemic bird was not just foraging for himself but his beau was waiting on a nearby branch to receive a gift offering (below).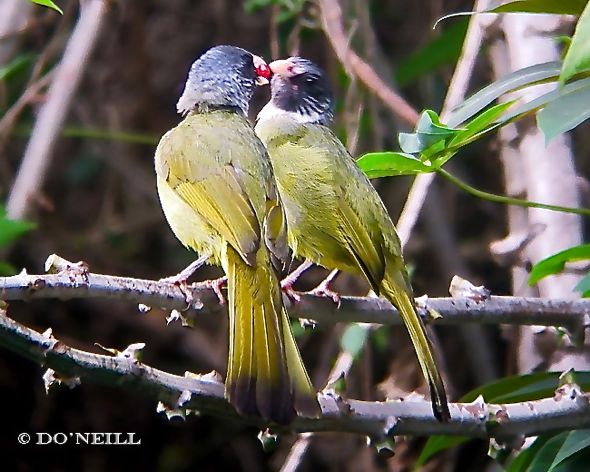 "Join me next on an appointment with bird 'Vice-Chancellor' of National Taiwan University…"
Avian Writer Daisy O'Neill
Penang, Malaysia
Copyright article and all Copy images – Courtesy from Daisy O'Neill Bird Conservation Fund