Introduction
"My wife and I had an opportunity to visit Taiwan in December 2014 and this is an overdue account of an unforgettable experience. I hope to share a little about this wonderful country and people. There are a number of better accounts and write-up on where to watch birds and trip/species lists. My aim is to share a little about the 'culture' of the people and their respect for nature and birds.
"As an introduction can we make an observation that the country is very safe, clean and efficient. It was a pleasant surprise to not worry about your belongings (even camera gear) and to find that the average person is very courteous and helpful, even if English is not that widely spoken. The majority of toilets were clean and food excellent. Everyone takes pride in their homes and environment; we hardly saw any rubbish strewn about. The income disparity between people in Taiwan is less than other countries in the region.
The Land and Recovery


[The view from 2000 meter ASL at the Dasyueshan National Forest Recreation Area, Heping District, Taiwan]
"Taiwan is a mountainous country, especially in the east, so the majority of the population is centred on the west coast. After a series of devastating typhoons and earthquakes, the government called for "a national reforestation campaign to green the barren mountains and heightened environmental consciousness" The premier urged the public to pay more attention to the impact of manmade development. He pointed out that the growing population has led people to increasingly farm mountain slopes. This, however, 'has often been carried out at the expense of the environment' LINK.
"Hence today at least half the island is green and will remain so. I must say I could not discern that it was replanted forest as everywhere I went it looked like primary forest. Even the roads into the forested areas are extremely limited and new ones not encouraged. So a great country to go for walks, nature and bird watching.
Bird Watching
"Taiwan hosts 601 bird species which includes 24 endemic species and 59 endemic subspecies. See the 'The 2012 CWBF Checklist of the Birds of Taiwan' for a complete account LINK.
"For a field guide I mainly used Mark Brazil's "Birds of East Asia: China, Taiwan, Korea, Japan, and Russia", Princeton Field Guides 2009. There are a number of excellent local guides with great pictures or images but the text is all in Chinese. One superb comprehensive guide on line is the Avifauna of Taiwan, 2nd edition (also in Chinese); it can be found HERE.
While we were there we spent half the time cycling or walking (with bird watching on our own) and the other part of the trip full time bird watching (with a guide). For cycling we used the excellent Grasshopper Adventures (see: HERE). For the full time bird watching we were very pleased to have Richard Foster take us around and share his experience of the local birds (see: HERE). His knowledge of the island and back roads is matched by none. He is a considerate and ethical bird watcher, and enabled us to see a larger spectrum of birds in a short time.

[A public toilet in a recreational area adorned with a Pheasant image (left).]
"As the people have changed considerably in their outlook towards nature and conservation, so too have the birds' responses to humans. The people of Taiwan have put much effort into conservation and won international awards for the work. Laws have been passed and are enforced to protect the majority of species. More importantly it has become part of the culture of the average person to respect nature and enjoy it. Hence we found the birds extremely tolerant of man and very friendly. You could approach wild birds at a closer range than in many Asian countries, where people still harm birds. The bird watching experience was remarkable. We saw a large number of birds in a short time with lovely opportunities for photography.
"The best location to watch birds is the Dasyueshan National Forest Recreation Area, Heping District. More information on sites can be found HERE and HERE.
"On a personal note, we found many of the birds to be very "Chinese" in appearance. I suspect we have been biased by our historical past of looking at Chinese art and paintings that have depicted these birds. Of special note are the beautiful, easy to see, regal pheasants. The Mikado Pheasant (Syrmaticus Mikado) is also called the 'Emperor of Dasyueshan' and deserves the title. Here seen with his consort (above).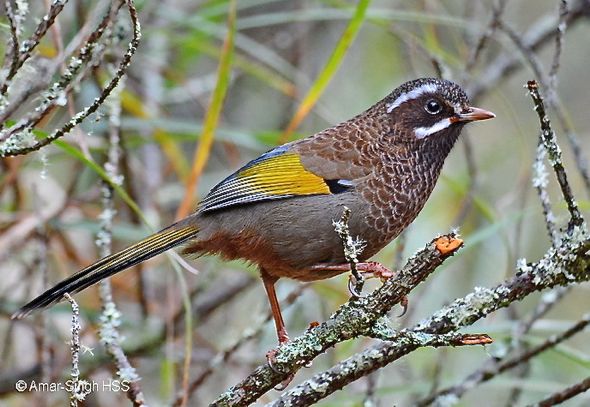 "The White-whiskered Laughingthrush (Garrulax morrisonianus) is a delightful, very friendly and approachable bird (above). Often seen moving about foraging for berries in pairs or small parties. Their striking feature is the double white stripes, one sub-moustachial the other a supercilium. These features also give it the local name of "four eye-browed thrush". The head, breast and mantle have a pleasant scaly appearance.
"Our personal favourites were the beautiful Collared Bush Robin (Tarsiger johnstoniae) (above-left) and the cheeky Black-throated Tit (Aegithalos concinnus), whose Image was taken through heavy mist and whom we named "Fu Manchu" (above-right).
"Taiwan is a haven for migratory and local thrushes. We saw large numbers, frequently, often in flocks feeding on fruit. One 'magical' chap was the Scaly Thrush (Zoothera dauma) whose marking allowed for it to 'disappear' among the leaf litter of winter (above).
"There are only 3 woodpeckers in Taiwan. The Grey-capped Pygmy Woodpecker (Dendrocopos canicapillus) is common while the Grey-headed Woodpecker is considered uncommon. The White-backed Woodpecker (Dendrocopos leucotos) was our favourite and we had a number of good opportunities to watch it (above).
"Some birds take your breath away. The Taiwan Blue Magpie (Urocissa caerulea) are striking birds with their very long graduated tails, the strong contrast between the black bead/neck, cobalt blue body/tail, the yellow iris and the red-orange beak/feet (above). They move around in gregarious small flocks; we saw 6-8 at a time. Watching a flock in flight, one following another is quite sight. 'In the 2007 National Bird Voting Campaign held by the Taiwan International Birding Association… the Taiwan Blue Magpie defeated the Mikado Pheasant and was chosen as Taiwan's national bird, though it has yet to be formally accepted.' Having seen both birds well, a tough choice.
"The Taiwanese bird watchers and photographers we met were friendly and supportive. Of course there were the usual 'crowd' of bird photographers (with phenomenal lenses) but usually rather respectful of birds. I found it a pleasant experience to have fellow bird watchers call you to come and see a bird they had spotted. Or share a location/recent sighting so you could enjoy the experience of spotting that bird. I hope this spirit of mutual support rather than 'competition' spreads to other parts of our region. Above image shows bird watchers and photographers at Dasyueshan National Forest Area.
"There are clear guidelines on bird etiquette (above) that are generally followed. Although there was a fair amount of bird feeding in the 'peak' watching areas.
"It was also interesting to note that a rather sizeable proportion of the bird watchers and photographers were ladies (left).
Special note regarding the Police
"There is little petty crime in Taiwan (or crime in general). As a result the average police person is quite free and has been given additional 'responsibilities'. There are sign boards outside most rural police stations advertising that they offer information, drinks, support bicycle repairs and medical help (below)! We found them very helpful and their toilets clean.
"At some established nature spots the police even maintain bulletin boards with sightings of uncommon birds! Envy, envy; if only all police personally in our countries were this friendly and nature involved. But this first requires a transformation of the general population before the public services can change. Below image shows my wife and Richard enquiring about recent bird sighting from a policeman.
Conclusion
"Taiwan is one of the best bird watching destinations I have ever been to. Even in winter the bird life and services were supportive of a great experience. As a people who have re-established their roots with nature, they are far ahead of most Asian nations; a model for others to follow in the region. Taiwan is a location we would like to visit again, and not just for the birds."
Dato' Dr Amar-Singh HSS
Ipoh, Malaysia
July 2015