The 349 species of plants are listed under algae, mosses, lichens, ferns, non-seed and seed plants. Non-seed plants (Gymnosperms) and seed plants (Angiosperms) are further listed under their different families arranged in alphabetical order. Under each plant species are the different species of birds that had been documented visiting it for shelter, food (nectar, fruit or insect), nesting materials and nest sites. References are provided to allow for tracing to their original source/s. The list of references will be posted separately.
Note that plants are listed under their scientific names while birds under their common names. This is because there are no standardised common plant names unlike common bird names (Robson, C., 2008. A field guide to the birds of South-east Asia. New Holland, London. 544 pp.)
More than ten years of data collected by hundreds of nature enthusiasts mainly from Singapore and Malaysia and posted in the BESG website have now been updated. The original list posted in January 2013 can be referred to HERE.

[l-r: Spirogyra sp., lichen and Pyrrosia piloselloides.]
ALGAE
Filmentous aglae
Storks
Painted Stork – plant (Khng 2013)
1. Spirogyra sp.
Munias
Javan Munia: plant (Tuen 2013b)
Scaly-breasted Munia – plant (Amar-Singh 2009f, 2013c; Wells 2007)
LICHEN
Broadbills
Banded Broadbill – nest-material (Choo, I. 2007)
Canary-flycatcher
Grey-headed Canary-flycatcher – nest-material (Robinson & Chasen 1927)
Drongos
Ashy Drongo – nest/nest-material (Chasen 1939)
Hanging-parrots
Blue-crowned Hanging-parrot – lichen/fungi (Amar-Singh 2010c)
Minivets
Fiery Minivet – nest-material (Robinson & Chasen 1927)
Small Minivet: nest-material (Chasen 1939)
Monarchs
Black-naper Monarch – lichen (Ong 2008)
Swiftlets
Glossy Swiftlet – nest-material (Leong & D'Rozario 2014)
Trillers
Pied Trillers – nest-material (thallus) (Spittle 1949)
Woodshrikes
Large Woodshrike – nesting (Robinson 1028)
BRYOPHYTES (mosses and liverworts)
Broadbills
Banded Broadbill – nest-material (Choo, I. 2007)
Bulbuls
Buff-vented Bulbul – nest-material (Chasen 1939)
Bullfinches
Brown Bullfinch – nest-material (Robinson 1928)
Canary-flycatchers
Grey-headed Canary-flycatcher – nest-material (Robinson & Chasen 1927)
Drongoes
Ashy Drongo – nest/nest material (Chasen 1939)
Fulvettas
Rufous-winged Fulvetta – nest-material (Robinson 1928)
Gerygones
Golden-bellied Gerygone – nest-material (Kwong 2012)
Magpies
Black Magpie – nest-material (Leong & Lim 2014)
Monarchs
Black-naped Monarch – nest-material (O'Neill 2012d)
Niltavas
Large Niltava – nest-material (Robinson 1928)
Robins
White-tailed Robin – nest-material (Robinson 1928)
Sunbirds
Copper-throated Sunbird – nest-material (Chasen 1939)
Olive-backed Sunbird – nest-material (Chasen 1939)
Tailorbirds
Mountain Tailorbird – nest-material (Robinson 1928)
Tits
Sultan Tit – nest-material (Robinson & Chasen 1927)
Hornbills
Oriental Pied Hornbill – nesting (Chasen 1939)
Warblers
Chestnut-crowned Warbler – nest-material (Robinson 1928)
Whistling-thrushes
Blue Whistling-thrush – nest-material (Robinson 1928)
White-eyes
Oriental White-eye – nest-material (plant) (Wee et al. 2007)
Woodshrikes
Large Woodshrike – nesting (Robinson 1928)
FERNS
1. Asplenium nidus (bird's nest fern)
Bulbuls
Yellow-vented Bulbul – nest-material (Wee 2006n)
Doves
Peaceful Dove: nesting (O'Neill 2008b)
Eagle-owls
Eagle-owl – nesting (Chasen 1939)
Fish-owls
Buffy Fish-owl – nesting (Robinson & Chasen 1927; J.Y. Tou pers. comm.)
Peafowls
Indian Peafowl – nesting (Chan & Chan 2006a)
Sunbirds
Brown-throated Sunbird – leaf-bath (Sun 2015b)
2. Davellia denticulata (rabbit's foot fern)
Doves
Spotted Dove – nest-material (Wee 2014a)
3. Gleichenia sp. (resam)
Tailorbirds
Rufous-tail Tailorbird – leaf-bath (Choo, T.J. 2009b)
4. Pyrrosia piloselloides (dragon's scale fern)
Broadbills
Banded Broadbill – nest-material (Choo 2007)
Dusky Broadbill – nest-material (Cheah 2009; Choo, I. 2007, 2009; Ong 2008)
Bulbuls
Red-whiskered Bulbul – nest-material (stem/leaf) (Wee 2015e)
Yellow-vented Bulbul – nest-material (Subaraj & Wee 2006, 2008f)
Sunbirds
Brown-throated Sunbird – forage (Amar-Singh 2010v)
Woodshrikes
Large Woodshrike – nest-material (O'Neill 2012f)
GYMNOSPERM
CUPRESSACEAE
1. Juniperus chinensis (Chinese juniper)
Doves
Spotted Dove- nesting (Amar-Singh 2010s)
CYCADACEAE
1. Cycas edentata = C. rumphii (Malayan fern plant)
Munias
White-headed Munia – nesting (Spittle 1949)
GNETACEAE
1. Gnetum gnemon (belinjau)
Orioles
Black-naped Oriole – fruit (Tan, S. 2013b)
PINACEAE
4. Pinus sp. (pine)
Pond-herons
Chinese Pond-heron – nesting (Robinson & Chasen 1936)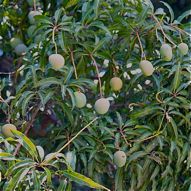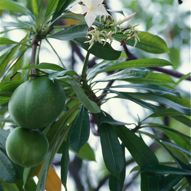 [l-r: Mangifera indica fruits, Annona muricata fruit and Cerbera odollam branch with fruits.]
ANGIOSPERM-DICOTYLEDONS
ACANTHACEAE
1. Barleria sp.
Sunbirds
Olive-backed Sunbird – nest-material (bract) (Spittle 1949)
2. Sanchezia sp.
Spiderhunters
Streaked Spiderhunter – nectar (Ong 2008)
AMARANTHACEAE
1. Amaranthus sp.
Sunbirds
Olive-backed Sunbird – insect (Amar-Singh 2011n)
2. Celosia argentea (cockscomb)
Sunbirds
Brown-throated Sunbird – nectar (Amar-Singh 2009n)
Tree-sparrows
Eurasian Tree-sparrow- fruit (Sobrielo 2009)
AMPELIDACEAE
1. Cissus repens
Hornbills
Oriental Pied Hornbill – fruit (Chasen 1939)
ANACARDIACEAE
1. Anacardium occidentale (cashew nut)
Bulbuls
Red-whiskered Bulbul – fruit (Robinson & Chasen 1927)
2. Campnosperma auriculata (terantang)
Mynas
Javan Myna – fruit (Corlett & Lucas 1989)
3. Gluta malayana (rengas)
Corellas
Tanimbar Corella – nesting (Ng, A. 2007)
Hornbills
Oriental Pied Hornbill – nesting (Ng, A. 2007)
4. Mangifera indica (mango)
Bulbuls
Yellow-vented Bulbul – fruit (Robinson & Chasen 1927; Teo & K 2014a)
Corellas
Tanimbar Corella – fruit (Kwong 2013a)
Doves
Spotted Doves – nesting (Lee, J. 2008)
Flamebacks
Common Flameback – forage (J. Ho pers. comm.)
Hanging-parrots
Blue-crowned Hanging-parrot – fruit (Sandhu-Chin 2010)
Kites
Black-shouldered Kite – nesting (Amar-Singh 2012c)
Munias
Scaly-breasted Munia – nesting (Spittle 1949)
Orioles
Black-naped Oriole – fruit (Amar-Singh 2011l; Cheong, W.C. 2010)
Parakeets
Red-breasted Parakeet – fruit (Kwong 2013a)
Starlings
Asian Glossy Starling – fruit (Teo & K 2014a)
Woodpeckers
Laced Woodpecker – nesting (Chasen 1939)
5. Spondias sp. (hog-plum tree)
Woodpeckers
Laced Woodpecker – nesting (Chasen 1939)
ANNONACEAE
1. Annona muricata (soursop)
Hornbills
Oriental Pied Hornbill – fruit (Tan, T.S. 2009a)
2. Polyalthia sp.
Hornbills
Hornbill – fruit (Hornbill Research Foundation 2008)
3. Polyalthia viridis
Hornbill
Hornbill – fruit (Poonswad 2012)
APOCYNACEAE
1. Allamanda sp. (allamanda)
Spiderhunters
Little Spiderhunter – nectar (Amar-Singh 2014v)
2. Allamanda cathartica (golden trumpet)
Bulbuls
Yellow-vented Bulbul – nesting (Chow 2008)
3. Alstonia sp. (pulai)
Swallows
Barn Swallow – roost (Wu & Wee 2007)
4. Alstonia angustiloba (common pulai)
Orioles
Black-necked Oriole – nesting (Spittle 1949)
5. Cerbera odollam (pong pong)
Corellas
Tanimbar Corella – fruit (Chow 2013d; Lim & Wee 2009; Wee, J. et al. 2006)
6. Dischidia astephana
Yellownapes
Lesser Yellownape – ants (Amar-Singh 2014p)
7. Dischidia hirsute
Sunbirds
Purple-naped Sunbird – nectar (Amar-Singh 2015e)
8. Dischidia major (Raffles dischidia)
Yellownapes
Lesser Yellownape – ants (Amar-Singh 2014p)
9. Tabernaemontana corymbosa (great rosebay)
Bulbuls
Yellow-vented Bulbul – fruit (Lai 2008)
10. Thevetia peruviana (yellow oleander)
Corella
?Tanimbar Corella – fruit (Hall 2008)
11. Wrightia religiosa (wild water plum)
Flowerpeckers
Scarlet-backed Flowerpecker – nest-material (seed pappus) (Teo 2012c), seed-dispersal (Ng, A. 2006a)
Green-pigeons
Pink-necked Green-pigeons – nesting (Wee 2005a)
Sunbirds
Sunbird – nectar (Tan, R. 2011)
Olive-backed Sunbird – nectar (Sun 2012)
ARALIACEAE
1. Schefflera actinophylla (umbrella tree)
Bulbuls
Yellow-vented Bulbul – nectar (Wee 2008m)
Flowerpeckers
Scarlet-backed Flowerpecker – ?nectar (Wee 2008m)
Friarbirds
Helmeted Friarbird – flower (O'Neill 2012l)
Lorikeets
Rainbow Lorikeet – flower (O'Neill 2012k)
Minors
Noisy Minor – flower (O'Neill 2012k)
Mynas
Javan Myna – nectar (Wee 2008m)
Orioles
Black-naped Oriole – nectar (Wee 2008m)
Sunbirds
Brown-throated Sunbird – nectar (Wee 2008m)
Crimson Sunbird – nectar (Wee 2008m)
White-eyes
Oriental White-eye – nectar (Wee 2008m)
Woodpeckers
Banded Woodpecker – insect (Wee 2007j)
AVICENNIACEAE
1. Avicennia sp. (api api)
Egrets
Great Egret – nesting (Robinson & Chasen 1936)
Herons
Grey Heron – nesting (Robinson & Chasen 1936)
Parakeets
Red-breasted Parakeet – leaves (Kwong 2010a)
Rose-ringed Parakeet – leaves (Kwong 2010a)
Storks
Milky Stork – nesting (Robinson & Chasen 1936)
Woodpeckers
Laced Woodpecker – nesting (Chasen 1939)

[l-r: Spathodea campanulata, Durio zibethinus and Tillandsia usneoides]
BIGNONIACEAE
1. Spathodea campanulata (African tulip)
Bulbuls
Yellow-vented Bulbul – nectar (Wee & Hale 2007), fruit (Amar-Singh 2011h)
Crows
House Crow – roost (Sodhi & Sharp 2006)
Mynas
Javan Myna – nectar (Sun 2011a; Tan, S. & Subaraj 2010)
Parakeets
Red-breasted Parakeet – seed (Chua 2007b; Yap 2011)
Rose-ringed Parakeet – seed (Lim, S.T. 2012)
Spiderhunters
Spectacled Spiderhunter – nectar (Lim, A. 2009c)
Yellow-eared Spiderhunter – nectar (Lim, A. 2009c)
Starlings
Asian Glossy Starling – nectar (Wee & Hale 2007)
Sunbirds
Brown-throated Sunbird – nectar (Amar-Singh 2009n)
Tailorbirds
Tailorbird – nest-material (seed) (Chan & Chan 2006c)
2. Tabebuia rosea (pink tecoma)
Sunbirds
Brown-throated Sunbird – nectar (Sun 2011f)
BOMBACACEAE
1. Bombax sp.
Hanging-parrots
Vernal Hanging-parrot – nesting (Robonson & Chasem 1927)
Parakeets
Long-tailed Parakeet – flower (Robonson & Chasem 1927)
2. Ceiba pentandra (kapok tree)
Flowerpeckers
Scarlet-backed Flowerpecker – nest-material (Goh, J.H. 2012a; Hails & Jarvis 1987; Wee 2006j; Wee, J. 2012a)
Palm-swifts
Asian Palm-swift – nest-material (Hails & Jarvis 1987; Tan, T.S. 2010a)
Tailorbirds
Common Tailorbird – nest-material (Amar-Singh 2012k; O'Neill 2012i)
Treeswifts
Grey-rumped Treeswift – ?nest-material (O'Neill 2012e)
Trillers
Pied Triller – nest-material (Amar-Singh 2013a)
3. Durio zibethinus (durian)
Barbets
Brown Barbet – nest/roost (O'Neill 2013a)
Bulbuls
Yellow-vented Bulbul – nest-material (Wee 2008f)
Flowerpeckers
Orange-bellied Flowerpecker – fruit (Goh & Heng 2006)
Herons
Purple Heron – nesting (Robinson & Chasen 1936)
Hornbills
Oriental Pied Hornbill – nesting (Cheah & Wee 2007; Cremades & Lim 2012)
Kingfishers
Collared Kingfisher – nesting (Spittle 1949)
Laughingthrushes
White-crested Laughingthrush – fruit (Polunin 2007)
Leafbirds
Greater Green Leafbird – fruit (O'Neal 2012c)
Spiderhunters
Spiderhunter – nectar (Cheong, L.F. 2011)
Yellow-eared Spiderhunter – nectar (O'Neill 2011b)
Starlings
Asian Glossy Starling – nest-material (Robinson & Chasen 1927)
Sunbirds
Plain-throated Sunbird – fruit (Goh & Heng 2006)
Treeswifts
Grey-rumped Treeswift – nesting (O'Neill 2012e)
Woodpeckers
Laced Woodpecker – ?fruit/insect (Goh & Heng 2006; Tan, D.J.X. 2012a)Woodshrikes
Large Woodshrike – nesting (O'Neill 2012f)
BORAGINACEAE
1. Carmona retusa (=Ehretia microphylla)
Bulbuls
Yellow-vented Bulbul – fruit (Amar-Singh 2011h)
Flowerpeckers
Scarlet-backed Flowerpecker – fruit (Y.C. Wee pers. comm.)
White-eyes
Japanese White-eye – fruit (Cho, J. 2011)
BURSERACEAE
1. Canarium euphyllum
Hornbills
Hornbill – fruit (Poonswad 2012)
CACTACEAE
1. Hylocereus undatus (dragon fruit)
Bulbuls
Red-whiskered Bulbul – fruit (Wee & Tan 2013)
Yellow-vented Bulbul – fruit (Wee & Tan 2013)
Mynas
Javan Myna – fruit (Y.C. Wee pers. comm.)
CAMPANULACEAE
1. Pratia begoniaefolia (creepin pratia)
Partridges
Malayan Partridge – fruit (Robinson 1928; Robinson & Chasen 1936)
CANNABACEAE
1. Trema tomentosa (rough trema)
Bulbuls
Cream-vented Bulbul – fruit (Amar-Singh 2010s)
Red-eyed Bulbul – fruit (Amar-Singh 2010s)
Scaly-breasted Bulbul – fruit (Amar-Singh 2010s)
Spectacled Bulbul – fruit (Amar-Singh 2010s)
Fairy-bluebirds
Asian Fairy-bluebird – fruit (Amar-Singh 2010s)
Munias
Scaly-breasted Munia – fruit (Amar-Singh 2010s), nesting (Spittle 1949)
CARICACEAE
1. Carica papaya (papaya)
Barbets
Gold-whiskered Barbet – fruit (Redzian 2008d; O'Neill 2009a)
Red-throated Barbet – fruit (O'Neill 2008a, 2009b)
Bulbuls
Red-whiskered Bulbul – fruit (Y.C. Wee pers. comm.)
Yellow-vented Bulbul – seed (Wee 2010b), fruit (Amar-Singh 2011h, 2014j)
Cockatoos
Yellow-crested Cockatoo – fruit (Chow 2012d)
Corellas
Tanimbar Corella – fruit (Wee 2010e)
Doves
Spotted Dove – seed (Wee 2010d)
Hornbills
Oriental Pied Hornbill – fruit (Tan, T.S. & Wee 2008; Tan, T.S. 2009b; Cremades & Lim 2012)
Koels
Asian Koel – fruit (Chan & Chan 2008a)
Mynas
Javan Myna – seed (Wee 2010b)
Spiderhunters
Little Spiderhunter – nectar (Amar-Singh 2014t)
Sunbirds
Brown-throated Sunbird – nectar (O'Neill 2013b)
CASUARINACEAE
1. Casuarina equisetifolia (casuarina, ru)
Herons
Grey Heron – nesting (TC 2009)
Hornbills
Oriental Pied Hornbill – nesting (Cremades & Lim 2012)
Kites
Brahminy Kite – nesting (Chua 2007a)
Munias
Scaly-breasted Munia – seed (Chow 2009; Wells 2007)
Mynas
Javan Myna – young needles (Sodhi & Sharp 2006)
Starlings
Asian Glossy Starling – forage (Cheong, W.C. & Sun 2011)
Purple-backed Starling – needle-branch (Cheong, W.C. & Sun 2011)
Swifts
House Swift – nest-material (needle-branch) (Spittle 1949)
Trillers
Pied Triller – nest-material (needle-branch) (Spittle 1949)
Woodpeckers
Grey-capped Pygmy Woodpecker – forage (Chasen 1939; Robinson & Chasen 1927)
CELASTRACEAE
1. Bhesa robusta
Hornbills
Oriental Pied Hornbill – fruit (Tsang et al. 2007)
COMBRETACEAE
1. Lumnitzera sp.
Woodpeckers
Great Slaty Woodpecker – nesting (Chasen 1939)
2. Lumnitzera littorea (teruntum merah)
Sunbirds
Brown-throated Sunbird – nectar (Ng, M. 2009a)
Olive-backed Sunbird – nectar (Ng, M. 2009a)
Purple-throated Sunbird – nectar (Ng, M. 2009a)
3. Quisqualis indica (Rangoon creeper)
Sunbirds
Brown-throated Sunbird – insect (Amar-Singh 2009n)
4. Terminalia catappa (sea almond)
Corellas
Tanimbar Corella – fruit (Goh, J.H. 2011; Kwong 2010b)
Crows
House Crow – roost (Sodhi & Sharp 2006)
Lories
Chattering Lory – fruit (Wee, J. 2013d)
Parrots
Blue-naped Parrot – fruit/flower (Soh 2009)
COMPOSITAE
1. Ageratum conyzoides (white weed)
Bulbuls
Yellow-vented Bulbul – nesting (Amar-Singh 2011e)
2. Pluchea indica (beluntas)
Prinias
Yellow-bellied Prinia- nesting (Spittle 1949)
3. Senecio sp.
Pipits
Paddyfield Pipit – nesting (Spittle 1949)
4. Tridax procumbens (coat buttons)
Munias
Scaly-breasted Munia – fruit (Amar-Singh 2011d)
CONVOLVULACEAE
1. Ipomoea aquatica (water convolvulus, kangkong)
Cormorants
Indian Cormorant – forage (Leong 2012a)
Little Cormorant – forage (Leong 2012a)
2. Merremia tridentata = ?M. hirta (tree-toothed Malayan bindweed)
Bulbuls
Yellow-vented Bulbul – nest-material (stem) (Spittle 1949)
Sunbirds
Olive-backed Sunbird – nest-material (leaf) (Spittle 1949
CUCURBITACEAE
1. Luffa aegyptica (luffa)
Doves
Spotted Dove – nesting-material (stem/tendril/leaf) (Wee 2014a)
DILLENIACEAE
1. Dillenia suffruticosa (simpoh air)
Bulbuls
Yellow-vented Bulbul – fruit (Choo, T.J. 2009a; Chua M. 2009; Tan, S. 2012)
Cream-vented Bulbul – fruit (Ong (2008)
Olive-winged Bulbul – fruit (Wee, J. 2013a)
Flowerpeckers
Orange-bellied Flowerpecker – leaf-bath (Wee 2007)
Scarlet-backed Flowerpecker – leaf-bath (Choo T.J. 2008)
Green-pigeons
Pink-necked Green-pigeon – seed (Chua, M. 2009; Wee, J. 2008a), petal (Lim, P.B. 2009c)
Leafbirds
Blue-winged Leafbird – fruit (Ong 2008)
Parakeets
Long-tailed Parakeets – fruiting-bud (Chan, Y.M. 2006; Choo 2009a; Tan, M. 2010)
Red-breasted Parakeet – fruiting bud (Choo, T.J. 2009b)
Spiderhunters
Little Spiderhunter – nesting (Hails & Jarvis 1987)
Sunbirds
Brown-throated Sunbird – fruit (Amar-Singh 2014r; Chua, M. 2009)
Olive-backed Sunbird – leaf-bath (Wee 2007e)
Purple-throated Sunbird – fruit (Chua, M. 2009)
Tailorbirds
Tailorbird – nesting (Chan & Chan 2006c)
Dark-necked Tailorbird – nesting (Tsen 2008)
Tit-babblers
Striped Tit-babbler – leaf-bath (Choo 2008)
DIPTEROCARPACEAE
1. Dipterocarp sp.
Serpent-eagles
Crested Serpent-eagle – nesting (Robonson & Chasen 1927)
2. Dipterocarpus crinitus
Hawks
Black Hawk – nesting (Chasen 1939)
3. Dipterocarpus oblongifolius
Honeyguides
Malaysian Honeyguide – forage (Robinson 1928)
4. Hopea sp.
Hornbills
Wreathed Hornbill – nesting (Robinson 1928)
5. Shorea gibbosa (damar hitam gajah)
Hornbills
Oriental Pied Hornbill – nesting (Chan et al. 2007; Cremades & Lim 2012; Ng, A. 2007; Tsang et al. 2007)
ELAEOCARPACEAE
1. Elaeocarpus sp.
Barbets
Red-crowned Barbet – fruit (Chan et al. 2006; Wee 2006m)
2. Elaeocarpus pedunculatus (blunt-leafed oil-fruit)
Sunbirds
Olive-backed Sunbird – nest-material (bark) (Spittle 1949)

[l-r: Claoxylon indicum fruits; Macaranga gigantea inflorescence branch; Hura crepitans fruit]
EUPHORBIACEAE
1. Acalypha sp.
Tree-sparrows
Eurasian Tree-sparrow – nest-material (fruiting head) (Spittle 1949)
2. Acalypha siamensis (teh kampong)
Tree-sparrows
Eurasian Tree-sparrow – fruit (Cheong, W.C. 2012)
3. Antidesma bunius (Chinese laurel)
Hornbills
Oriental Pied Hornbill – fruit (Chow 2013f)
4. Baccaurea sp. (rambai)
Hornbills
Wreathed Hornbill – fruit (Robinson 1928)
5. Bridelia tomentoasa (kenidai)
Bulbuls
Red-whiskered Bulbul – fruit (Chan & Chan 2014c)
Straw-headed Bulbul – fruit (Chan & Chan 2014c)
Yellow-vented Bulbul – fruit (Chan & Chan 2014c)
Green-pigeons
Pink-necked Green-pigeon – fruit (Chan & Chan 2014c)
Mynas
Javan Myna – fruit (Chan & Chan 2014c)
Pigeons
Rock Pigeon – fruit (Chan & Chan 2014c)
Shrikes
Tiger Shrike – fruit (Chan & Chan 2014a)
Starlings
Asian Glossy Starling – fruit (Chan & Chan 2014c)
6. Claoxylon indicum (jarak kayu)
Mynas
Javan Myna – seed (Chong, S. 2009a)
7. Endospermum diadenum = E. malaccense (moon tree)
Mynas
Javan Myna – fruit (Corlett & Lucas 1989)
8. Hevea brasiliensis (rubber tree)
Bulbuls
Yellow-vented Bulbul – nest-material (leaf) (Spittle 1949)
Coucals
Lesser Coucal – nest-material (leaf) (Spittle 1949)
Drongo
Ashy Drongo – nesting (Chasen 1939)
Bronzed Drongo – nesting (Chasen, 1939)
Greater Racket-tailed Drongo – nesting (Chasen 1939)
Kites
Black-shouldered Kite – nesting (Chasen 1939)
Munias
Scaly-breasted Munia – nesting (Spittle 1949)
Spiderhunters
Spectacled Spiderhunter – nesting (Chasen 1939)
Sunbirds
Olive-backed Sunbird – nesting/nest-material (bark) (Spittle 1949)
Trillers
Pied Triller – nesting (Spittle 1949)
9. Hura crepitant (sandbox tree)
Barbets
Coppersmith Barbet – nesting (Amar-Singh 2009p)
Fantails
Pied Fantail – nesting (Amar-Singh 2011f)
Sunbirds
Brown-throated Sunbird – flower (Amar-Singh 2010k)
10. Macaranga spp.
Bulbuls
Buff-vented Bulbul – fruit (Amar-Singh 2014l)
Olive-winged Bulbul – fruit (Amar-Singh 2010b)
Red-eyed Bulbul – fruit (Amar-Singh 2014l)
Laughingthrushes
Spectacled Laughingthrush – fruit (S.G. Grace pers. comm.)
Minivets
Ashy Minivet – fruit (Amar-Singh 2013n)
Starlings
Asian Glossy Starling – fruit (Amar-Singh 2010b)
Thrushes
Orange-headed Thrush – fruit (Amar-Singh 2014l)
11. Macaranga bancana (common mahang)
Barbets
Brown Barbet – fruit (Amar-Singh 2010q)
Gold-whiskered Barbet – fruit (Amar-Singh 2013o)
Bulbuls
Black-headed Bulbul – fruit (Amar-Singh 2009k, 2012b, 2013p)
Buff-vented Bulbul – fruit (Amar-Singh 2010n, 2013q)
Cream-vented Bulbul – fruit (Amar-Singh 2009k, 2013o, q)
Hairy-backed Bulbul – fruit (Amar-Singh 2009k, 2013o, 2013q)
Red-eyed Bulbul – fruit (Amar-Singh 2009k, 2013o, q)
Spectacled Bulbul – fruit (Amar-Singh 2009k, 2010n, 2013o, q)
Yellow-vented Bulbul – fruit (Amar-Singh H.S.S. pers.comm.)
Flowerpeckers
Crimson-breasted Flowerpecker – fruit (Amar-Singh 2013o)
Flycatchers
Asian Brown Flycatcher – fruit (Amar-Singh 2009j, 2013p)
Blue-and-white Flycatcher – fruit (Amar-Singh 2012a)
Mugimaki Flycatcher – fruit (Amar-Singh (013o)
Narcissus Flycatcher – fruit (Amar-Singh 2013o)
Rufous-chested Flycatchers – fruit (Amar-Singh 2012a)
Yellow-rumped Flycatcher – ?insect/fruit (Amar-Singh 2009j)
Hanging-parrots
Blue-crowned Hanging-parrot – fruit (Amar-Singh 2011x)
Ioras
Green Iora – fruit (Amar-Singh 2009j, 2013q)
Leafbirds
Blue-winged Leafbird – fruit (Amar-Singh 2013o, q)
Lesser Leafbird – fruit (Amar-Singh 2013p)
Parakeets
Long-tailed Parakeet – fruit (Bucknill & Chasen 1990)
Spiderhunters
Grey-breasted Spiderhunter – fruit (Amar-Singh 2009l, 2010q, 2013o, q)
Little Spiderhunter – fruit (Amar-Singh 2009d, 2013q)
Spectacled Spiderhunter – fruit (Amar-Singh 2010q, 2013q)
Yellow-eared Spiderhunter – fruit (Amar-Singh 2010q, 2013q)
Sunbirds
Plain Sunbird – nectar/fruit (Amar-Singh 2009i, 2010q, 2013o; nectar 2013e, q)
Purple-naped Sunbird – nectar/fruit (Amar-Singh 2009i, 2010q, 2011y, 2013o, q)
Red-throated Sunbird – nectar/fruit (Amar-Singh 2009i, 2011y, 2013o, q)
Ruby-cheeked Sunbird – nectar/fruit (Amar-Singh, 2009i, 2011y, 2013p, q)
Starlings
Asian Glossy Starling – fruit (Amar-Singh 2010b)
White-eyes
Everett's White-eye – fruit (Amar-Singh 2010q, 2013o, q)
12. Macaranga heynei (blue mahang)
Broadbills
Black-and-red Broadbill – nesting (Lim, S.N. 2013)
Doves
Spotted Dove – nest-material (leaf) (Wee 2014a)
Sunbirds
Brown-throated Sunbird – fruit (Ng, M. 2009c)
Plain Sunbird – fruit (Amar-Singh 2009m)
13. Macaranga hypoleuca
Tailorbirds
Common Tailorbird – nesting (Spittle 1949)
14. Macaranga gigantea (giant mahang
Bulbuls
Yellow-vented Bulbul – fruit (Cheong, W.C. 2011b)
Leafbirds
Orange-bellied Leafbird – fruit (Lim, A. 2009a)
Mynas
Myna – fruit (Cheong W.C. 2011b)
Nuthatches
Velvet-fronted Nuthatch –fruit (Lim, A. 2008a)
Spiderhunters
Grey-breasted Spiderhunter – fruit (amar-Singh 2014n)
Starlings
Purple-backed Starlings – fruit (Cheong, W.C. 2011b)
Trillers
Pied Triller – fruit (Cheong, W.C. 2011b)
White-eyes
Oriental White-eye – ?fruit (Amar-Singh 2012n; Cheong, W.C. 2011b)
15. Macaranga ?rhizinoides
Parakeets
Blue-rumped Parakeet – fruit (Robonson & Chasem 1927)
16. Manihot esculenta (tapioca)
Sunbirds
Crimson Sunbird – nectar (Koh 2009)
17. Manihot glaziovii (wild tapioca)
Sunbirds
Brown-throated Sunbird – nectar (Amar-Singh 2009n)
18. Pedilanthus tithymaloides (devil's backbone)
Sunbirds
Crimson Sunbird – nectar (Amar-Singh 2014h)
19. Phyllanthus amarus (child pick-a-back)
Doves
Spotted Dove – fruit (Y.C. Wee pers. comm.)
20. Phyllanthus urinaria (pick-a-back)
Doves
Spotted Dove – fruit (Y.C. Wee pers. comm.)

[l-r: Caesalpinia pulcherrima, Erythrina crista-galli and Albizia samam]
FABACEAE (=LEGUMINOSAE)
1. Acacia sp.
Parakeets
Long-tailed Parakeet – flower (Robonson & Chasem 1927)
2. Acacia auriculiformis (acacia)
Flameback
Common Flameback – insect (Amar-Singh 2010d)
Honey-buzzards
Oriental Honey-buzzard – nesting (Chiu 2005, 2007)
Parakeets
Rose-ringed Parakeet – seed (Chow 2014a)
Treeswifts
Grey-rumped Treeswift – nesting (Chan, M. et al. 2007)
Weavers
Baya Weaver – nesting (Seow, B.E. 2009)
3. Acacia mangium
Bulbuls
Olive-winged Bulbul – seed (Amar-Singh 2013h)
Red-eyed Bulbul – seed (Amar-Singh 2013h)
Yellow-vented Bulbul – seed (Amar-Singh 2013h)
Sunbirds
Brown-throated Sunbird – nectar (Chow 2013b)
4. Adenanthera pavonina (saga)
Parakeets
Rose-ringed Parakeet – seed (Chow 2014a)
5. Albizia saman (rain tree)
Bee-eaters
Chestnut-headed Bee-eater – roost (Amar-Singh & Lim 2013)
Bulbuls
Yellow-vented Bulbul – leaf (Teo, S. 2012b)
Crows
House Crow – roost (Sodhi & Sharp 2006)
Hornbills
Great Hornbill – roost (Ng, B. & Wee 2006)
Oriental Pied Hornbill – nesting (Cremades & Lim 2012)
Macaws
Red-shouldered Macaw – flower/seed (Chan & Chan 2015a)
Parakeets
Long-tailed Parakeet- roost (Ng, B.C. 2013)
Sunbirds
Olive-backed Sunbird – nectar (Amar-Singh 2012u)
Starlings
Asian Glossy Starling – leaf (Cheong, W.C. 2005)
6. Andira inermis (brown heart)
Bulbuls
Yellow-vented Bulbul – flower (C.H. Sun pers. comm.)
7. Arachis pinotoi (creeping peanut plant)
Bulbuls
Yellow-vented Bulbul – (Amar-Singh 2011h)
8. Baphia nitida (camwood)
Bulbuls
Yellow-vented Bulbul – nesting/roosting (C.H. Sun pers. comm.)
9. Bauhinia sp. (bauhinia)
Sunbirds
Purple-naped Sunbird – nectar (Robinson & Chasen 1927)
10. Bauhinia x blakeana (Hongkong orchid tree)
Bulbuls
Straw-headed Bulbul – petal (Hale 2010)
11. Bauhinia acuminate (white bauhinia)
Mynas
Javan Myna – petal (Sun 2013e)
Sunbirds
Brown-throated Sunbird – nectar (Sun 2013f)
12. Bauhinia kokiana (kock's bauhinia)
Doves
Zebra Dove – nesting (Amar-Singh 2012g)
Fantails
Pied Fantail – nesting (Amar-Singh 2011f)
Green-pigeons
Pink-necked Green-pigeon – nest-material (Wee 2012b)
13. Caesalpinia pulcherrima (peacock flower)
Sunbirds
Brown-throated Sunbird – leaf-bath (Amar-Singh 2012e)
Olive-backed Sunbird – nectar (Amar-Singh 2011b)
Parakeets
Rose-ringed Sunbird – seed (Chin 2011; Lam, C.S. 2013; Sun 2011e; Sun & Ng 2010), flower (Sun 2013b)
14. Caesalpinia pulcherrima var. flava (peacock flower)
Parakeets
Rose-ringed Parakeet – flower (Sun 2013b)
15. Calliandra emarginata (powderpuff tree)
Sunbirds
Crimson Sunbird – nectar (Chow 2013c)
Olive-backed Sunbird – nesting (Teo-Guttensohn 2007)
16. Calliandra haematocephala (powderpuff tree)
Bulbuls
Yellow-vented Bulbul – nectar (Amar-Singh 2009n)
Sunbirds
Brown-throated Sunbird – nectar (Amar-Singh 2009n)
17. Cassis sp.
Tree-sparrows
Eurasian Tree-sparrow – nest-material (leaf-midrib) (Spittle 1949)
18. Cassia fistula (golden shower)
Corellas
Tanimbar Corella – fruit (Banwell 2009a; Goh, G. 2009)
Ioras
Common Iora – insect (Teo 2012b)
Trillers
Pied Triller – insect (Teo 2012b)
19. Clitoria sp.
Bulbuls
Yellow-vented – flower (Amar-Singh 2013b)
20. Clitoria fairchildiana (butterfly pea tree)
Sunbirds
Olive-backed Sunbird – nectar (Teo 2012b)
21. Dalbergia oliveri (tamalan tree)
Flamebacks
Common Flameback – sap-anting (Chow et al. 2014)
22. Delonix regia (flame of the forest)
Doves
Spotted Dove – nesting (Spittle 1949)
Magpie-robins
Oriental Magpie-robin – nest-material (rachis) (Spittle 1949)
23. Desmodium triflorum (clover-leafed desmodium)
Doves
Spotted Dove – nest material (stem) (Wee 2014a)
24. Erythrina sp.
Crows
Slender-billed Crow – nesting (Chasen 1939)
Hanging-parrots
Blue-crowned Hanging-parrot – ?nectar (Ong 2008; Wells 1999)
Mynas
Common Myna – nectar (Hails & Jarvis 1987)
Sunbirds
Olive-backed Sunbird – nectar (Hails & Jarvis 1987; Teo 2012b)
Woodpeckers
Sunda Pygmy Woodpecker – nectar (Tan, S. 2013a)
Trillers
Pied Triller – nest-material (leaf rachis) – Spittle (1949)
25. Erythrina crista-galli (cockscomb tree)
Green-pigeons
Pink-necked Green-pigeon – nesting (Wee 2005a)
26. Erythrina variegate (coral tree)
Orioles
Black-naped Oriole – nectar (Amar-Singh 2011c)
Sunbirds
Brown-throated Sunbird – nectar (Amar-Singh 2009n)
27. Gliricidia sepium (Mexican Lilac)
Parakeets
Rose-ringed Parakeet – flower (Chow 2014a)
28. Leucaena leucocephalia (leucaena, petai jawa)
Corellas
Tanimbar Corella – seed (Kwong 2010b; Tan, T.S. 2010b)
Hornbills
Oriental Pied Hornbills – ?seed (Tan, T.S. 2010b)
29. Mimosa sp.
Weavers
Baya Weaver – nesting (Wee & Tan, T.S. 2007)
30. Mimosa pudica (sensitive plant)
Coucals
Lesser Coucal – nesting (Spittle 1949)
Pipits
Paddyfield Pipit – nesting (Spittle 1949)
31. Paraserianthes falcataria (albizia)
Barbets
Coppersmith Barbet – nesting (O'Neill 2012h)
Dollarbirds
Dollarbird – insect (Wee & Ho 2008)
Fish-eagle
Grey-headed Fish-eagle – nesting (Wee & Ho 2008)
Flamebacks
Common Flameback – insect (Wee & Ho 2008)
Hawk-eagles
Changeable Hawk-eagle – nest (Wee & Ho 2008)
Hill-mynas
Common Hill-myna – ?insect (Wee & Ho 2008)
Hornbills
Great Hornbill – nesting (Wee 2006i)
Oriental Pied Hornbill – nesting (Cremades & Lim 2012)
Rhinoceros Hornbill – nesting (Wee 2006i)
Parakeets
Long-tailed Parakeet – ?fruit (Wee & Ho 2008)
Starlings
Asian Glossy Starling – ?leaf (Cheong, W.C. & Sun 2011)
32. Parkia speciosa (petai)
Hornbills
Helmeted Hornbill – nesting (Robinson 1928)
33. Peltophorum pterocarpum (yellow flame)
Crows
House Crow – nesting (Wu 2006), roost (Sodhi & Sharp 2006)
Hanging-parrots
Blue-crowned Hanging-parrot – nectar (Sun 2013c)
Mynas
Javan Myna – roost (L.K. Wang pers. comm.)
Parakeets
Red-Breasted Parakeet – insect (Kwong 2010c)
34. Pithecellobium dulce (Madras thorn)
Barbets
Coppersmith Barbet – ?fruit (Amar-Singh 2011j)
Lineated Barbet – fruit (Amar-Singh 2011j)
Bulbuls
Yellow-vented Bulbul – fruit (Amar-Singh 2011j)
Doves
Zebra Dove – ?fruit (Amar-Singh 2011j)
Green-pigeons
Pink-necked Green-pigeon – ?fruit (Amar-Singh 2011j)
Magpie-robins
Oriental Magpie-robin – fruit (Amar-Singh 2011j)
Mynas
Javan Myna – fruit (Hale 2006)
Orioles
Black-naped Oriole – fruit (Amar-Singh 2011j, s)
Starlings
Asian Glossy Starling – fruit (Amar-Singh 2011j)
35. Pterocarpus indicus (angsana)
Corellas
Tanimbar Corella – nesting (Chan & Chan 2006b; Subaraj 2008)
Crows
House Crow – nesting (Ng, A. 2005), roost (Sodhi & Sharp 2006)
Honey-buzzards
Oriental Honey-buzzard – nesting (Chiu 2005, 2007)
Hornbill
Oriental Pied Hornbill – nesting (Chan, M. 2007b; Chan & Chan 2006 b, d; Cremades & Lim 2012; Subaraj 2008)
Mynas
Javan Myna – roost (Sodhi & Sharp 2006; Wang & Wee 2012)
Orioles
Black-naped Oriole – roost (O'Neill 2007)
Parakeets
Parakeet – roost (Wang & Wee 2012)
Red-breasted Parakeet – nesting (Chan & Chan 2006b, 2007a; Subaraj 2008; Wee & Chan, M. 2007)
Scops-owls
Collared Scops-owl – nesting (Mallick et al. 2007)
Starlings
Purple-backed Starling – roost (Wang & Wee 2012)
36. Saraca sp. (saraca)
Sunbirds
Van Hasselt's Sunbird – nectar (Loei & Subaraj 2013)
37. Saraca cauliflora = S. thaipingensis (yellow saraca)
Flowerpeckers
Scarlet-Backed Flowerpecker – fruit (Heng 2006)
Flycatchers
Asian Brown Flycatcher – insect (Tsang & Sreedharan 2009)
Sunbirds
Brown-throated Sunbird – nectar (Heng 2008; Tsang & Sreedharan 2009)
Crimson Sunbird – nectar (Heng 2008; Tsang & Sreedharan 2009)
Olive-backed Sunbird – nectar (Heng 2008; Tsang & Sreedharan 2009)
Purple-throated Sunbird – nectar (Hails & Jarvis 1987; Heng 2008; Tsang & Sreedharan 2009)
38. Tamarindus indica (tamarind)
Hornbills
Oriental Pied Hornbill – fruit (Cremades & Lim 2012)
Parakeets
Red-breasted Parakeet – fruit (Chow 2012j)
GESNERIACEAE
1. Episcia cupreata 'Acajou'
Sunbirds
Olive-backed Sunbird – nectar (Tsang 2012d)
HYPERICACEAE
1. Cratoxylum formosum (pink mempat)
Bulbuls
Yellow-vented Bulbul – nectar-insect (flower bud) (Wee 2006g)
Crows
House Crow – nest-material (twig) (Wee 2006b)
Doves
Spotted Dove- nest – material (twig) (Wee 2014a)
Green-pigeons
Pink-necked Green-pigeon- nest-material (Subaraj & Wee 2006; Wee 2005a)
Starlings
Asian Glossy Starling – roost (Wee 2014b)
Sunbirds
Brown-throated Sunbird – nectar (Wee 2006g)
Crimson Sunbird – nectar (Wee 2006g)
Olive-backed Sunbird – nectar (Wee 2006g)
White-eyes
Oriental White-eye – flower bud (Wee 2006g, 2012c)
Woodpeckers
Sunda Pygmy Woodpecker – forage (Y.C. Wee pers. comm.)
IXONANTHACEAE
1. Ixonanthes sp.
Parakeets
Long-tailed Parakeet – fruit (Bucknill & Chasen 1990)
LABIATAE
1. Salvia sp. (sage)
Sunbirds
Black-throated Sunbird – nectar/insect (Robinson 1928)
2. Salvia splendens (scarlet sage)
Tree-sparrows
Eurasian Tree-sparrow- fruit (Amar-Singh 2014c)
LAMIACEAE
1. Vitex pinnata (= pubescens) (Malayan teak)
Hornbills
Oriental Pied Hornbill – fruit (Chasen 1939)
Munias
Scaly-breasted Munia – nesting/nest-material (leaf) (Spittle 1949)
Spiderhunters
Spectacled Spiderhunter – fruit (Amar-Singh 2013q)
Tree-sparrows
Eurasian Tree-sparrow – nesting (Spittle 1949)
Triller
Pied Triller – nesting (Spittle 1949)
2. Tectona grandis (teak)
Barbets
Lineated Barbet – nesting (Robinson & Chasen 1927)
LAURACEAE
1. Persea americana (avocado)
Tailorbirds
Common Tailorbird – nest-material (Tan, T.S. 2008a)
2. Cinnamomum ilicioides
Hornbills
Hornbill – fruit (Poonswad 2012)
3. Cinnamomum iners (wild cinnamon)
Barbets
Red-crowned Barbet – fruit (Wee 2008m)
Bulbuls
Yellow-vented ulbul – fruit (Bucknill & Chasen 1990)
Flowerpeckers
Scarlet-backed Flowerpecker – nesting (Goh, J.H. 2012a)
Sunbirds
Olive-backed Sunbird – leaf-bath (Amar-Singh 2012a)
4. Cinnamomum subavenium
Hornbills
Hornbill – fruit (Poonswad 2012)
5. Litsea sp.
Hornbills
Hornbill – fruit (Hornbill Research Foundation 2008)
6. Litsea monopetala
Hornbills
Hornbill – fruit (Poonswad 2012)
LEEACEAE
1. Leea indica (red tree-vine)
Bulbuls
Straw-headed Bulbul – fruit (Chan, W.L. 2009)
LOGANACEAE
1. Fagraea fragrans (tembusu)
Green-pigeons
Pink-necked Green-pigeon – fruit (Hails & Jarvis 1987)
Honey-buzzards
Oriental Honey-buzzard – nesting (Chiu 2005, 2007)
Hornbills
Oriental Pied Hornbill – nesting (Cremades & Lim 2012)
Kingfishers
Collared Kingfisher – insect (Leong et al. 2006)
Scops-owls
Oriental Scops-owl – roost (Subaraj et al. 2006)
Starlings
Philippine Glossy Starling – fruit (Hails & Jarvis 1987)
Sunbirds
Olive-backed Sunbird – nesting (Spittle 1949)

[Dendrophthoe penatndra l-r: flowers, fruits and seedling growing on a host branch]
LORANTHACEAE
Mistletoe
Bulbuls
Hairy-backed Bulbul – fruit (Robinson & Chasen 1927)
Flowerpeckers
Scarlet-backed Flowerpecker – fruit (Goh, J.H. 2012a; Hails & Jarvis 1987; Robinson & Chasen 1927)
1. Dendrophthoe pentandra (Malayan mistletoe)
Flowerpeckers
Brown-throated Flowerpecker – fruit (Lim, F.L.K. 2011)
Orange-bellied Flowerpecker – nectar (Amar-Singh 2013i)
Scarlet-backed Flowerpecker – fruit (Cho 2009; Ng, A. 2006a, b; Wee 2007o)
Parakeets
Long-tailed Parakeet – fruit (Wee, J. 2010, 2011a)
Sunbirds
Brown-throated Sunbird – nectar (Teo 2012b; O'Neill 2013a)
Crimson Sunbird – fruit (Wee 2006l)
Olive-backed Sunbird – fruit (Ng, A. 2006b), nectar (Wee 2007o)
Plain Sunbird – nectar (Amar-Singh 2013e)
White-eyes
Oriental White-eye – nectar (Y.C. Wee pers. comm.)
2. Macrosolen cochinchinensis (common Chinese mistletoe)
Flowerpeckers
Scarlet-backed Flowerpecker – fruit (Ng, A. 2006b; Wee 2006e), seed-dispersal (Chan, Y. M. 2007b)
Hanging-parrots
Blue-crowned Hanging-parrot – nectar (Wee 2007l)
Leafbirds
Blue-winged Leafbird – nectar (Chang 2009b)
Sunbirds
Brown-throated Sunbird – fruit (Wee 2006e)
Olive-backed Sunbird – fruit (Ng, A. 2006b)
3. Scurrula ferruginea (scurfy loranthus)
Flowerpeckers
Scarlet-backed Flowerpecker – fruit (Amar-Singh 2011t)
4. Viscum ovalifolium
Flowerpeckers
Scarlet-backed Flowerpecker – fruit (Lim, F. 2011)
LYTHRACEAE
1. Lagerstroemia sp.
Flowerpeckers
Scarlet-backed Flowerpecker – nest-material (bark) (Amar-Singh 2009q, 2012v), forage (Amar-Singh 2011u)
2. Lagerstroemia speciosa (rose of India)
Flamebacks
Common Flameback – nesting (Robinson & Chasen 1927)
Hornbills
Oriental Pied Hornbill – nesting (Robinson & Chasen 1927)
Parakeets
Red-breasted Parakeet – seed (Ip & Wee 2011)
3. Pemphis sp.
Frigatebirds
Lesser Frigatebird – nesting (Robinson & Chasen 1936)
4. Sonneratia alba (mangrove apple)
Hornbills
Oriental Pied Hornbill – fruit (Cremades & Lim 2012)
MAGNOLIACEAE
1. Michelia champaca (chempaka merah)
Orioles
Black-naped Oriole – fruit (Sun 2010b)
Starlings
Asian Glossy Starling – fruit (Sun 2010b)
MALVACEAE
1. Hibiscus sp. (hibiscus)
Sunbirds
Black-throated Sunbird – nectar (Robinson 1928)
2. Hibiscus rosa-sinensis (Chinese hibiscus)
Bulbuls
Yellow-vented Bulbul – nesting (Wee 2008f)
Sunbirds
Brown-throated Sunbird – nectar (Amar-Singh 2009n; Chan, M. 2007a; Hails & Jarvis 1987)
Crimson Sunbird – nectar (Amar-Singh 2010f)
Olive-backed Sunbird – nectar (Hails & Jarvis 1987; Lim, B.K. 2009a), nest-material (petal) (Spittle 1949)
Spiderhunters
Little Spiderhunter – nectar (Ong 2008)
Tailorbird
Common Tailorbird – nesting (Spittle 1949)
3. Malvaviscus arboreus (turk's turban)
Sunbirds
Olive-backed Sunbird – nectar (Amar-Singh 2010x)
MELASTOMATACEAE
1. Clidemia hirta (clidemia)
Bulbuls: Red-whiskered – fruit (Y.C. Wee pers. comm.)
Flowerpeckers
Crimson-breasted Flowerpecker – fruit (Chang 2009c), Orange-bellied – fruit (Ong 2008)
Tree-sparrows
Eurasian Tree-sparrow – fruit (Y.C. Wee pers. comm.)
2. Melastoma malabathricum (Singapore rhododendron)
Barbets
Red-crowned Bulbul – fruit (Chan, Y. M. et al. 2006)
Bulbuls
Yellow-vented Bulbul – fruit (Amar-Singh 2011h; Wee 2015b)
Coucals
Lesser Coucal – nesting (Spittle 1949)
Flowerpeckers
Crimson-breasted Flowerpecker – fruit (Amar-Singh 2015d; Ong 2008; Strange & Wee 2008a)
Orange-bellied Flowerpecker – fruit (Hails & Jarvis 1987; Ong 2008; Strange & Wee 2008a; Willis 2008)
Scarlet-backed Flowerpecker – fruit (Chow 2012c; Ong 2008; Strange & Wee 2008a; Wee 2007i)
Green-pigeons
Pink-necked Green-pigeon – fruit/nest (Hails & Jarvis 1987; Robinson & Chasen 1936)
Munias
White-rumped Munia – nesting (Amer-Singh 2009g)
Prinias
Yellow-bellied Prinia – nesting (Spittle 1949)
Sunbirds
Olive-backed Sunbird – nesting/nest-material (Spittle (1949)
3. Osbeckia octandra
Hanging-parrots
Sri Lanka Hanging-parrot – fruit (Tsang 2012c)

[l-r: Azdirachta indica fruits, Swietenia macrophylla fruits and Lansium domesticum fruits.]
MELIACEAE
1. Aglaia lawii
Hornbills
Hornbill – fruit (Poonswad 2012)
2. Aglaia spectabilis
Hornbills
Hornbill – fruit (Hornbill Research Foundation 2008; Poonswad 2012)
3. Aphanamixis polystachys (pasak lingga)
Green-pigeons
Pink-necked Green-pigeon – nesting (Seow, G. 2006)
4. Azdirachta indica (neem)
Barbets
Lineated Barbet – fruit (Amar-Singh 2009h, 2012w)
Bee-eaters
Blue-tailed Bee-eater – insect (Amar-Singh 2012w)
Blue-throated Bee-eater – insect (Amar-Singh 2012w)
Chestnut-headed Bee-eater – insect (Amar-Singh 2012w)
Bulbuls
Yellow-vented Bulbul – fruit (Amar-Singh 2009h, 2011h, 2012w; Goh, J.H. 2012b)
Flycatchers
Asian Brown Flycatcher – insect (Amar-Singh 2012w)
Yellow-rumped Flycatcher – insect (Amar-Singh 2012w)
Green-pigeons
Pink-necked Green-pigeon – fruit (Amar-Singh 2009h, 2012w)
Ioras
Common Ioras – insect (Amar-Singh 2012w)
Koels
Asian Koel – fruit (Amar-Singh 2009h, 2012w)
Magpie-robins
Oriental Magpie-robin – insect (Amar-Singh 2012w)
Mynas
Common Myna – fruit (Amar-Singh 2009h; 2012w)
Orioles
Black-naped – fruit (Amar-Singh 2009h, 2011o, 2012w)
Sunbirds
Brown-throated Sunbird – insect (Amar-Singh 2009n, 2012w)
Olive-backed Sunbird – insect (Amar-Singh 2012w)
Starlings
Asian Glossy Starling – fruit (Amar-Singh 2009h; Goh, J.H. 2012b)
Trillers
Pied Triller – insect (Amar-Singh 2012w)
5. Carapa sp.
Hornbills
Oriental Pied Hornbill – nesting (Chasen 1939)
6. Chisocheton sp.
Hornbills
Hornbill – fruit (Hornbill Research Foundation 2008)
7. Dysoxylum sp.
Hornbills
Hornbill – fruit (Hornbill Research Foundation 2008)
8. Dysoxylum densiflorum
Hornbills
Hornbill – fruit (Poonswad 2012)
9. Khaya grandifolia (African mahogany)
Crows
House crow – roost (Sodhi & Sharp 2006)
10. Khaya senegalensis (Senegal mahogany)
Mynas
Javan Myna – roost (L.K. Wang pers. comm.)
11. Lansium domesticum (duku)
Hanging-parrot
Blue-crowned Hanging-parrot – forage (O'Neill 2012g)
12. Swietenia macrophylla (West Indian mahogany)
Crows
House Crow – roost (Sodhi & Sharp 2006)
Parakeets
Red-Breasted Parakeet – seed (Tsang 2011)
Rose-ringed Parakeet – seed (Tsang 2011)

[Ficus elastica l-r: branch, stipule and latex]
MORACEAE
1. Artocarpus heterophyllus (Jackfruit)
Woodpeckers
Buff-rumped Woodpecker – insect (Chasen 1939)
Rufous Woodpecker – forage (Robinson & Chasen 1927)
2. Artocarpus integer (chempedak)
Bulbuls
Yellow-vented Bulbul – nest-material (leaf) (Spittle 1949)
Doves
Zebra Dove – nesting (Spittle 1949)
Flamebacks
Common Flameback – fruit (Wee, J. & Subaraj 2009)
Munias
Scaly-breasted Munia – nesting (Spittle 1949)
Sunbirds
Brown-throated Sunbird – nesting (Spittle 1949)
Trillers
Pied Triller – nesting (Spittle 1949)
3. Artocarpus lacucha
Hornbills
Hornbill – fruit (Poonswad 2012)
4. Artocarpus odoratissimus (terap)
Green-pigeons
Pink-necked Green-pigeon – nest-material (Wee 2012b)
5. Ficus sp.
Barbets
Blue-eared Barbet – fruit (Amar-Singh 2009a)
Brown Barbet – fruit (Amar-Singh 2009a)
Gold-whiskered Barbet– fruit (Amar-Singh 2009a)
Broadbills
Black-and-yellow Broadbill – fruit (Robinson & Chasen 1927)
Bulbuls
Ochraceous Bulbul – fruit (Ong 2008)
Red-eyed Bulbul – fruit (Amar-Singh 2009a)
Red-whiskered Bulbul – fruit (O'Neill 2031e)
Spectacled Bulbul – fruit (Amar-Singh 2009a)
Striped-throated Bulbul – fruit (Ong 2008)
Fairy-bluebirds
Asian Fairy-bluebird – fruit (Robinson & Chasen 1927)
Green-pigeons
Little Green-pigeon – fruit (Robinson 1927; Robinson & Chasen 1936)
Pink-necked Green-pigeon – nesting (Hails & Jarvis 1987; Wee 2012b), fruit (Robinson 1927)
Hill-mynas
Common Hill-myna – friuit (Robinson & Chasen 1927)
Hornbills
Great Hornbill – fruit (Hornbill Research Foundation 2008; Waschkies 2009a)
Imperial-pigeons
Pied Imperial-pigeon – fruit (Robinson & Chasen 1936)
Leafbirds
Greater Green Leafbird – fruit (Amar-Singh 2009a)
Orioles
Dark-throated Oriole – fruit (Robinson & Chasen 1927)
Pond-herons
Chinese Pond-heron – nesting (Robinson & Chasen 1936)
Starlings
Philippine Glossy Starling – fruit (Hails & Jarvis 1987)
Thrushes
Siberian Thrush – fruit (O'Neill 2011a)
6. Ficus altissima
Hornbills
Hornbill – fruit (Poonswad 2012)
7. Ficus auriculata (Roxburgh's fig)
Hornbills
Oriental Pied Hornbill – fruit (Cremades & Lim 2012; Tan, T.S. 2006)
Flowerpeckers
Orange-belllied Flowerpecker – fruit (E.M. Khng pers. comm.)
8. Ficus benjamina (waringin, weeping fig)
Barbets
Blue-eared Barbet – fruit (Amar-Singh 2014b)
Coppersmith Batbet – fruit (Amar-Singh 2010r)
Gold-whiskered Barbet – fruit (Amar-Singh 2010y)
Lineated Barbet – fruit (Amar-Singh 2010r; Yong 2006)
Red-crowned Barbet – fruit (Wee, J. et al. 2008)
Bee-eaters
Blue-throated Bee-eater – insect (Yong 2006)
Bulbuls
Ashy Bulbul – fruit (Subaraj 2006)
Black-crested Bulbul – fruit (Yong 2006)
Black-headed Bulbul – fruit (Amar-Singh 2010e)
Cream-vented Bulbul – fruit (Yong 2006)
Red-eyed Bulbul – fruit (Yong 2006)
Yellow-vented Bulbul – fruit (Amar-Singh 2010r; Bucknill & Chasen 1990; Redzian & Chua 2009; Wee & Chan, M. 2006), nest-material (leaves) (Wee 2006n)
Doves
Emerald Dove – ?fruit (Amar-Singh 2010r)
Zebra Dove – ?fruit (Amar-Singh 2010r)
Drongos
Greater Racket-tailed Drongo – insect (Yong 2006)
Fairy-bluebirds
Asian Fairy-bluebird – fruit (Amar-Singh 2014i; Yong 2006)
Flowerpeckers
Plain Flowerpecker – fruit (Amar-Singh 2013m)
Thick-billed Flowerpecker – fruit (Amar-Singh 2013m)
Flycatchers
Asian Paradise Flycatcher – insect (Yong 2006)
Blue-and-white Flycatcher – fruit (Amar-Singh 2014f)
Yellow-rumped Flycatcher – insect (Wee & Chan, M. 2006; Yong 2006)
Green-pigeons
Pink-necked Green-pigeon – fruit (Amar-Singh 2010r)
Thick-billed Green-pigeon – fruit (Amar-Singh 2013m; G. 2009a; Yong 2006)
Yellow-vented Green-pigeon – fruit (Amar-Singh 2013m)
Hill-mynas
Common Hill-myna – fruit (Yong 2006)
Hornbills
Great Hornbill – fruit (Yong 2006)
Oriental Pied Hornbill – fruit (G. & Lumb 2010)
Rhinoceros Hornbill – fruit (Yong 2006)
Ioras
Common Iora – insect (Amar-Singh 2010r)
Leafbirds
Blue-winged Leafbird – fruit (Yong 2006)
Greater Green Leafbird – fruit (Amar-Singh 2011w, 2011w; Yong 2006)
Lesser Green Leafbird – fruit (Yong 2006)
Mynas
Common Myna – ?fruit (Amar-Singh 2010r)
Javan Myna – fruit (Wee & Chan, M. 2006; Yong 2006)
Orioles
Black-naped Oriole – fruit (Amar-Singh 2010r; G 2009b; Yong 2006)
Rock-thrushes
Blue Rock-thrush – fruit (Amar-Singh 2010r)
Shrikes
Tiger Shrike – insect (Subaraj 2006)
Starlings
Asian Glossy Starling – fruit (Wee & Chan, M. 2006; Yong 2006)
Sunbirds
Brown-throated Sunbird – fruit (Subaraj 2006)
Crimson Sunbird – insect (Subaraj 2006)
Tailorbirds
Dark-necked Tailorbird – insect (Subaraj 2006)
Trillers
Pied Triller – insect (Amar-Singh 2010r)
Warblers
Arctic Warbler – insect (Subaraj 2006)
Eastern Crowned Warbler – insect (Yong 2006)
9. Ficus benjamina 'Variegated White' (variegated waringin)
Sunbirds
Olive-backed Sunbird – nesting (Kwek 2011)
10. Ficus celebensis
Munias
Scaly-breasted Munia – nesting (Hails & Jarvis 1987)
11. Ficus consociata (brown-scurfy fig)
Barbets
Blue-eared Barbet – fruit (Amar-Singh 2012p, q)
Gold-whiskered Barbet – fruit (Amar-Singh 2012o)
Flowerpeckers
Crimson-breasted Flowerpecker – fruit (Amar-Singh 2012n)
Orange-bellied Flowerpecker – fruit (Amar-Singh 2012m)
Scarlet-breasted Flowerpecker – fruit (Tan, J. 2008)
12. Ficus fistulosa (common yellow-stem fig)
Green-Pigeons
Pink-necked Green-pigeon – fruit (Peh & Chong 2003, 2007)
Hornbills
Great Hornbill – fruit (Peh & Chong 2003, 2007)
Orioles
Black-naped Oriole – fruit (Peh & Chong 2003, 2007)
Scops-owls
Oriental Scops-owl – roost (Yeo 2012)
Starlings
Asian Glossy Starling – fruit (Peh & Chong 2003, 2007)
13. Ficus grossularioides (white-leafed fig)
Babblers
Short-tailed Babbler – fruit (Peh & Chong 2003, 2007)
Barbets
Coppersmith Barbet – fruit (Peh & Chong 2003, 2007)
Red-crowned Barbet – fruit (Peh & Chong 2003, 2007)
Bluebirds
Asian Fairy Bluebird – fruit (Peh & Chong 2003, 2007)
Bulbuls
Olive-winged Bulbul – fruit (Peh & Chong 2003, 2007)
Yellow-vented Bulbul – fruit (Peh & Chong 2003, 2007)
Crows
House Crow – fruit (Peh & Chong 2003, 2007)
Flowerpeckers
Orange-bellied Flowerpecker – fruit (Peh & Chong 2003, 2007)
Scarlet-backed Flowerpecker – fruit (Peh & Chong 2003, 2007)
Green-pigeons
Pink-necked Green-pigeon – fruit (Peh & Chong 2003, 2007)
Mynas
White-vented Myna – fruit (Peh & Chong 2003, 2007)
Orioles
Black-naped Oriole – fruit (Peh & Chong 2003, 2007)
Starlings
Asian Glossy Starling – fruit – Peh & Chong (2003, 2007)
Tailorbirds
Common Tailorbird – nesting (Spittle 1949)
Thrushes
Eyebrowed Thrush – fruit (Peh & Chong 2003, 2007)
14. Ficus kerkhovenii
Hornbills
Oriental Pied Hornbill – fruit (Tsang et al. 2007)
15. Ficus kurzii
Hornbills
Hornbill – fruit (Poonswad 2012)
16. Ficus microcarpa (Malayan banyan)
Fairy-bluebirds
Asian Fairy-bluebird – fruit (Leong & D'Rozario 2012)
Flowerpeckers
Orange-bellied – fruit (Leong & D'Rozario 2012)
Hornbills
Hornbill – fruit (Poonswad 2012)
Oriental Pied Hornbill – fruit (Leong & D'Rozario 2012)
Orioles
Black-naped Oriole – fruit (Leong & D'Rozario 2012)
17. Ficus superba
Hornbills
Oriental Pied Hornbill – fruit (Cremades & Lim 2012)
18. Ficus religiosa (bodh, peepul)
Barbets
Coppersmith Barbet – insect (Tsang 2007), fruit (Tan & Wee, J. (009)
Bulbuls
Yellow-vented Bulbul – fruit (Redzian & Chua 2009)
Flycatchers
Asian Brown Flycatcher – insect (Tsang 2007)
Dark-sided Flycatcher – insect (Tsang 2007)
Mugimaki Flycatcher – insect (Tsang 2007)
Forktails
Slaty-backed Forktail – nest-material (Robinson 1928)
Koels
Asian Koel – fruit (Tsang 2007)
Paradise-flycatchers
Asian Paradise-flycatcher – insect (Tsang 2007)
Starlings
Asian Glossy Starling – fruit (Tsang 2007)
Warblers
Arctic Warbler – insect (Tsang 2007)
19. Ficus villosa
Barbets
Blue-eared Barbet – fruit (Amar-Singh 2010w)
Brown Barbet – fruit (Amar-Singh 2010w)
Red-throated Barbet – fruit (Amar-Singh 2010w)
Bulbuls
Hairy-backed Bulbul – fruit (Amar-Singh 2010w)
Scaly-Breasted Bulbul – fruit (Amar-Singh 2010s)
Flycatcher
Crimson-breasted Flycatcher – fruit (Amar-Singh 2010w)
Yellow-breasted Flycatcher – fruit (Amar-Singh 2010w)
Yellow-vented Flycatcher – fruit (Amar-Singh 2010w, 2014d)
20. Ficus virens (grey fig)
Pigeons
Thick-billed Pigeon – fruit (Chow & Ng, A. 2012)
21. Morus alba (white mulberry)
Hornbills
Oriental Peed Hornbill – fruit (T.S. Tan pers. comm.)
22. Streblus elongates (tampinis)
Munias
White-headed Munia – nesting (Spittle 1949)
MORINGACEAE
1. Moringa pterygosperma (drumstick)
Corellas
Tanimbar Corella – seed (Lam, C. S. 2012; Wee 2012a)
Hornbills
Oriental Pied Hornbill – fruit (Tan, T.S. 2010b)
Iora
Common Iora – flower (Redzian 2009b; Wee 2012a)
White-eyes
Oriental White-eye – nectar (Wee 2012a)
MYRISTICACEAE
1. Gymnacranthera sp.
Hornbills
Hornbill – fruit (Hornbill Research Foundation 2008)
2. Horsfieldia sp.
Flowerpeckers
Scarlet-backed Flowerpecker – nesting (Wee 2006j)
3. Knema sp.
Hornbills
Hornbill – fruit (Hornbill Research Foundation 2008)
4. Knema elegans
Hornbills
Hornbill – fruit (Poonswad 2012)
5. Knema globularia
Hornbills
Oriental Pied Hornbill – fruit (Cremades & Lim 2012)
5. Myristica sp. (nutmeg)
Hornbills
Hornbill – fruit (Hornbill Research Foundation 2008)
Wrinkled Hornbill – fruit (Chang 2009d)

[l-r: Callistemon sp. flowers, Psidium guajava fruit and Syzygium grande flowers.]
MYRTACEAE
1. Baeckia sp.
Bullfinches
Brown Bullfinch – fruit (Robinson 1928)
2. Callistemon sp. (bottlebrush)
Bulbuls
Yellow-vented Bulbul – nectar (Amar-Singh 2011h; Tsang & Wee, J. 2006)
Flowerpeckers
Fire-Breasted Flowerpecker – nectar (Lim, A. 2008b)
Green-pigeons
Pink-necked Green-pigeon – nest-material (Sun 2013b)
Ioras
Common Iora – insect (Tsang & Wee, J. 2006)
Laughingthrushes
Chestnut-crowned Laughingthrush – nectar (Ong 2008)
Leafbirds
Orange-bellied Leafbird – nectar (Lim, A. 2008b; Ong 2008; Tan, E. (2008)
Orioles
Black-naped Oriole – nectar (Sun 2013b)
Sibias
Long-tailed Sibia – nectar (Ong 2008)
Spiderhunters
Streaked Spiderhunter – nectar (Lim, A. 2008b)
Sunbirds
Brown-throated Sunbird – nectar (Amar-Singh 2009n)
Olive-backed Sunbird – nectar (Hails & Jarvis 1987)
Purple-throated Sunbird – nectar (Tsang & Wee, J. 2006)
Weavers
Baya Weaver – nectar (Amar-Singh 2015a)
White-eyes
Everett's White-eye – nectar (Amar-Singh 2015c)
3. Callistemon rigidus (bottlebrush)
White-eyes
Oriental White-eye – nest-material (leaf) (Wee et al. 2007), nesting (Lau, Y. 2007; Lau, Y. & Tsang 2006)
4. Cleistocalyx nervosum
Hornbills
Hornbill – fruit/nesting (Poonswad 2012)
5. Eucalyptus sp. (gum tree)
Malkohas
Chestnut-Bellied Malkoha – nesting (Amar-Singh 2009d)
Minlas
Blue-winged Minla – nectar (Amar-Singh 2013j)
Sibias
Long-tailed Sibia – nectar (Amar-Singh 2013j)
White-eyes
Everett's White-eye – nectar (Amar-Singh 2010n)
Oriental White-eye – nectar (Teo 2012b)
6. Eugenia uniflora (Surinam cherry)
Flowerpeckers
Scarlet-backed Flowerpecker – nesting-material (Wee 2013a)
7. Leptospermun sp.
Bullfinches
Brown Bullfinch – fruit (Robinson 1928)
8. Melaleuca sp.
Herons
Great-billed Heron – nesting (Robinson & Chasen 1936)
9. Melaleuca cajuputi (paperback, gelam, tee tree)
Sunbirds
Brown-throated Sunbird – nectar (Sun 2013f; Teo 2012b)
Olive-backed Sunbird – nectar (Teo 2012b)
White-eyes
Oriental White-eye – ?insect (Teo 2012b)
10. Psidium guajava (guava)
Bulbuls
Yellow-vented Bulbul – fruit (Goh, J.H. 2012b)
Flowerpeckers
Crimson-breasted Flowerpecker- fruit (Amar-Singh 2010t)
Hanging-parrots
Blue-crowned Hanging-parrot – fruit (Goh, J.H. 2012b; Lam, C.S. 2007; Pooi 2008)
Hornbills
Oriental Pied Hornbill – fruit (Wee, J. 2007; Wee, J. & Tan, T.S. 2010)
Sunbirds
Olive-backed Sunbird – nest-material (bark) (Spittle 1949)
Tailorbirds
Common Tailorbird – nesting (Spittle 1949)
11. Rhodamnia cinerea (silver back tree)
Munias
Scaly-breasted Munia – nesting (Spittle 1949)
12. Syzygium sp. (jambu)
Bulbuls
Cream-vented Bulbul – fruit (Lim, P.B. 2009b)
Yellow-vented Bulbul – nectar (Moo 2008)
Hanging-parrots
Blue-crowned – fruit (Goh, J.H. 2012b)
Hornbills
Hornbill – fruit (Hornbill Research Foundation 2008)
Munias
Munia – nest-material (Wee 2008c)
Mynas
Javan Myna – nectar (Moo 2008)
Orioles
Black-naped Oriole – nectar (Moo 2008)
Sunbirds
Olive-Backed Sunbird – nectar (Moo 2008)
Starlings
Asian Glossy Starling – nectar (Moo 2008)
Purple-backed Starling – nectar (Moo 2008)
13. Syzygium aqueum (water apple)
Hornbilsl
Oriental Pied Hornbill – fruit (Cremades & Lim 2012)
Munias
Munia – nesting (Wee 2008c, d)
Orioles
Black-naped Oriole – fruit (Amar-Singh 2011l)
14. Syzygium cumini (jiwat, salam)
Koels
Asian Koel – fruit (Corlett & Ko 1995)
Hanging-parrots
Blue-crowned Hanging-parrot – flower (Lena 2014b)
15. Syzygium grande (sea apple)
Flowerpeckers
Orange-bellied Flowerpecker – nectar (Subaraj 2005)
Scarlet-backed Flowerpecker – nectar (Subaraj 2005)
Flycatchers
Asian Brown Flycatcher – insect/flower (Subaraj 2005)
Fruit-doves
Jambu Fruit-dove- fruit (Chan & Chan 2008b)
Green-pigeons
Pink-necked Green-pigeon – leaf (Sun 2011g)
Leafbirds
Golden-fronted Leafbird – nectar (Subaraj 2005)
Greater Green Leafbird – nectar (Subaraj 2005)
Lorys
Red Lory – fruit (Wee, J. et al. 2006)
Mynas
Javan Myna – roost (Sodhi & Sharp 2006; Wu & Wee 2007)
Orioles
Black-naped Oriole – fruit (Sun 2011b)
Starlings
Asian Glossy Starling – roost (Wu & Wee 2007)
Purple-backed Starling – roost (Wu & Wee 2007)
Sunbirds
Crimson Sunbird – nectar (Subaraj 2005)
16. Syzygium malaccense (jambu bol)
Hornbills
Oriental Pied Hornbill – fruit (Ng, A. 2007)
Sunbirds
Crimson Sunbird – nectar (Bucknill & Chasen 1990; Hails & Jarvis 1987)
17. Syzygium polyanthum (salam)
Barbets
Red-crowned Barbet – fruit (Chan, Y.M. et al. 2006)
Bulbuls
Cream-vented Bulbul – fruit (Lim, P.B. 2009b; Subaraj 2012)
Olive-winged Bulbul – fruit (Subaraj 2012)
Red-eyed Bulbul – fruit (Subaraj 2012)
Yellow-vented Bulbul – fruit (Teo 2012b)
Drongos
Greater Racket-tailed Drongo – insect (Subaraj 2012)
Fairy-bluebirds
Asian Fairy-bluebird – fruit (Subaraj 2012)
Flycatchers
Asian Brown Flycatchers – insect (Subaraj 2012)
Fruit-doves
Jambu Fruit-dove – fruit (Chan & Chan 2008b)
Green-pigeons
Orange-breasted Green-pigeon – fruit (Cheah & Low 2009)
Pink-necked Green-pigeon – fruit (Teo 2012b; Wee 2010c)
Koels
Asian Koel – fruit (Teo 2012b)
Leafbirds
Greater Green Leafbird – fruit (Subaraj 2012)
Lorys
Violet-necked Lory – nectar (Wee, J. et al. 2006)
Starlings
Purple-backed Staling – fruit (Teo, K. & Tsang 2015)
Warblers
Arctic Warbler – insect (Subaraj 2012)
Yellow-browed Warbler – insect (Subaraj 2012)
18. Syzygium samarangense (water jambu)
Weavers
Baya Weaver – nectar (Amar-Singh 2015a)
19 Xanthostemon chrysanthus (golden penda)
Bulbuls
Yellow-vented Bulbul – nectar (Amar-Singh & Wee 2011)
Doves
Zebra Dove – nesting (Wee & Wang 2008)
Green-pigeons
Pink-necked Green-pigeon – roost (Wee 2013b)
Hanging-parrots
Blue-crowned Hanging-parrot – nectar (Amar-Singh & Wee 2011)
Lorikeets
Rainbow Lorikeet – nectar (Amar-Singh & Wee 2011)
Mynas
Javan Myna – nectar (Amar-Singh & Wee 2011; Wee 2013c), nest-material (Subaraj & Wee 2006)
Sunbirds
Brown-throated Sunbird – nectar (Chow 2012b; Amar-Singh & Wee 1011)
NYCTAGINACEAE
1. Bougainvillea spp. (bougainvillea)
Doves
Spotted Dove – nesting (Spittle 1949)
Sunbirds
Brown-throated Sunbird – forage (Wee 2006e)
Crimson Sunbird – forage (Wee 2006e)
Olive-backed Sunbird – nectar (Amar-Singh 2012s)
White-eyes
Oriental White-eye – forage (Wee 2006e)
NYMPHAEACEAE
1. Nymphaea sp. (waterlily)
Egrets
Great Egret – forage (Chow 2012k)
Waterhens
White-breasted Waterhen – forage (Chow 2012k)
OLEACEAE
1. Jasminum sambac (Arabian jasmine)
Bulbuls
Yellow-vented Bulbul – nest-material (Wee 2006n)
2. Olea brachiata (sea olive)
Green-pigeons
Pink-necked Green-pigeon – fruit (D'Rozario & Wee, J. 2010)
Koels
Asian Koel – fruit (D'Rozario & Wee, J. 2010)
ONAGRACEAE
1. Fuchsia hybrida (fuchsia)
Sunbirds
Black-throated Sunbird – nectar (AmarSingh 2009e), insect/nectar (Robinson 1928)
OXALIDACEAE
1. Averrhoa bilimbi (bilimbing)
Bulbuls
Red-whiskered Bulbul – nesting (Wee, 2015c)
2. Averrhoa carambola (starfruit)
Bulbuls
Red-whiskered Bulbul – flower-bud (Wee 2007q)
Yellow-vented Bulbul – anting/flower-bud/nesting (Wee 2008i), nesting (Wee, 2008l)
Corellas
Tanimbar Corella – fruit (Wee 2007c, k)
Parakeets
Long-tailed Parakeet – seed (Y.C. Chuah pers. comm.)
Parrots
Blue-rumped Parrot – seed (Ong et al. 2013)
Tailorbirds
Common Tailorbird – insect (Wee 2007c), nesting (Wee 2008e)
PASSIFLORACEAE
1. Passiflora coccinea (red passion flower)
Spiderhunters
Spectacled Spiderhunter – nectar (Lim, A. 2008c)
2. Passiflora laurifolia (passion fruit)
Corellas
Tanimbar Corella – fruit (Tan, D.J.X. 2012c)
3. Passiflora suberosa (corky passion flower)
Tailorbirds
Common Tailorbirds – forage (Sun 2013a)
PHYTOLACCACEAE
1. Rivina humilis (pigeonberry, bloodberry)
Sunbirds
Brown-throated Sunbird – fruit (Amar-Singh 2009n)
PIPERACEAE
1. Piper sp.
Bulbuls
Crean-vented Bulbul – fruit (Amar-Singh 2012x)
Red-eyed Bulbul – fruit (2012x)
Spectacled Bulbul – fruit – Amar-Singh (2012x)
2. Piper aduncum (matico)
Flowerpeckers
Orange-bellied Flowerpecker – fruit (Amar-Singh & Wells 2010)
RHAMNACEAE
1. Zizyphus mauritiana (ber, Indian plum)
Parakeets
Rose-ringed Parakeet – fruit (Lim, S.T. 2012)
RHIZOPHORACEAE
1. Bruguiera cylindrical (bakau putih)
Herons
Little Heron – nesting (Wee, J. 2012b)
2. Rhizophora sp.
Egrets
Great Egret – nesting (Robinson & Chasen 1936)
Herons
Grey Heron – nesting (Robinson & Chasen 1936)
RUBIACEAE
1. Borreria sp.
Doves
Spotted Dove – nest-material (Spittle 1949)
2. Canthium sp.
Hornbills
Hornbill – fruit (Hornbill Research Foundation 2008)
3. Ixora sp.
Sunbirds
Olive-backed Sunbird – nectar (Sun 2012)
4. Ixora javanica (ixora)
Tree-sparrows
Eurasian Tree Sparrow – insect (Wee 2009b)
5. Morinda citrifolia (noni)
Barbets
Lineated Barbet – fruit (Amar-Singh 2011m)
Bulbuls
Yellow-vented Bulbul – fruit (Amar-Singh 2011m; Wee 2006f, 2007b)
Hornbills
Oriental Pied Hornbill – fruit (T.S. Tan pers. comm.; Amar-Singh 2014q)
Koels
Asian Koel – fruit (Amar-Singh 2011q; Wee 2007b)
Mynas
Javan Myna – fruit (Wee 2006f, 2007b)
Orioles
Black-naped Oriole – fruit (Amar-Singh 2011m)
Sunbirds
Brown-throated Sunbird – leaf-bath (Wee 2008b)
Crimson Sunbird – leaf-bath (Wee 2006f, l)
Olive-backed Sunbird – nectar (Chow 2012e)
Starlings
Asian Glossy Starling – fruit (Amar-Singh 2011m)
Tailorbirds
Common Tailorbird – leaf-bath (Wee 2007a)
6. Morinda elliptica (black morinda)
Barbets
Gold-whiskered Barbet – fruit (Amar-Singh 2009c)
Koels
Asian Koel – fruit (Tsang 2009)
Sunbirds
Purple-throated Sunbird – nectat (Amar-Singh 2014o)
7. Myrmecodia ?tuberosa sp.
Flowerpecker
Scarlet-backed Flowerpecker – fruit (Teo, S. 2012a)
8. Oldenlandia sp.
Doves
Zebra Dove – nest-material (Spittle 1949)
Pipits
Paddyfield Pipit – nesting (Spittle 1949)
Prinias
Yellow-bellied Prinia – nest-material (stem) ( Spittle 1949)
RUTACEAE
1. Citrus hystrix (kaffir lime)
Flowerpecker
Scarlet-backed Flowerpecker – nest-material (Amar-Singh 2009q, 2012v)
Spiderhunters
Little Spiderhunter – nectar (Amar-Singh 2014m)
2. Citrus medica (citron)
Flowerpeckers
Orange-bellied Flowerpecker – nesting (Chasen 1939)
3. Murraya koenigii (curry-leaf tree)
Bulbuls
Yellow-vented Bulbul – leaf-bath (Wee 2007a), fruit (Teo & K, 2013; 2015)
Green-pigeons
Pink-necked Green-pigeon – nesting (Wee 2011b)
Koels
Asian Koel – fruit (Koh, S. 2012)
SAPINDACEAE
1. Dimocarpus longan (longan)
Owls
Barn Owl – roost (Chew 2005)
2. Nephelium lappaceum (rambutan)
Broadbills
Black-and-red Broadbill – nesting (O'Neill 2012j)
Bulbuls
Yellow-vented Bulbul – fruit (D'Rozario & Wee, J. 2010; Robinson & Chasen 1927)
Flamebacks
Common Flameback – fruit (Wee, J. 2014b, c)
Hanging-parrots
Blue-crowned Hanging-parrot – fruit (Amar-Singh 2010a; O'Neill 2012a, 2013q)
Hornbills
Oriental Pied Hornbill – fruit (Ng, M. 2009b; Tan, T.S. 2006; Wee, J. & Tan, T.S. 2010), nesting (Cremades & Lim 2012)
Koels
Asian Koel – fruit (D'Rozario & Wee, J. 2010)
Leafbirds
Greater Green Leafbird – fruit (Amar-Singh 2010a, 2013q)
Lorikeets
Rainbow Lorikeet – fruit (Wee, J. 2012c)
Munias
Scaly-breasted Munia – nesting (Spittle 1949)
Orioles
Black-naped Oriole – fruit (D'Rozario & Wee, J. 2010)
Parakeets
Alexandrine Parkeet – seed (Wee, J. 2013e)
Spiderhunters
Yellow-eared Spiderhunter – fruit (Amar-Singh 2010a, 2013q)
Starlings
Asian Glossy Starling – leaf (Wee, J. & Wee, 2014)
Sunbirds
Brown-throated Sunbird – fruit/juice (O'Neill 2012b; Wee, J. 2012c)
3. Nephelium ramboutan-ake (pulasan)
Flowerpeckers
Orange-bellied Flowerpecker – fruit (Lee, C. 2009b)
4. Pometia pinnata (kasai daun besar)
Woodpeckers
Sunda Pygmy Woodpecker – insect (Chong, S. 2010)
SAPOTACEAE
1. Manilkara zapota (chiku)
Bulbuls
Black-crested Bulbul – fruit (Bouranasompop & DeCandido 2012; Goh, J.H. 2012b)
Stripe-throated Bulbul – fruit (Bouranasompop & DeCandido 2012)
Hornbills
Oriental Pied Hornbill – fruit (Cremades & Lim 2012)
Hanging-parrots
Blue-crowned Hanging-parrot – fruit (Goh, J. H. 2012b).
Vernal Hanging-parrot – fruit (Bouranasompop & DeCandido 2012)
2. Mimusops elengi (bunga tanjong)
Bulbuls
Yellow-vented Bulbul – roost (Hails & Jarvis 1987)
Sunbirds
Plain Sunbird – nectar (Amar-Singh 2013e)
3. Pouteria obovata = Planchonella obovata (sea gutta)
Bulbuls
Yellow-vented Bulbul – fruit (Teo, S. 2012b)
SCROPHULARIACEAE
1. Russelia equisetiformis (firecracker plant)
Bulbuls
Red-whiskered Bulbul – nest-material (stem) (Wee 2015e)
Doves
Spotted Dove – nest-material (stem) (Wee 2014a)
Sunbirds
Olive-backed Sunbird – nectar (Hails & Jarvis 1987; Sun 2010, 2012; Tsang 2010)
SOLANACEAE
1. Brugmansia x candida (angel's trumpet)
Spiderhunters
Streaked Spiderhunter – nectar (Chow 2010b)
2. Capsicum annuum (chilly)
Bulbls
Red-eyed Bulbul – fruit (Banwell & Sun 2009)
3. Solanum sp. (wild brinjal)
Bulbuls
Yellow-vented Bulbul – fruit (Choo, T.J. 2009c)
4. Solanum melongena (brinjal)
Tailorbirds
Common Tailorbird – nesting (Spittle 1949)
STERCULIACEAE
1. Commersonia bartramia (mason bee tree)
Weavers
Baya Weaver – nest-material (fruit) (Wee & Tan, T.S. 2007)
2. Sterculia sp.
Bulbuls
Olive-winged Bulbul – fruit (Robinson & Chasen 1927)
Hornbills
Hornbill – fruit (Hornbill-Research-Foundation 2008)
3. Sterculia parviflora = S. macrophyllia
Hornbills
Oriental Pied Hornbill – fruit (Ng, M. 2012)
THEACEAE
1. Ternstroemia sp.
Hornbills
Hornbill (Hornbill Research Foundation 2008)
TILIACEAE
1. Muntingia calabura (West Indian cherry)
Barbets
Gold-whiskered Barbet – fruit (Amar-Singh 2012y)
Lineated Barbet – fruit (Amar-Singh 2011p)
Bulbuls
Olive-winged Bulbul – fruit (Wee, J. pers.comm.)
Yellow-vented Bulbul – fruit (Amar-Singh 2011p, 2012y; Lim, S.T. 2012b)
Flowerpeckers
Orange-bellied Flowerpecker – fruit (Amar-Singh 2011r, 2012y; Chan, Y.M. 2007s; Tsang 2006; Wee, J. 2008b)
Scarlet-backed Flowerpecker – fruit (Amar-Singh 2012y, z; Chow 2011b, 2012g; Huang & Vickerman 2009; Kok, T. 2010)
Yellow-vented Flowerpecker – fruit (Amar-Singh 2011q, 2012y, z; Lim, P.B. 2009a; Waschkies (2009b)
Green-pigeons
Pink-necked Green-pigeon – fruit (Amar-Singh 2011p)
Koels
Asian Koel – fruit (Tsang & Wee 2007)
Leafbirds
Blue-winged Leafbird – fruit (Yap 2012)
Greater Green Leafbird – fruit (Amar-Singh 2012y; Lim, P.B. 2009a)
Starlings
Asian Glossy Starling – fruit (Amar-Singh 2011p)
URTICACEAE
1. Pipturus argenteus (Australian mulberry)
Bulbuls
Spectacles Bulbul – fruit (Ong 2008)
Yellow-vented Bulbul – fruit (Lee C.S. 2012a)
Flowerpeckers
Scarlet-backed Flowerpecker – fruit (Chang 2009e)
Koels
Asian Koel – fruit (Chan & Chan 2008a; Lee, C.S. 2012a)
Mynas
Common Myna – fruit (Lee, C.S. 2012a)
Javan Myna – fruit (Lee, C.S. 2012a)
Orioles
Black-naped Oriole – fruit (Lee, C.S. 2012a)
Parakeets
Red-breasted Parakeet – fruit (Lee, C.S. 2012a)
Starlings
Asian Glossy Starling – fruit (Lee, C.S. 2012a)
2. Poikilospermum suaveolens
Barbets
Brown Barbet – nectar (O'Neill 2013f)
Flowerpeckers
Orange-bellied Flowerpecker – nectar (Goh, J.H. 2013)
Laughingthrushes
Chestnut-capped Laughingthrush – flower (Amar-Singh 2012i)
Leafbirds
Blue-winged Leafbird – flower (Yap 2012)
Greater Green Leafbird – flower (Yap 2012), nectar (Goh, J.H. 2013)
Spiderhunters
Streaked Spiderhunter – flower (Amar-Singh 2014k)
Sunbirds
Brown-throated Sunbird – nectar (Amar-Singh 2012t)
Crimson Sunbird – nectar (Goh, J.H. 2013)
Van Hasselt's Sunbird – flower (Yap 2012)
White-eyes
Everett's White-eye – nectar/ant (Amar-Singh 2014s; 2015c)
VERBENACEAE
1. Callicarpa glabrifolis
Bulbuls
Black-headed Bulbul – fruit (O'Neill 2014)
Buff-vented Bulbul – fruit (O'Neill 2014)
Red-eyed Bulbul – fruit (O'Neill 2014)
Cream-vented Bulbul – fruit (O'Neill 2014)
Olive-winged Bulbul – fruit (O'Neill 2014)
Spectacled Bulbul – fruit (O'Neill 2014)
Ioras
Common Iora – fruit (O'Neill 2014)
Munias
Dusky Munia – fruit (O'Neill 2014)
2. Clerodendrum paniculatum (pagoda flower)
Sunbirds
Brown-throated Sunbird – fruit (Chow 2012f)
3. Clerodendrum thomsonii (Bleeding-heart Vine)
Spiderhunters
Grey-breasted Spiderhunter – nectar (Amar-Singh 2014u)
4. Duranta erecta = D. repens (golden dewdrop)
Munias
Munia – nesting (Tan, T.S. & Wee 2008)
White-rumped Munia – nesting (Amar-Singh 2008h)
5. Lantana camara 'Hybrida' (lantana)
Bulbuls
Red-eyed Bulbul – fruit (Amar-Singh 2013l)
Red-whiskered Bulbul – fruit (Robinson & Chasen 1927)
Naltavas
Large Naltava – fruit (Robinson 1928)
Sunbirds
Olive-backed Sunbird – nectar (Tsang 2012d)
6. Stachytarpheta indica (snakeweed
Sunbirds
Olive-backed Sunbird – nectar (Tsang 2012d)
7. Stachytarpheta mutabilis (snakeweed)
Hummingbirds
Violet-headed Hummingbird – nectar (Ng, S.C. 2009)
Sunbirds
Crimson Sunbird – nectar (Lim, B.K. 2009b)
Woodnymphs
Violet-crowned Woodnymph – nectar (Ng, S.C. 2009)
Rufous-crested – nectar (Ng, S.C. 2009)
Vitaceae
1. Cissus hastata (white-stemmed button vine)
Bulbuls
Yellow-vented Bulbul – fruit (Wee 2008k)
Flowerpeckers
Scarlet-backed Flowerpecker – fruit (Wee 2008k)
Mynas
Javan Myna – fruit (Wee 2008k)
Orioles
Black-naped Oriole – fruit (Wee 2008k)
2. Vitis vinifera (grape)
Bulbuls
Yellow-vented Bulbul – fruit (Amar-Singh 2001i)
ANGIOSPERM-MONOCOTYLEDONS
AGAVACEAE
1. Dracaena sp.
Bulbuls
Olive-winged Bulbul – nesting (Yeong & Meijer 2008)
2. Dracaena angustifolia (narrow-leaf dracaena)
Munias
White-headed Munia – nesting (Spittle 1949)
3. Dracaena fragrans (dragon plant)
Green-pigeons
Pink-necked Green-pigeons – nesting (Kok, J. 2008)
4. Dracaena reflexa (song of India)
Bulbuls
Yellow-vented Bulbul – nesting (Wee 2005b)
Green-pigeons
Pink-necked Green-pigeon – nesting (Wee 2005a)
ALLIACEAE
1. Allium cepa (onion)
Tree-sparrows
Eurasian Tree-sparrow – nest-material (outer bulb bract) (Spittle 1949)

[l-r: Elaeis guineensis with fruits, Livistona sp. and Rhopaloblaste ceramica]
ARACACEAE = PALMAE
Palms
Hornbills
Oriental Pied Hornbill – fruit (Tsang 2012b)
Green-pigeons
Pink-necked Green-pigeon – fruit (Hails & Jarvis 1987)
Flamebacks
Common Flameback – forage (Robinson & Chasen 1927)
Mynas
Javan Myna – nest-material (?leaf) (Wee 2015e)
1. Archontophoenix alexandrae (Alexandra palm)
Bulbuls
Straw-headed Bulbul – ?fruit (Wee 2007a)
Yellow-vented Bulbul – fruit (Wee 2006d; 2007a)
Hill-mynas
Common Hill Myna – fruit (Wee 2007a)
Koels
Asian Koel – fruit (Lam, K. 2007; Wee 2007a, b, d)
Orioles
Black-naped Oriole – ?fruit (Wee 2007a)
Parakeets
Long-tailed Parakeet – female-flower (Wee 2008a)
Starlings
Asian Glossy Starling – fruits (Wee 2006a; 2007a; 2015a)
2. Areca sp.
Palm-swifts
Asian Palm-swift – nesting (Robinson & Chasen 1927)
3. Areca catechu (betel-nut palm)
Flamebacks
Common Flameback: forage (Robinson & Chasen 1927)
Minivets
Small Minivet – nesting (Chasen 1939)
Munias
Scaly-breasted Munia – nesting (Chasen 1939; Spittle 1949)
Starlings
Asian Glossy Starling – nesting (Robinson & Chasen 1927)
Sunbirds
Brown-throated Sunbird – nesting (Robinson & Chasen 1927)
Purple-naped Sunbird – nesting (Robinson & Chasen 1927)
Weavers
Baya Weaver – nesting (Robinson & Chasen 1927)
White-rumped Munia – nesting (Robinson & Chasen 1927)
4. Arenga engleri
Koels
Asian Koel – fruit (Corlett & Ko 1995)
5. Borassus sp. (toddy palm)
Palm-swifts
Asian Palm-swift – nest (Robinson 1928; Robinson & Chasen 1927)
6. Calamus sp. (rattan)
Babblers
Chestnut-necked Babbler – nesting (Chasen 1939)
Magpies
Black Magpie – nesting (Robinson & Chasen 1927)
Peacock-pheasants
Mountain Peacock-pheasant – fruit (Robinson 1928; Robinson & Chasen 1936)
7. Carpentaria acuminata (carpentaria palm)
Hornbills
Oriental Pied Hornbill – fruit (Tsang 2012a)
8. Caryota mitis (fishtail palm)
Barbets
Lineated Barbet – fruit (Amar-Singh 2010h; Ng & Machida 2014)
Hornbills
Oriental Pied Hornbill – fruit (Cremades & Lim 2012; Leong & D'Rozario 2012)
Sunbirds
Olive-backed Sunbird – leaf-bath (Amar-Singh 2012e)
9. Cocos nucifera (coconut palm)
Barbets
Lineated Barbet – nesting (Amar-Singh H.S.S. pers. comm.)
Bulbuls
Yellow-bellied Bulbul – nest-material (Chasen (1939)
Yellow-vented Bulbul – nest-material (bark/fibres) (Spittle 1949), flower (Robinson & Chasen 1927)
Dollarbirds
Dollarbirds – nesting (Cheah 2006)
Doves
Zebra Dove – nesting (Robinson & Chasen 1936)
Flamebacks
Common Flameback – forage (Robinson & Chasen (1927), nesting (Spittle 1949)
Hornbills
Oriental Pied Hornbill – nesting (Chasen 1939)
Kingfishers
Collared Kingfisher – nesting (Spittle 1949)
Magpie-robins
Oriental Magpie-robin – nesting (Spittle 1949)
Munias
Scaly-breasted Munia – nesting (Spittle 1949)
White-headed Munia – nesting (Spittle 1949)
Mynas
Common Myna – nesting (cavity) (Spittle 1949)
Jungle Myna – nesting (Chasen 1939)
Parakeets
Long-tailed Parakeet – shoot (Bucknill & Chasen 1990)
Pipits
Paddyfield Pipit – nest-material (fibre/leaf-sheath) (Spittle 1949)
Prinias
Yellow-bellied Prinia: nest-material (fibre) – Spittle (1949)
Spiderhunters
Grey-breasted Spiderhunter – nectar (Amar-Singh 2014e, y)
Sunbirds
Brown-throated Sunbird – nectar (Amar-Singh 2011k; Hails & Jarvis 1987), nest-material (fibres) (Spittle 1949), nesting (Robinson & Chasen 1927)
Olive-backed Sunbird – nectar (Amar-Singh 2011k; Hails & Jarvis 1987), nest-material (fibres) (Chasen 1939; Spittle 1949)
Purple-throated Sunbird – nectar (Hails & Jarvis 1987)
Swallows
House Swallows – nest-material (fibre) (Spittle 1949)
Tailorbirds
Common Tailorbird – nest-material (fibre) (Spittle 1949)
Tree-sparrows
Eurasian Tree-sparrow – nest-material (fibre) (Spittle 1949)
Trillers
Pied Triller – nest-material (fibre) (Spittle 1949)
Weavers
Baya Weaver – nesting (Robinson & Chasen 1927; Tsang 2006a)
Wood-owls
Spotted Wood-owl – roost (Ho, S. & Subaraj 2006)
Woodpeckers
Laced Woodpecker – nesting (Chasen 1939)
10 Cyrtostachys renda (lipstick palm)
Barbets
Coppersmith Barbet – nesting (Tang 2007)
Flowerpeckers
Orange-bellied Flowerpecker – fruit (Amar-Singh 2011a)
Munias
Scaly-breasted Munia – nesting (Amar-Singh 2010l; Chasen 1939)
Starlings
Asian Glossy Starling – fruit (Sun 2011d)
Woodpeckers
Banded Woodpecker (=Yellownape) – forage (Amar-Singh 2012d)
11. Dypsis lutescens (golden cane palm)
Flowerpeckers
Orange-bellied Flowerpecker – fruit (Amar-Singh 2011a)
12. Elaeis guineensis (oil palm)
Barbet
Brown Barbet – fruit (O'Neill 2013f)
Bulbuls
Cream-vented Bulbul – fruit (O'Neill 2013d)
Yellow-vented Bulbul – fruit (Amar-Singh 2013f; Chow 2011a)
Crows
House Crow – fruit (Corlett & Wee 2011)
Large-billed Crow – fruit (Corlett & Wee 2011)
Hanging-parrots
Blue-crowned Hanging-parrot – fruit (Kwong 2013b; Wee 2007g)
Hornbills
Great Hornbill – fruit (Milton in Tsang 2012b)
Oriental Pied Hornbill – fruit (Cremades & Lim 2012; Leong & D'Rozario 2012; Ng & Machida 2014)
Laughingthrushes
White-crested Laughingthrush – fruit (Chow 2011a)
Magpie-robins
Oriental Magpie-robin – ?fruit (Chow 2011a)
Mynas
Javan Myna – fruit (Wee, J. 2013c)
Jungle Myna – fruit (Amar-Singh 2013f)
Parakeets
Long-tailed Parakeet – fruit (Chow, L. 2011a; Wee 2007g)
Red-breasted Parakeet – fruit (Kwong 2010e)
Rose-ringed Parakeet – fruit (Wee 2007g)
Starlings
Asian Glossy Starling – fruit (Amar-Singh 2013f)
Woodpeckers
Laced Woodpecker – insects (Chow 2011a), fruit (O'Neill 2013c)
13. Eugeissona tristis (bertram palm)
Nightjars
Large-tailed Nightjar – nesting (Robinson & Chasen 1927)
14. Livistona sp.
Swifts
Asian Palm Swift – nesting (Hails & Jarvis 1987; Robinson & Chasen 1927; Tan, T.S. 2010a)
15. Livistona chinensis (Chinese fan palm)
Imperial-pigeon
Pied Imperial-pigeon – fruit (Chua 2008)
Koels
Asian Koel – fruit (Wee 2006a)
Palm-swifts
Asian Palm-swift – nesting (Robinson 1928)
16. Livistona jenkinsiana
Hornbills
Hornbill – fruit (Poonswad 2012)
17. Livistona tahanensis
Palm-swifts
Asian Palm-swift – nesting (Robinson 1928)
18. Oncosperma sp. (nibong)
Dollarbirds
Dollarbird – nesting (Chasen 1939; Cheah 2006)
Hornbills
Hornbill – fruit (Hornbill Research Foundation 2008)
19. Phoenix sp. (date palm)
Doves
Spotted Dove – nesting (Lee, J. 2008)
20. Ptycospermun macarthuri (MacArthur palm)
Barbets
Gold-whiskered Barbet – fruit (Amar-Singh 2010y)
Bulbuls
Yellow-vented Bulbul – fruit (Wee 2006d)
Green-pigeons
Pink-necked Green-pigeon – fruit (Banwell 2010; Huang 2009)
Hornbills
Oriental Pied Hornbill – fruit (Chan, Y.M. & Wee 2008; Cremades & Lim 2012; Kwong 2010d; Leong & D'Rozario 2012; Tsang et al. 2007b, 2012a-1; Wee 2009)
Imperial-pigeons
Green Imperial-pigeon – fruit (Kwong 2014a)
Koels
Asian Koel – fruit (Leong 2011; Wee & Subaraj 2007)
Munias
Scaly-breasted Munia – nesting (Amar-Singh 2010l)
Mynas
Javan Myna – fruit (Wee 2015d)
Parakeets
Long-tailed Parakeet – fruit (Tuen 2013a)
Starlings
Asian Glossy Starling – fruit (Amar-Singh 2010 m)
21. Raphis excelsa (lady palm)
Bulbuls
Yellow-vented Bulbul – nesting (Chow & Tan 2006)
22. Rattan
Broadbills
Whitehead's Broadbill –nesting (Wee, H.H. 2009)
23. Rhopaloblaste ceramica (ceram palm)
Bulbuls
Yellow-vented Bulbul – fruit (Wee 2006h)
Crows
House crow – nesting (Wee 2006b)
Large-billed Crow – fruit (Wee et al. 2011)
Green-pigeons
Pink-necked Green-pigeon – ?fruit (Wee 2006d)
Hanging-parrots
Blue-crowned Hanging-parrot – fruit (Wee 2006h)
Imperial-pigeons
Pied Imperial-pigeon – fruit (Wee 2012d)
Koels
Asian Koel – fruit (Sun 2013g; 2015a)
Starlings
Asian Glossy Starling – nest-material (Subaraj & Wee 2006), fruit (Wee 2006h; 2013d; 2015f), roost (Wee 2014b)
Woodpeckers
Banded Woodpecker – forage (Y.C. Wee pers. comm.)
ARACEAE
1. Colocasia esculenta (cocoyam)
Tailorbirds
Common Tailorbird – leaf-bath (Amar-Singh 2012r; 2013k)
2. Epipremnum pinnatum 'Aureum' (money plant)
Orioles
Black-naped Oriole – fruit (Sun & Ng, A. 2013)
Sunbirds
Olive-backed Sunbird – nesting (Goh, S.G. 2007), leaf-bath (Sun 2015b)
Tailorbirds
Common Tailorbird – nesting (Amar-Singh 2012j)
3. Epipremnum pinnatum (=Raphidophora korthalsii) (dragon's tail)
Orioles
Black-necked Oriole – fruit (Wee 2007f)
4. Philodendron 'Golden Emerald'
Sunbirds
Brown-throated Sunbird – leaf-bath (Sun, 2015b)
BROMELIACEAE
1. Tillandsia usneoides (Spanish moss)
Bulbuls
Yellow-vented Bulbul – nest-material (Wee 2006b)
CANNACEAE
1. Canna hybrids (canna)
Munias
White-headed Munia – nesting (Chasen 1939)
Sunbirds
Sunbird – nectar (Chan, M. & Wee 2007)
Brown-throated Sunbird – nectar (Hails & Jarvis 1987)
Crimson Sunbird – nectar (Wells 2007)
Olive-backed Sunbird – nectar (Sun 2012)
CYPERACEAE
1. Fimbristylis schoenoides (fimbristylis)
Cisticolas
Zitting Cisticola – nesting (Tan, G.C. & Wee 2009)
2. Kyllinga polyphylla
Swamphens
Grey-headed Swamphen – flowering stalk (Loei 2014)
3. Pycreus polystachyos
Waterhens
White-breasted Waterhen – seed (Amar-Singh & Dinesh 2014)
MARANTHACEAE
1. Thalia geniculata (water canna)
Bulbuls
Yellow-vented Bulbul – flower (Amar-Singh 2012l)
Sunbirds
Crimson Sunbird – nectar (Liu 2010; Singh 2010)
MUSACEAE
1. Heliconia (heliconia) sp.
Sunbirds
Brown-throated Sunbird – nectar (Ho, J. 2011b)
Crimson Sunbird – nectar (Wee 2007p)
Olive-backed Sunbird – nectar (Cheong, W.C. 2011a; Wee 2007p)
2. Heliconia pstticorum 'Lady Di' (heliconia)
Olive-backed Sunbird – nectar (Sun 2011c; 2012; 2013d)
3. Musa sp. (banana)
Spiderhungters
Little Spiderhunter – nectar (Lim A. 2009b; Ong 2008)
4. Musa acuminate (pisang kapal)
Tailorbirds
Common Tailorbird – nesting (O'Neill 2012i)
5. Musa ornate (wild banana)
Spiderhunters
Grey-breasted Spiderhunter – nectar (AmarSingh 2014u, w)
Streaked Spiderhunter – nectar (Chang 2009a)
6. Musa cultivar (banana)
Bulbuls
Yellow-vented Bulbul – fruit (Amar-Singh 2009o; 2011h; Wee 2006n)
Hornbills
Oriental Pied Hornbill – fruit (T.S. Tan pers. comm.)
Laughingthrushes
White-crested Laughingthrush – fruit (Lee, V. 2006)
Orioles
Black-naped Oriole – fruit (Redzlan 2008a, 2009a)
Sunbirds
Brown-throated Sunbird – leaf-bath (Wee 2008b)
Spiderhunters
Grey-breasted Spiderhunter – nectar (Redzian 2008c)
Little Spiderhunter – nectar (Amar-Singh, 2014t; Redzian 2008c), nest (Hails & Jarvis 1987; Robinson & Chasen 1927)
Long-billed Spiderhunter – nesting (Ong 2008; Strange & Wee 2008b)
Spectacled Spiderhunter – nectar (Redzian 2008b; Strange & Wee 2008b)
Streaked Spiderhunter – nesting (Robinson 1928)
Yellow-eared Spiderhunter – forage (Robinson & Chasen 1927)
Tailorbirds
Common Tailorbird – nest-material (fibre) (Wee 2008e), nesting (O'Neill 2012i)
Waterhens
White-breasted Waterhen – fruit (Amar-Singh 2014g)
7. Musa '1000 Fingers'
Spiderhunters
Grey-breasted Spiderhunter – nectar (Amar-Singh 2014u, x)
ORCHIDACEAE
1. Dendrobium cruminatum (pigeon orchid)
Munias
Scaly-breasted Munia – nesting (Banwell 2009b)
2. Epiphyllum oxypetalum (keng hua)
Tailorbirds
Common Tailorbird – leaf-bath (Wee 2007a)

[l-r: Axonopus compressus; Cynodon dactylon; Eleusine indica; Paspalum conjugatum and Panicum sp.]
POACEAE (GRAMINEAE)
Grass
Buttonquails
Barred Buttonquail – seed (Robinson 1927)
Doves
Spottted Dove – seed (Robinson 1927), nest-material (rhizome) (Wee 2014a)
Munias
White-headed Munia – seed (Robinson & Chasen 1927)
Whistling-ducks
Lesser Whistling-duck – plant (Robinson & Chasem 1927, 1936), nest (Robinson & Chasen 1936)
1. Axonopus compressus (carpet grass)
Munias
Scaly-breasted Munia – fruit (Wee 2007n, 2010a)
Doves
Spotted Dove – seeds (Y.C. Wee pers. comm.)
2. Bamboos
Babblers
Buff-breasted Babbler – nest-material (Robinson 1927)
Golden Babbler – nesting (Robinson 1928)
Grey-throated Babbler – nest-material (Robinson 1928)
Rufous-fronted Babbler – nest-material/nesting (Robinson 1928)
Spot-necked babbler – nest-material (Chasen 1939)
Broadbills
Banded Broadbill – nest-material (leaf) (Choo, I. 2007)
Black-and-red Broadbill – nesting (O'Neill 2012j)
Black-and-yellow Broadbill – nesting/nest-material (Chasen 1939)
Bulbuls
Buff-vented Bulbul – nest-material (Chasen 1939)
Red-whiskered Bulbul – nest-material (?leaf) (Wee 2015e)
Yellow-vented Bulbul – nest-material (leaf) (Spittle 1949; Wee 2008f), nesting (Spittle 1949)
Doves
Spotted Dove – nesting (Robinson & Chasen 1936)
Zebra Dove – nesting (Robinson 1927)
Fantail
Pied Fantail – nesting (Chasen 1939)
Fulvettas
Brown-cheeked Fulvetta – nesting (Chasen 1939)
Rufous-winged Fulvetta – nest-material (Robinson 1928)
Munias
Munia – nest-material (Wee 2008c)
White-headed Munia – nesting (Spittle 1949)
Piculets
White-browed Piculet – ?forage (Chasen 1939)
Pigeons
Pale-capped Pigeon – nesting (Robinson & Chasen 1936)
Pittas
Gurney's Pitta – nesting (Chasen 1939)
Hooded Pitta – nesting (Robinson & Chasen 1927)
Prinias
Yellow-bellied Prinia – nest-material (leaf) (Chasen 1939), nesting (Spittle 1949)
Scimitar-babblers
Large Scimitar-babbler – nesting (Robinson 1928)
Shamas
White-rumped Shama – nesting (Chasen 1939)
Shrikes
Long-tailed Shrike – nest-material (leaf) (Khoo 2013)
Sparrows
Java Sparrow – seed (Amar-Singh 2012f)
Sunbirds
Olive-backed Sunbird – nesting (Spittle 1949)
Warblers
Yellow-bellied Warbler – nest-material (Robinson 1928)
Woodshrikes
Large Woodshrike – forage (Robinson 1928)
3. Chrysopogon aciculatus (love grass)
Munias
Black-headed Munia – fruit (Amar-Singh 2011g)
Tailorbirds
Common Tailorbird – nest-material (Amar-Singh 2012k)
Weavers
Baya weaver – fruit (Amar-Singh 2013d)
4. Cynodon dactylon (Bermuda grass)
Doves
Spotted Dove – nest-material (Spittle 1949)
Munias
Javan Munia – nesting (Spittle 1949)
Scaly-breasted Munia – fruit (Wee 2007n}
Pipits
Paddyfield Pipit – nesting (Spittle 1949)
Tree-sparrows
Eurasian Tree-sparrow – nest-material (stem) (Spittle 1949)
5. Digitaria sp. (crab grass)
Munias
White-headed Munia – fruit (Lim, R. et al. 2009)
6. Echinochloa colonum (jungle rice or padi burong)
Munias
Chestnut Munia – fruit (Lee, C. & Chow 2009)
7. Eleusine indica
Munias
Scaly-breasted Munia – fruit (Wee 2007n)
Tree-sparrows
Eurasian Tree-sparrow – nest-material (flowerng head) (Spittle 1949)
8. Eragrostis sp.
Munias
Scaly-breasted Munia – nest-material (Amar-Singh 2010l; Spittle (1959)
White-breasted Munia – nest-material (fruiting head) (Spittle 1949)
Pipits
Paddyfield Pipit – nest-material (fruiting head) (Spittle 1949)
Prinias
Yellow-bellied Prinia – nest-material (fruiting-head)/nesting (Spittle 1949)
Sunbirds
Olive-backed Sunbird – nest-material (fruit) (Spittle 1949)
Tree-sparrows
Eurasian Tree-sparrow – nest-material (fruiting head) (Spittle 1949)
9. Gigantochloa scortechinii (giant bamboo)
Parrotfinches
Pin-tailed Parrotfinch – fruit (Amar-Singh 2009b)
10. Imperata cylindrica (lalang)
Bulbuls
Black-vented Bulbul – nest-material (leaf) (Chasen 1939)
Yellow-vented Bulbul – nest-material (leaf/fruit) (Spittle 1949)
Buttonquails
Barred Buttonquail – nest (Robinson 1927; Robinson & Chasen 1936)
Cisticolas
Zitting Cisticola – nest-material (plant) (Amar-Singh 2010o; Chasen 1939), nest-material (leaf/fruit) (Spittle 1949), nesting (Chasen 1939)
Coucals
Lesser Coucal – nesting/nest-material (leaf) (Spittle 1949)
Flowerpeckers
Orange-bellied Flowerpecker – nest-material (fruit) (Chasen 1939)
Scarlet-backed Flowerpecker – nest-material (fruit) (Chasen 1939; Hails & Jarvis 1987).
Munias
Munia – nest-material (Wee 2008d)
Chestnut Munia – nesting (Chasen 1939)
Scaly-breasted Munia – nest-material (fruit, leaf) (Amar-Singh 2010l; Spittle 1949)
White-breasted Munia – nest-material (leaf) (Spittle 1949)
Pipits
Paddyfield Pipit – nest-material/nesting (Spittle 1949)
Prinias
Yellow-bellied Prinia – nesting/nest-material (leaf) (Chasen 1939), nesting/nest-material (leaf/fruit) (Spittle 1949)
Sunbirds
Brown-throated Sunbird – nesting/nest-material (fruit) (Spittle 1949), nest-material (fruit) (Chasen 1939; Hails & Jarvis 1987)
Olive-backed Sunbird – nest-material (fruit) (Spittle 1949; Wee 2007h)
Starlings
Asian Glossy Starling – nest-material (Robinson & Chasen 1927)
Tailorbirds
Common Tailorbird – nest-material (fruit) (Spittle 1949; Wee 2008e)
Dark-necked Tailorbird – nest-material (fruit) (Lin 2008)
Tree-sparrows
Eurasian Tree-sparrow – nest-material (leaf/fruit) (Spittle 1949)
Weavers
Baya Weaver – nest-material (fruit) (Wee 2008g)
11. Ischaemum sp. (centipede grass)
Munias
Chestnut Munia – fruit (Chong, W. 2009)
12. Ischaemum muticum (rumput tembaga jantan)
Doves
Spotted Dove – nest-material (Spittle 1949)
Pipits
Paddyfield Pipit – nesting (Spittle 1949)
13. Ischaemum timorense (rumput sarang buaya)
Cisticolas
Zitting Cisticola – nest-material (leaf) (Spittle 1949)
14. Oryza sativa (padi)
Doves
Spotted Dove – rice (Lim, S.T. 2012c)
Hornbills
Oriental Pied Hornbill – rice (Mei 2012)
Munias
White-headed Munia – seed (Robinson & Chasen 1927)
White-rumped Munia – fruit (Lim, R. et al. 2009)
Mynas
Common Myna – rice (Lim, S.T. 2012c)
Parakeets
Red-breasted parakeet – seed (Chasen 1939)
Pigeons
Rock Pigeon – rice (Mei 2012)
Tree-sparrows
Eurasian Tree-sparrow – rice (Lim, S.T. 2012c)
Watercocks
Watercock – nesting/young plant (Robinson & Chasen 1936)
Waterhens
White-breasted Waterhen – seed (Robinson & Chasen 1936)
Weavers
African Golden-backed Weaver – rice (Lim, S.T. 2012c)
Baya Weavers – rice (Lim, S.T. 2012c)
Whistling Ducks
Lesser Whistling Duck – plant (Robinson & Chasen (1936)
15. Ottochloa nodosa (slender panic grass)
Cisticolas
Zitting Cisticola – nest-material (fruiting head) (Spittle 1949)
16. Panicum sp. (panic grass)
Munias
Chestnut Munia – fruit (Lee, C. & Chow 2009)
Scaly-breasted Munia – fruit (Wee 2007n)
17. Panicum humidorum
Munias
Munia – nest-material (Wee 2008d)
18. Panicum maximum (Guinea grass)
Munias
White-headed Munia – fruit (Banwell 2009c)
Weavers
Baya Weaver – nest-material (Wee 2006k; Wee & Tan, T.S. 2007)
19. Panicum repens (creeping panic grass)
Munias
Munia – nest-material (Wee 2008d)
20. Paspalum conjugatum (goose grass)
Munias
Munia – nest-material (Wee 2008d)
Black-headed Munia – fruit (Wells 2007)
Chestnut Munia – fruit (Lee, C. 2009a)
White-headed Munia – fruit (Amar-Singh 2011v; Spittle 1949)
Tree-sparrows
Eurasian Tree-sparrow – nest-material (fruiting head) (Spittle 1949)
21. Paspalum scrobiculatum (kodo grass)
Munias
Chestnut Munia – fruit (Lee, C. 2009a)
Scaly-breasted Munia – fruit (Wee 2007n)
22. Pennisetum sp. (pennisetum)
Munias
Chestnut Munia – fruit (Chow 2012a; Lee, C. 2009a)
Scaly-breasted Munia – fruit (Lim, R. 2009)
White-headed Munia – fruit (Chow 2012a)
23. Pennisetum polystachion (feathery pennisetum)
Baya Weaver – fruit (Seow 2009; Subaraj & Leong 2013)
24. Pennisetum purpureum (elephant grass, napier grass)
Coucals
Greater Coucal – nest/nest-material (Robinson & Chasen 1927)
Munias
Munia – nest-material (Wee 2008d)
Black-headed Munia – fruit (Amar-Singh 2011g)
Scaly-breasted Munia – fruit (Amar-Singh 2010g)
White-headed Munia – fruit (Amar-Singh 2011v)
Weavers
Baya weaver – fruit (Seow 2009)
25. Pennisetum setaceum 'Rubrum' (purple fountain grass)
Munias
Scaly-breasted Munia – seed (Chow 2013e)
26. Sporobolus sp.
Cisticolas
Zitting Cisticola – nest-material (Spittle 1949)
Doves
Spotted Dove – seed (L.K. Wang pers. comm.)
Zebra Dove – seed (L.K. Wang pers. comm.)
Tree-sparrows
Eurasian Tree-sparrow – nest-material (fruiting head) (Spittle 1949)
27. Thysanolaena latifolia (tiger grass)
Munias
Scaly-breasted Munia – fruit (Lim, R. et al. 2009)
28. Urochloa subquadripara (lesser bracharia)
Munias
Chestnut Munia – fruit (Chong, W. 2909)
Scaly-breasted Munia – fruit (Lim, R. et al. 2009)
29. Zoysia matrelle
Doves
Spotted Dove – seed (Y.C. Wee pers. comm.)
PANDANACEAE
1. Pandanus sp. (pandan)
Cuckoo-doves
Barred Cuckoo-dove – nesting (Robinson 1928)
Imperial-pigeons
Mountain Imperial-pigeon – nesting (Robinson & Chasen 1936)
Woodpeckers
Bay Woodpecker – forage (Robinson 1928)
TYPHACEAE
1. Typha angustifolia (cat's tail, lesser bulrush)
Flowerpeckers
Scarlet-backed Flowerpeckers – nest-material (Chan, Y.M & Wee 2007)
Sunbirds
Olive-backed Sunbird – nest-material (Wee 2007h)
Swifts
Palm Swift – nest-material (Tan, T.S. 2010a)
ZINGIBERACEAE
1. Costus speciosus (crepe ginger)
Doves
Spotted Dove – seed (Chow 2013a)
2. Costus spicatus
Spiderhunters
Little Spiderhunter – nectar (Chang 2009a)
Sunbirds
Brown-throated Sunbird – nectar (Ho, J. 2011b)
Olive-backed Sunbird – nectar (Lim, S.T. 2013a)
3. Costus woodsonii (scarlet spiral flag)
Spiderhunters
Little Spiderhunter – nectar (Chang 2009a)
Sunbirds
Brown-throated Sunbird – nectar (Ho, J. 2011b)
Olive-backed Sunbird – nectar (Lim, S.T. 2013a)
4. Etlingera elatior (torch ginger)
Bulbuls
Yellow-vented Bulbul – leaf-bath (Wee 2007e)
Spiderhunters
Grey-breasted Spiderhunter – nectar (Ong 2008)
Little Spiderhunter – nectar (Chong, S. 2009b; Liu 2009)
Yellow-eared Spiderhunter – nectar (Ong 2008)
Sunbirds
Crimson Sunbird – nectar (Wee 2009a)
YC Wee
Singapore
June 2015YC Wee
Singapore
June 2015