During the night diurnal birds roost in trees, remaining silent throughout. Just before dawn they wake up and start vocalising. This mass singing of birds is referred to as the dawn chorus.
It has been noted that the quantity and often also the quality of singing during this period is significantly different from the singing during the day. With some species the songs are also different during the day. And not all species join in the chorus at the same time.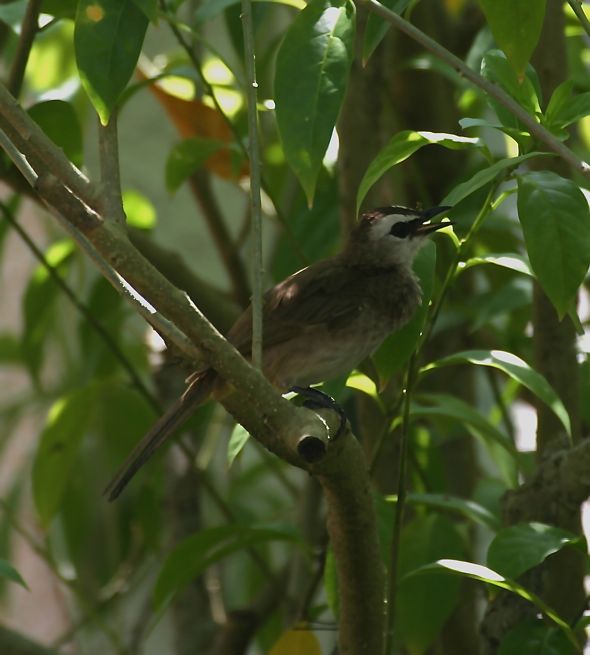 In my urban garden, the dawn chorus begins at 0630 hours when it is still dark. It begins with the Yellow-vented Bulbuls (Pycnonotus goiavier) as they are the first to rise (above). Their distinctive gurgling calls start some distance from my garden, in a cluster of roadside trees whey they roost every night. Their singing triggers other smaller groups of bulbuls roosting near by to vocalise, and so the chorus spreads. This continues for the next half an hour. As the first morning light increases, the loudness of the bulbuls' chorus gradually decreases until it ends at 0700 hours.
A few minutes before the Yellow-vented Bulbuls began their chorus, I did hear the faint singing of the Asian Koel (Eudynamys scolopacea) in the far distance. Unfortunately the video failed to record it. And following the bulbuls' chorus, other species joined in. The calls of the Javan Mynas (Acridotheres javanicus) were most prominent in their loudness and harshness. The cooing of the Pink-necked Green-pigeons (Treron vernans) came later as they prepared to fly off from the roosting tree in the garden.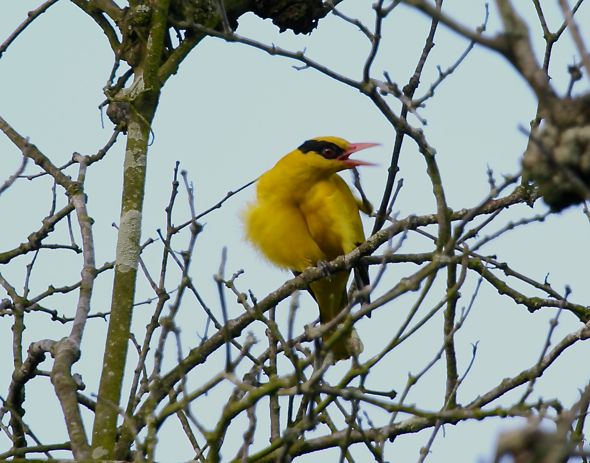 And among the cacophony of various calls, I was only able to identify the metallic calls of the Asian Glossy Starlings (Aplonis panayensis). But towards the end of the chorus, the melodious singing of the Black-naped Orioles (Oriolus chinensis) was distinct (above).
In rural areas the dawn chorus would be more spectacular in volume as well as diversity. This is mainly because the number bird species would be much more, not to mention the number of individual per species.
YC Wee
Singapore
June 2015