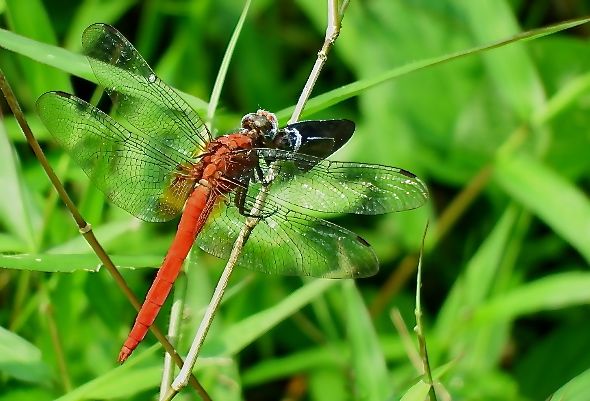 "While exploring a forest edge one morning in October 2014, I chanced upon a male Scarlet Skimmer (Orthetrum testaceum, family Libellulidae) with a freshly caught prey within its grasp (above).
"On closer inspection, I realised that the prey was a planthopper bug (family Flatidae). It was an adult which had recently metamorphosed, as it still retained remnants of waxy filaments that protected it during its earlier instars.
"As the dragonfly continued to devour this bug, its head and limbs were smothered with these adhesive, waxy filaments, yet remained undeterred (above).
"A video clip of the dragonfly feeding may be viewed here:
"Towards the completion of his meal, the dragonfly would use his forelimbs to wipe his eyes clean, removing as much of the sticky filaments as possible."
Dr. Leong Tzi Ming
Singapore
16th March 2015