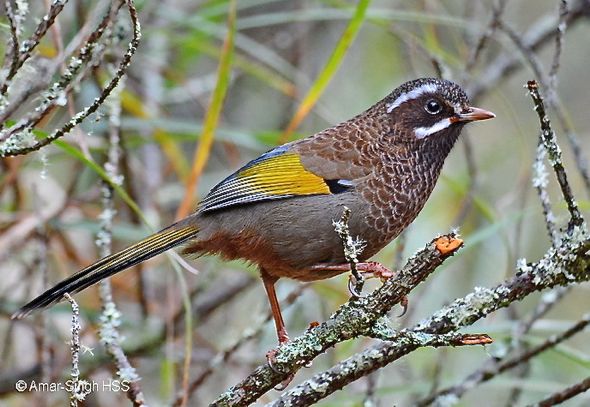 "This endemic is locally called the Taiwan Laughingthrush (Garrulax morrisonianus). Found at altitudes above 2,300 meters ASL but will move lower in winter to 1,500 meters. (Avifauna of Taiwan, 2nd edition). Some consider this bird a non-seasonal altitudinal migrant, i.e. moving lower when the weather is unfavourable.
"Pairs are monogamous and stay together even in non-breeding periods; I saw allopreening being done between pairs. Previously kept as part of the pet bird trade due to its lovely colours and calls, but now protected and commonly seen.
"Very friendly and approachable; often moving about foraging for berries in pairs or small parties. I also saw them feed on an orange fungus, possibly the Orange Peel Fungus (Aleuria aurantia), which Richard Foster says is an activity he has seen occasionally.
"Their striking feature is the double white stripes, one sub-moustachial the other a supercilium. These features also give it the local name of 'four eye-browed thrush'. The head, breast and mantel have a pleasant scaly appearance. There is a lovely 'olive-gold wing panel' (Handbook of the Birds of the World Alive)."
"It has a nice range of calls, some very loud. Only managed an audio recording of some warning calls HERE. The accompanying sonogram and waveform of calls are shown above.
Dato' Dr Amar-Singh HSS
Ipoh, Perak, Malaysia
19-20th December 2014
Location: Dasyueshan National Forest Recreation Area, Heping District, Taiwan
Habitat: 2000-2400 meter ASL, forested region