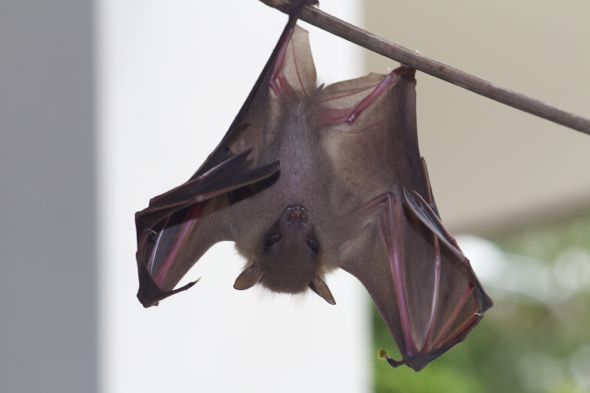 On the afternoon of 23rd November, neighbour Amber Lau, accompanied by her parents, brought a juvenile Common Fruit Bat (Cynopterus brachyotis) hanging from the end of a short stick. The bat apparently fell from under the roof edge of her next door neighbour's house onto a bush in her garden. Amber handed the bat over as she knew that I was studying bats.
For the last few years I only observed bats hanging from the roof of my porch. This was my first very close encounter with a bat – a juvenile that fell from its roost.
The juvenile bat was well developed but unable to fly. It could flap its wings and crawl on the stick. It gave a shrill cry when disturbed but soon got used to our presence.
I tried to feed it with pieces of fruits but it would not eat. Maybe it had yet to wean off from its mother's milk. It was left hanging from the stick in the porch for the night.
The next morning it fell from the stick onto the table, probably weak from hunger. It would not accept bottled milk then. And it became lifeless soon after.

On hindsight, maybe we should have left it below its roost for the mother to locate it.
Would appreciate feedback from those with experience dealing with such young bats.
YC Wee & Amber Lau
Singapore
January 2015