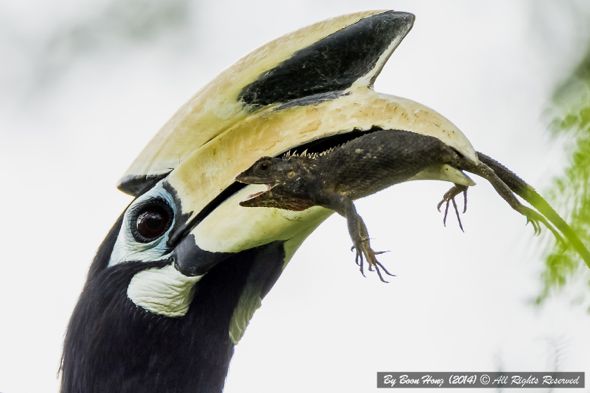 Chan Boon Hong earlier posted in "Birds, Insects N Creatures Of Asia" HERE an image of a male Oriental Pied Hornbill (Anthracoceros albirostris) with a Changeable Lizard (Calotes versicola) clamped tightly between his mandibles (above). The posting was well received and Boon Hong subsequently agreed to share the story behind the single image with a larger audience. Thus this post.
The encounter was at Bidadari Park in early December 2014. The male hornbill had just caught the Changeable Lizard that was struggling desperately to free itself. The hornbill was holding on to the lizard by one of its toes and this allowed the latter to struggle free (above, below).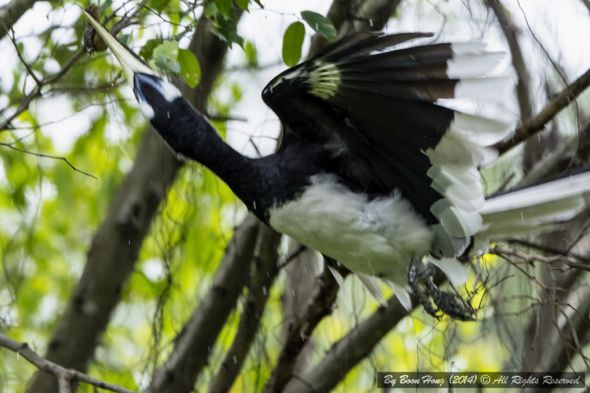 The lizard fell about 10m to the ground, slightly injured but free (below).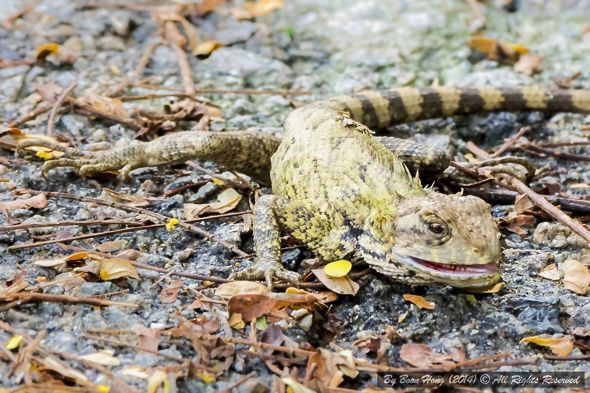 Meanwhile, up in the tree, the hornbill caught another lizard. This time he had his grip right. His mandibles were firmly clamped onto the lizard's body (below).
The lizard was swiped against the branch until it was dead (below).
Normally the hornbill would manipulate the prey such that he could swallow it head-first. But this time he was probably in a courting mode. So it offered the morsel to his mate (below).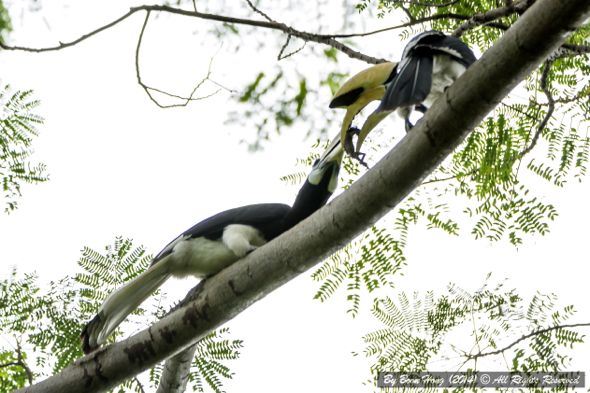 The Changeable Lizard is commonly seen in open urban areas and sometimes also in forest clearings. It is an "illegal immigrant" that sneaked into the country either with the help of humans or accidentally together with imported goods. It was first sighted in the 1980s and has since become widespread.
As with many introduced species, its presence has displaced the native Green Crested Lizard (Bronchocela cristatella) as it is more aggressive. This invasive lizard has been reported killing a female Pink-necked Green Pigeon (Treron vernans) LINK.
During the breeding season the male Changeable Lizard puts on a bright vermillion head and shoulders and a black throat – see HERE.
Chan Boon Hong
Singapore
November 2014