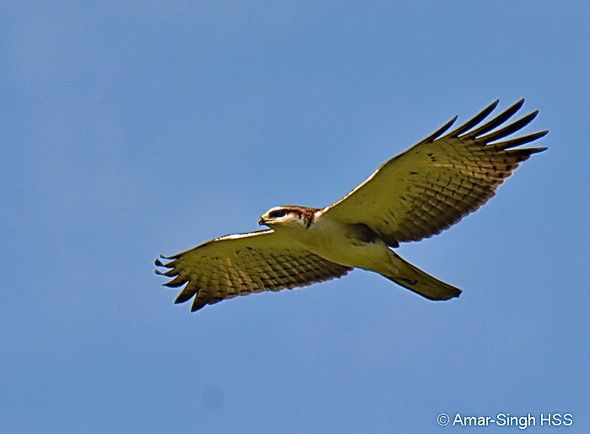 "I have occasional seen mynas group together and the flock chases off a raptor. Seen this happen with a White-bellied Sea-eagle (Haliaeetus leucogaster), a Brahminy Kite (Haliastur indus) in my neighbourhood and other raptors. Today saw 20-25 Jungle Mynas (Acridotheres fuscus) (below) mobbed a juvenile Rufous-bellied Eagle (Hieraaetus kienerii) for quite some distance (above and bottom).
"I am uncertain if this is the local Hieraaetus kienerii formosus or a migrant. Although the migratory season has already begun (I saw a Grey Wagtail 2 weeks ago and colleagues have seen waders), I am inclined to consider it a local bird as it is a juvenile (possibly first year) and I have seen adults here occasional at non-migratory periods.
"Happy to be corrected if my ID of the raptor is incorrect.
"Images were taken while I was still in motion in the car. Had a narrow window of opportunity."
Dato' Dr Amar-Singh HSS
Ipoh, Perak, Malaysia
31th August 2014
Location: Tambun Interior, Perak, Malaysia
Habitat: Orchards, fish farming, ex-mining pools, limestone hills