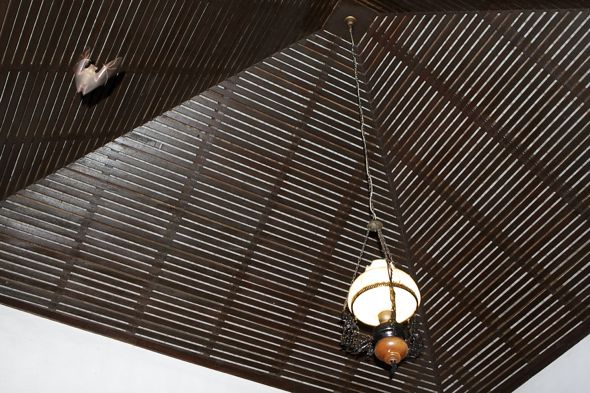 This post follows two earlier ones in my search for a solution to rid my porch of roosting Common Fruit Bats (Cynopterus brachyotis): HERE and HERE (above).
The video clip above shows the bats that arrived after dusk (between 1934-1944 hours) to roost in the porch. There were about seven bats that eventually roosted on the roof – despite the two spotlights that were switched on. Note that at 1.27 minutes, a string of Compact Discs (CDs) were places below, shiny surfaces up. The sudden placing of the CDs caused the roosting bats to immediately fly off one by one. For the next hour or so, a few returned but flew off without roosting. Was it the CDs or the disturbance that caused them to fly off?
The next evening I placed the CDs before the bats arrived. When they flew in they were not disturbed by the presence of the CDs and the spotlights. Waving my hands at them and shouting failed to displace them from the roost. So it was not the disturbance. Was it the CDs then? Note that at 1.29 minutes of the above video, the bats started dispersing. This was in response to one of the two spotlights being directed towards the CDs below. The reflection probably got the bats to leave. At 1.35 minute of the video, the lights were redirected back to the top. And soon, the bats returned but did not roost.
Unfortunately, the bats continued to roost on the roof the following days when the lights were switched on and the CDs placed below. Unless the roosting bats were forced to leaves by other ways they continued to remain on the roof.
The next post will discuss the effects of the spotlights and the CDs on bats that arrived during the early mornings.
YC Wee
Singapore
June 2014